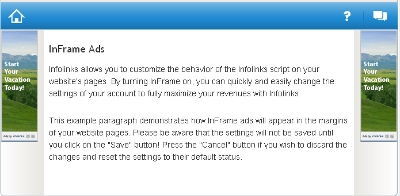 Infolinks has come up with yet another form of PPC display ads known as InFrame ads. I am a big fan of Infolinks just because of the fact they create very innovative ways to make money from your blogs. By default the ads are activated to your account for your approved websites. These InFrame ads appear in the left and the right margins of the pages of your sites. This ad is highly unobtrusive as it appears only when there is a blank space in your website. Say, if someone is using a wide resolution monitor. That way you are opening another door for making money with your blogs. I always have liked the idea that Infolinks think about the unused places rather than creating same old stuffs. There are a lot of ad networks out there simply selling their old products of banner ads but when you see Infolinks, they keep on innovating. According to Infolinks the product is still in Beta, however, I have turned it on for all my sites. As far as any ad unit is unobtrusive, it's all good to me.
Download thousands of Themes, Plugins & Graphics to create your Website. Use promo code ThatsJournal and get an additional 10% off
for All MonsterONE Plans
.
Disclosure: Thats Journal is supported by our readers. This page may contain affiliate links. That means, if you click on these links to make a purchase, we may earn a small commission (at no extra cost to you). These funds help us to keep this blog up and running.