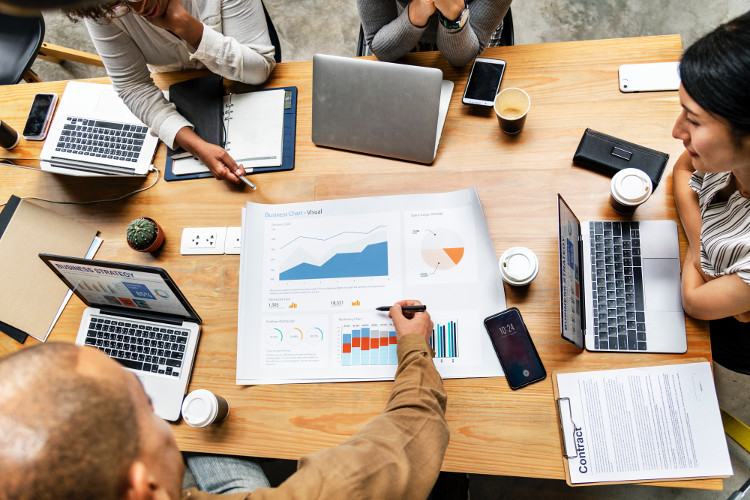 It's 2018, and you might be surprised to know that even today, most marketers do not have an effective digital marketing strategy, and there are some who do not have it all! It's actually really important to have a sound digital marketing strategy as this is will help you and your business a lot in many ways, ultimately, allowing you both to grow further.
Whether you run a business or are a brand that is looking to grow its presence and are confused how to do it. Or, you are about to start a new business and you know that you will need a digital marketing strategy.
The question that arises among both the above situations is that can your digital marketing ecosystem keep up or not.
This blog will definitely be going to help you out and we will focus on a few important components of digital marketing that you must know to create your own unbeatable strategy.
So, what kind of a digital marketing strategy you must have? Let's dig into it.
1) Marketing Strategy
Yes, first of all, you need to have a marketing strategy. You might be wondering what that is. Well, this strategy is based on an analysis of your business, typical customers, and the environment. Like it's said, without a marketing strategy, it's like riding a bike in the dark without the headlights on. So, your marketing strategy is sort of that guide which will help you to proceed ahead by showing your business where exactly to target.
2) Online Presence – Website
Your website should not just sit idle on the search engines, instead, it should be banging on the opportunities, and working for you. But this is not a passive activity, you need to make it do a lot of marketing for the business!
3) Socialize!
Once the website is in its place and working towards your objectives, you now need to focus on a good social media strategy. You cannot hide from it nor you should as this is a great way to boost your presence on the internet and stay in the competition. A sound strategy should involve you to socialize via different channels such as Facebook, Twitter, LinkedIn, Instagram, and more. These days, it's highly recommended that your business or brand has a presence on as many social media platforms as it can.
4) Email Marketing
You might be surprised to see it on this list but emails are still one of the most effective ways to get high conversion rates in the shortest time. Of course, the money is in the list, and that's what emails are all about. Your post on social media and your followers might not see it for a week, but the emails, they will certainly see it (unless they go to the spam folder). So, emails are a great way to stay in touch and have a top-of-the-mind strategy with your clients.
5) Great Content
Content is fire! All the things that we discussed above are entirely made up of a winning content. Without an effective content strategy, you are left wondering out there. When you see a blurry picture on a website and then another one on the same website, psychology you will assume that it does not have its you-know-what together. Your content should be clean, professional, and must represent the real YOU. So, take down those blurry photos or photos that bleed off, crappy videos from your website now. They actually do not help and make things worse.
6) Inclusion of Videos
If videos are not in your strategy, then you must re-think and include them. This is because they can easily engage a huge audience in the shortest time. People usually spend a lot of time watching videos on their phones and desktop. Some people barely read the content on a website and only stick to the videos embedded in it. They barely get bogged down with the content. So, if you are not thinking about putting in some videos out there, then you are walking yourself away from the potential that you should actually be reaching.
7) Customer Relationship Management System
CRM system ties all that we have read about. It is a way to nurture your clients and customers. You earn the ability to get them what they need and at what time. Having a good CRM system in place lets you program your content to have an extremely efficient ecosystem with your clients. So, the focus word here is "relation", which you have to build using the content and the management system. Your content goes in there to inspire your customers and create an excitement among them. It should shock, surprise, and awe them, and this is how CRM is going to be all about!
8) The Bottom Line
When you tie all the aforementioned things, you are throwing in the essential things that meet the needs and requirements of your clients. It should be an advantage for them which they can make use at their leisure or at their convenience.
So, those are the components that will definitely allow you to keep up your digital marketing ecosystem in the most effective and efficient manner. With these, the wheels are always turning while you make your way to the heart of the client and customer satisfaction.
This helpful guide is brought to you by the assignment help experts at My Assignment Services AU who are digital marketing experts and use these services extensively in their businesses.
Download thousands of Themes, Plugins & Graphics to create your Website. Use promo code ThatsJournal and get an additional 10% off
for All MonsterONE Plans
.
Disclosure: Thats Journal is supported by our readers. This page may contain affiliate links. That means, if you click on these links to make a purchase, we may earn a small commission (at no extra cost to you). These funds help us to keep this blog up and running.