Ahrefs is mostly known as a powerful backlink analysis tool. But during many year of operating Ahrefs became popular outside of the circle of high-skilled SEO professionals and companies who used it for SEO audit, gathering backlinks of competitors and finding new linking opportunities. Ahrefs is very useful for content marketing, keywords and niche research which can be used both by highly experienced marketing specialists and individual bloggers. In this article I want to Focus on Ahrefs' Content Explorer and the ways of finding new trends with it.
For the readers who never used Ahrefs I will make a brief introduction.
Let's take this site https://www.thatsjournal.com/ as an example.
Ahrefs Site Explorer
Here is how Ahrefs Site Explorer looks like: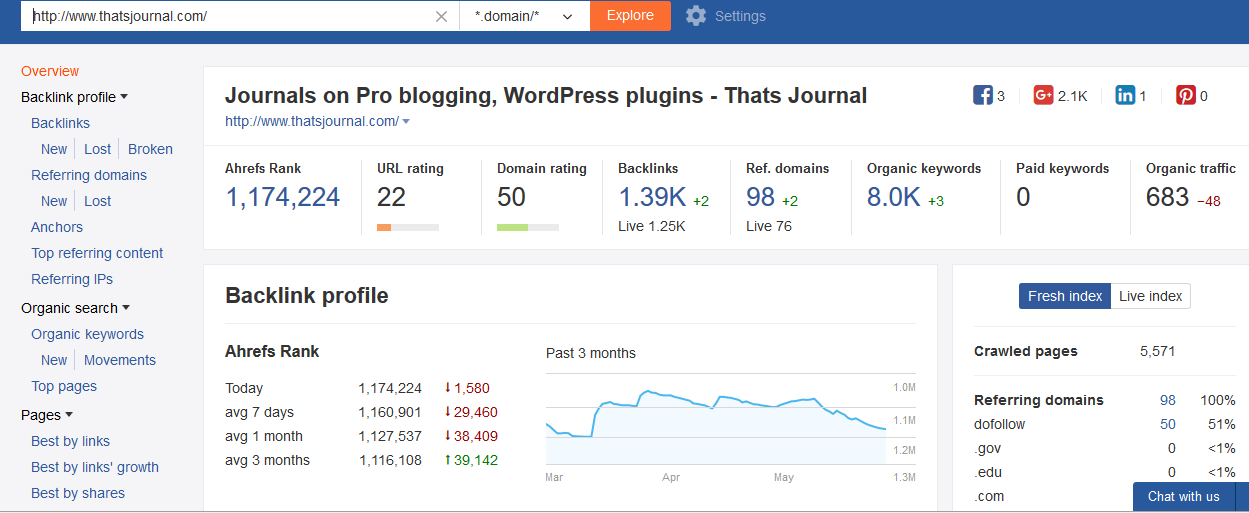 That's how you get basic overview of your site, or the site of your clients. You can see Ahrefs Rank, URL rating and Domain rating – this is their metrics which becomes more and more popular among web-site owners and online marketers. PageRank is very outdated metrics and due to the fact that Ahrefs has huge database of data and constantly updates it – this metrics is my favorite first step of evaluating sites.
You can also see backlinks, referring domains and organic keywords. All these links are clickable and you will see the list. 8K of organic keywords in our example – this looks awesome!
You can see the full list of keywords and filter them by countries, by position, by volume or by KD (Keyword Difficulty – this is Ahrefs metrics which estimates how difficult it would be to rank for this particular keyword).
On the screenshot I selected keywords to be displayed by position. That's very good to see where you have #1 positions, and for which keywords you need to work a bit to get to Top-1 or Top-10 positions. Also 8000 keywords is a big amount, not every site has SEO-manager to handle this list. I am sure most of web-masters, including myself often forget about important keywords so Ahrefs can help you track them. As your site grows, new content appears, the number of organic keywords will grow as well so this way you can discover them fast and easily.

For content marketing I like checking "Top pages". For example we can see that #2 top page is about Tweepi and ranks #17 for this keyword. If I would have a goal to increase organic traffic – I would put SEO efforts to promote this page and get firstly to Top-10, then higher.
Also I like to use "Top pages" feature for content marketing. I can easily see top content, top pages from all the sites I need to check, be it competitor or the site which is example for my marketing strategy.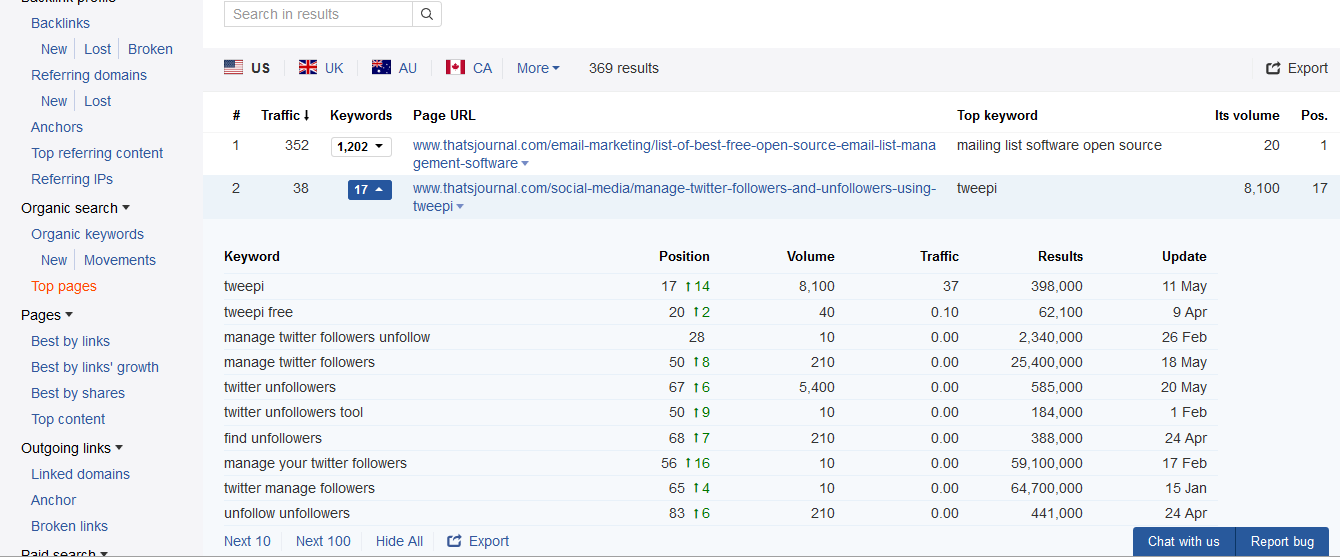 Ahrefs Content Explorer
Now let's check Content Explorer which will help us to see which content and to which extent is shared on social media: Twitter, Facebook, LinkedIn, Google+, and Pinterest. Social media is one of the best way to check which content is trending now. Moreover Ahrefs are using their own algorithm, they have own database and the results from Content Explorer are very credible. I hope they will add more social networks metrics and more features in future.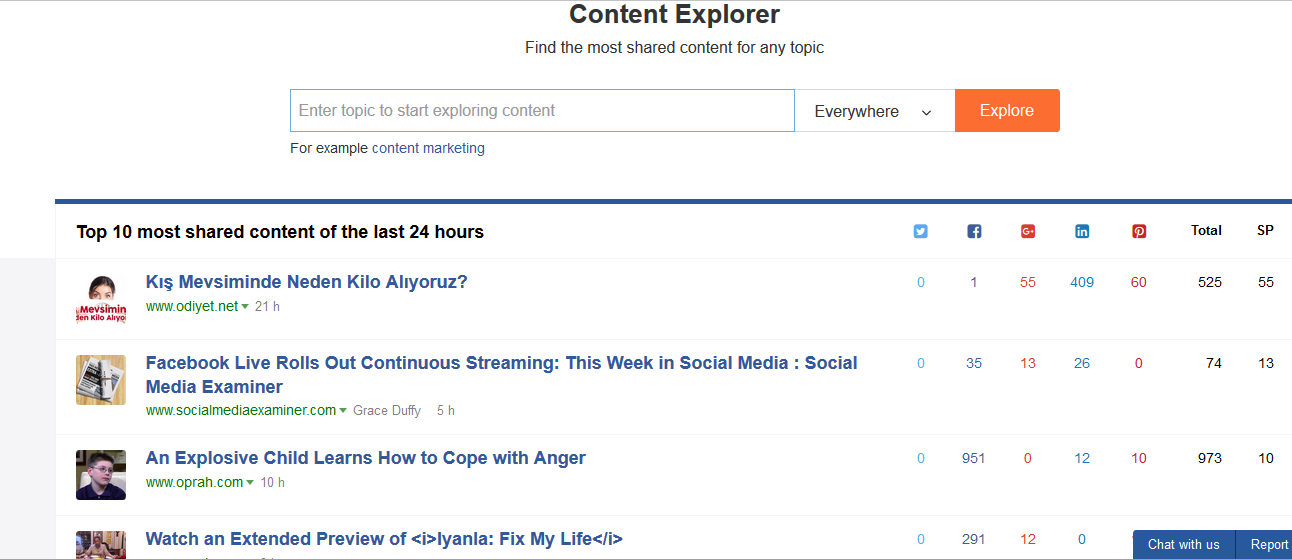 Let's check which results we'll have by "WordPress" keyword.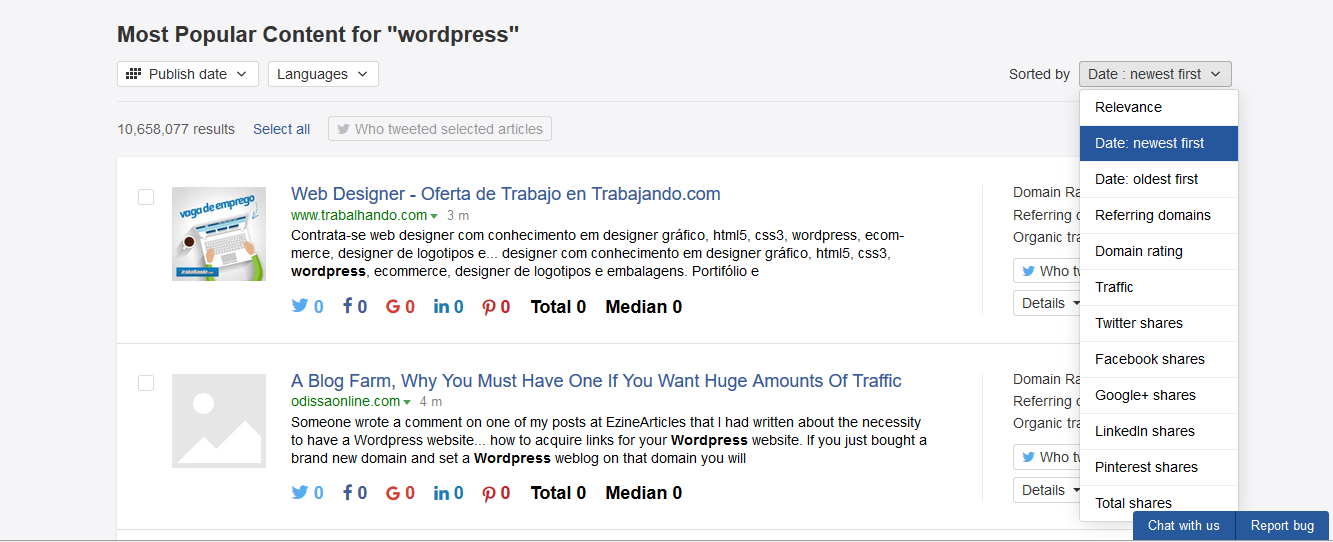 There are more than 10 million results, that's why the sorting option on the right is very efficient. In our example I chose to sort by date (newest first). The results you can Export to CSV file. You can also select publishing date and languages, which would be helpful if you work with multi-language sites or with non-English content.
Now let's check another keyword, for example "WooCommerce" and let's sort the results by traffic. No wonder that the first result is WordPress.org.
Also one more thing which is great for content marketing is that you can see who tweeted this post by clicking "Who tweeted" on the right. You will need to authorize app and then you can the list of Twitter accounts, which you can also filter by different parameters. This can help you to engage with professional audience and may be to understand which content is trending on Twitter, what content do people share, and who are those people, with how many followers, etc.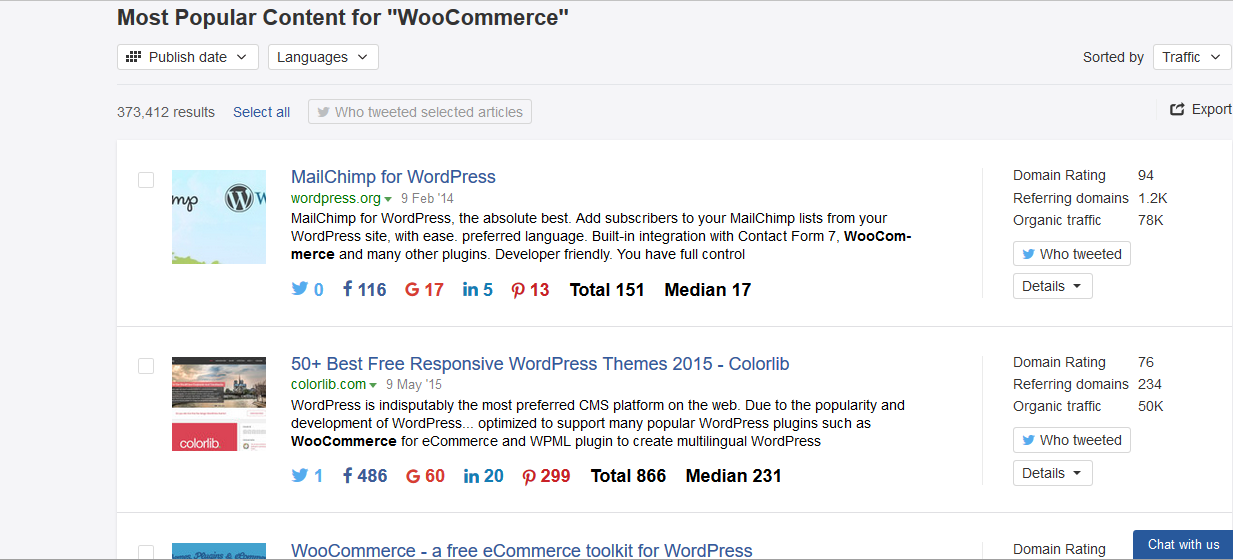 Let's take one more example. Recently on Thats Journal I read post called "Use Twitter to promote your book by Huffington Post blogger" by Sarah Cannata. Content explorer for me is Google for Content so I googled (or may be I should say "ahrefed"?) her name to check her other publications.
What's interesting is that the first result by "Relevance" is Thats Journal not Huffington Post.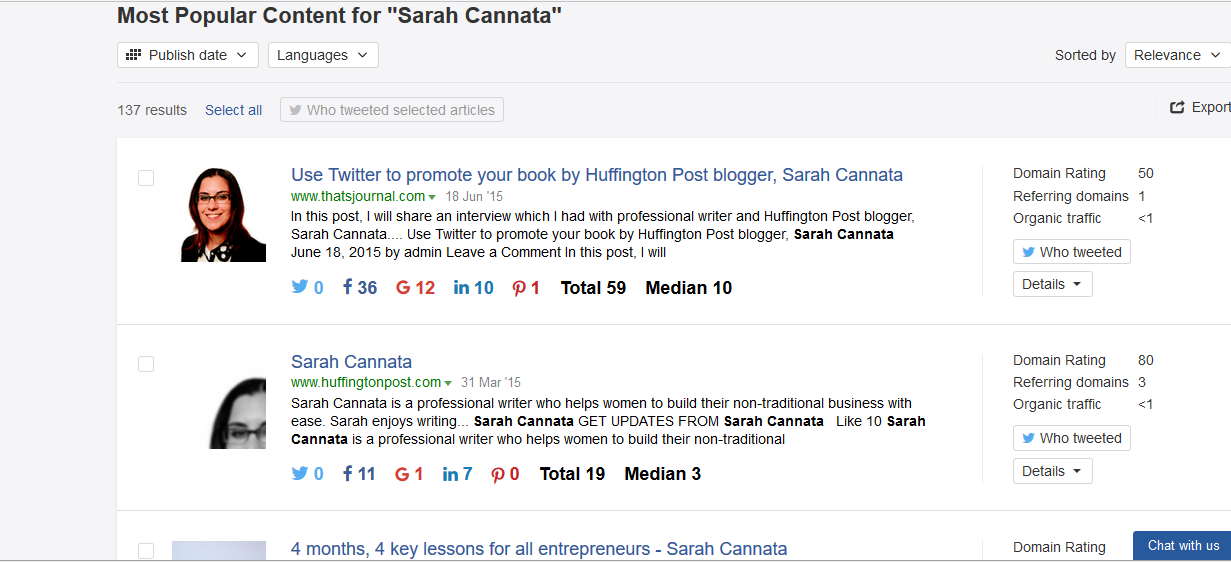 Content explorer is really great tool to define trends, as you can see not only the volume but also quality of sites, different metrics, and you can save all this information to the lists. Then how you will use these trends is up to you and I wish you success with it!
Download thousands of Themes, Plugins & Graphics to create your Website. Use promo code ThatsJournal and get an additional 10% off
for All MonsterONE Plans
.
Disclosure: Thats Journal is supported by our readers. This page may contain affiliate links. That means, if you click on these links to make a purchase, we may earn a small commission (at no extra cost to you). These funds help us to keep this blog up and running.