Your website is represented with newsletter templates too. They are intended to be distinguishable. In other words, they need to reflect the style of the site.
However, even if an email is an HTML page comparable to the pages on your website, technological needs must impose certain distinctions on it. 
Large background pictures are unacceptable since some receivers will not be able to see them. It is doubtful that you desire this.
It is possible to take advantage of dynamic GIF images, but this would greatly increase the weight of your message. Unfortunately, not all email clients correctly work with animated graphics.
Large photos should be avoided in general. Specifically, when it comes to the header. Do it solely for a brief activity that you wish to focus the person's attention on. As an example, getting a special offer.
A huge permanent header might aggravate the receiver in any other scenario. Before reading the main material, such letters are normally closed.
Non-standard typefaces cannot be attached to letters. If the receiver does not have the font installed, an auto-substitution happens, which may result in an unlikely outcome.
For this reason, creating your newsletters from scratch is not always wise. Even if you have an interest in getting the most rudimentary options. Cleverly designed letters are also more enjoyable to read, and your client is more likely to remember your message and your firm.
Do not try to overload the receiver with information about yourself in a single message. It should ideally fit on a single screen.
Make it smarter by designing your email strategy such that the receiver sees the key material first. Divide the information into many mailings. Only share updated pricing and deals.
Why Is It Worth Working With Newsletter Templates?
Newsletter templates are ideal for any form of promotion, with functions ranging from publishing updates to mailing subscriptions to expand your customer base.
When you purchase a newsletter template, you will be able to see how the finished email will appear. You will also be able to customize and alter your template whatever your soul wants. Layered PSD files will make it straightforward and painless for you.
All you need to do is update the text and the necessary images. Progress does not pause. Like any other field, the design of emails has seen advancements. Mail is increasingly being seen on mobile devices such as smartphones and tablets.
Do you want to stay up to date?
All of the parts of a decent email letter are included in the best newsletter templates.
You will also get several variants on the aesthetic of the inner content design.
5 Newsletter Templates for Effective Promotion Campaigns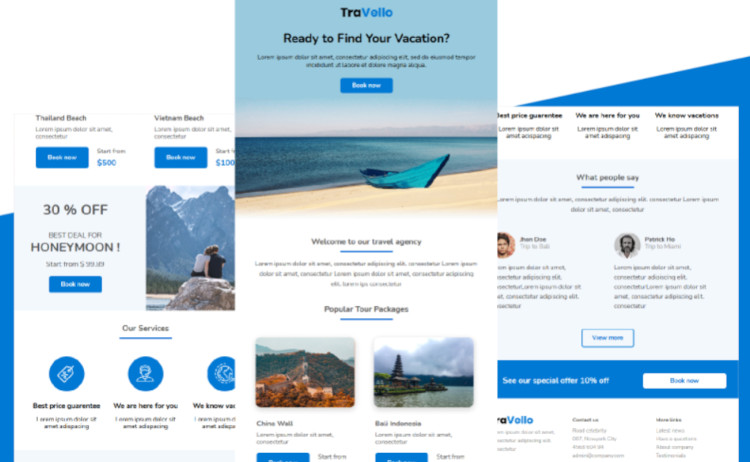 Are you searching for newsletter templates that make it possible to promote your traveling agency?
It seems to us that you might be satisfied with this elegant and eye-catching variant. It combines an appealing blend of photos and text. Thanks to a straightforward structure, you will be ready to showcase your info in the best possible light.
You can also include rather remarkable pictures to provide more visual content. There will also be a section that seeks to promote news and updates. All of these options are capable of keeping people interested and involved with your niche.
Without a doubt, it is impossible to keep silent about a fully-responsive design. In other words, it does not matter what device viewers use to get familiar with your latest news.
It also works with the majority of email clients. These include Yahoo, Outlook, Yandex, Gmail, and many others.
What can we say about the customization procedure?
To cut a long story short, it is almost effortless. It allows you to build a one-of-a-kind design that is appropriate for your company.
Main Features:
images included;
Photoshop source file included;
major browsers compatibility.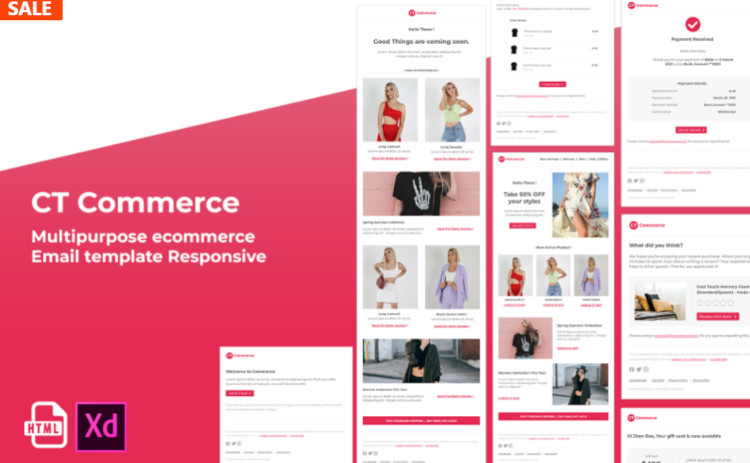 Are you seeking business-related newsletter templates that can fully reflect your company in front of clients?
In this case, turning to this minimalist-looking and well-structured option is a smart move. Its layout is indeed well-organized.
It mixes blocks with white backgrounds and blocks with vibrant colors. As a result, you will be ready to create a newsletter that catches people's attention immediately.
In addition to this, the headline prominently displays your logo. After this, your subscribers will see a high-quality image. This visual content makes it easier for you to explain the activity to the viewer.
In general, it is geared to keep the reader interested and make sure they will go through your links.
It is also critical to mention that the template can be easily integrated with MailChimp and Campaign Monitor. So it will provide you with great insights into the way your campaign works and whether it grows your client's base.
Main Features:
fully-responsive design;
Photoshop source file included;
major browsers compatibility.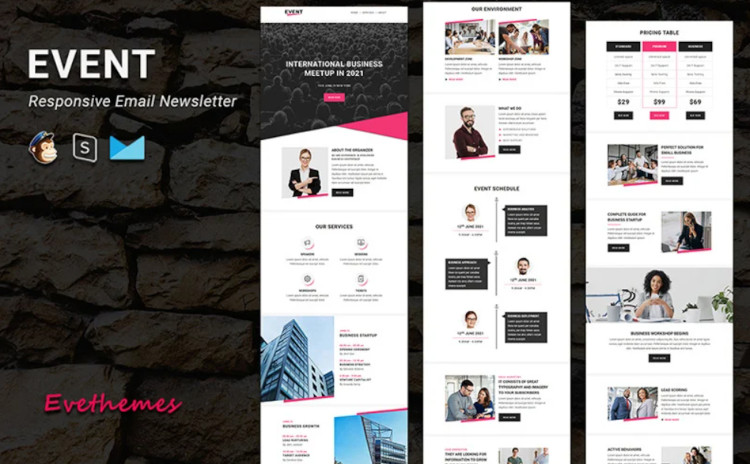 These days, you must have not only a strong online presence. Especially if you have an interest in spreading the word about business training, conferences, and events. It is also necessary to get an active and dynamic relationship with your audience.
It is one of the greatest newsletter templates to use if you are engaged in the aforementioned industries. 
As a result, you can share newsletters to remind people how much enjoyment they can have cooperating with you. The overall design is straightforward and encourages a pleasant atmosphere.
So it is ideal for this sort of business. It provides a contemporary and appealing design that will also impress you with its functionality.
As an example, fully-responsiveness is essential when it comes to your task. It means that it will take nothing for people to read the presented news using both mobile and desktop devices.
Main Features:
compatible with different email clients;
four HTML files;
StampReady template.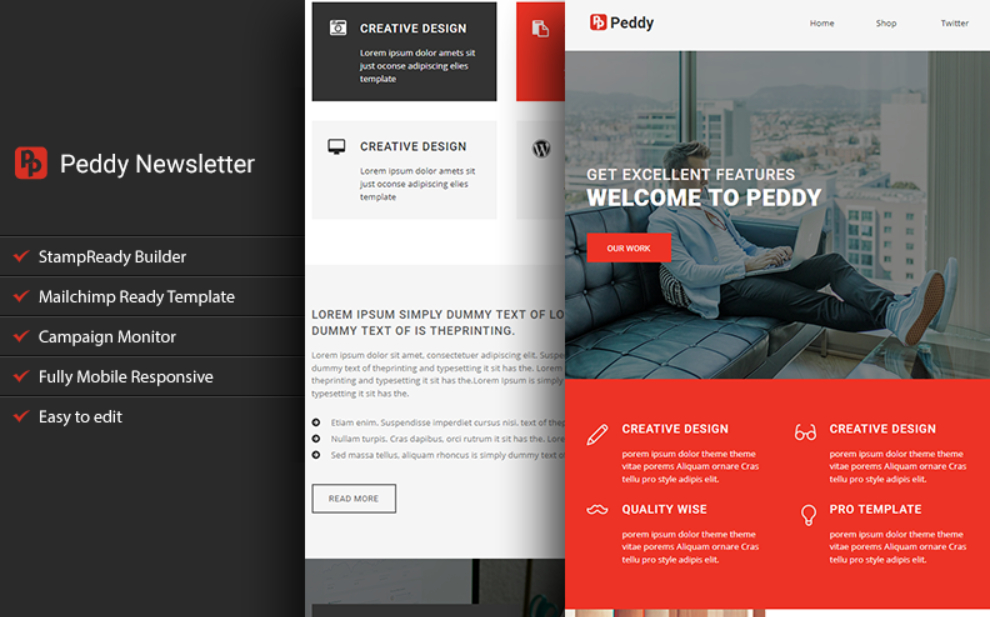 Keeping in contact with existing and potential customers is critical for every business. Since your website is a regular go-between between you and customers, your brand reputation is crucial.
For this reason, choosing the most appropriate option from newsletter templates is your primary task. When it comes to sending notifications and other information through email, you need something like this beautiful template.
It has a professional design that will impress your imagination with its flexible and dynamic nature. Furthermore, it has an easy-to-use interface so your content in the shape of news and updates will get a decent presentation.
The developers have not forgotten about a fully-responsive design. It means that your audience has a chance to open your newsletters through all the modern devices.
Do not forget that it is compatible with a massive number of email clients. Among them are Yahoo, Gmail, Yandex, HotMail, and many others.
Main Features:
StampReady template;
unlimited colors and modules;
Campaign Monitor.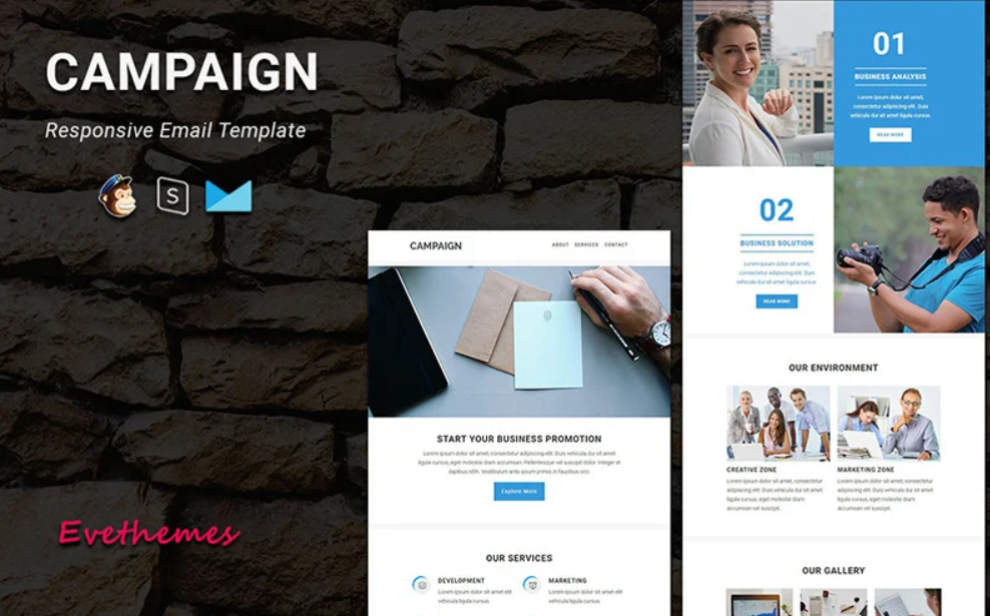 Most Internet users nowadays value high-quality promotion campaigns that inspire trust. For this reason, employing high-quality newsletter templates is a proper solution.
If you provide people with an attractive and reputable newsletter, it will significantly boost your success rate. When we are talking about this choice, it is worth saying that it is very well-designed and remarkable.
It also offers a fully-responsive design.
What does it mean for your audience?
They will not face any problems if they decide to read the newsletter through a mobile device instead of a desktop one. In other words, this characteristic will reduce your effort on compatibility.
Moreover, it works with the majority of email clients on the market. So you are free to link it with both MailChimp and Campaign Monitor. 
To make your task even easier, the developers have made sure you will get an adaptable template nature.
Main Features:
StampReady Builder;
4 HTML files;
all the necessary instructions are provided.
A Few Words in Conclusion
Email is one of the most effective Internet marketing strategies for both big and small companies. Emails are delivered as confirmation of an order placed in the online shop.
Visitors to the site use their email addresses to subscribe to the newsletters. Promotional offers are also distributed through email. The efficacy and impression of your firm are dependent on the appearance of your emails. 
These corporate email newsletter templates, built by expert web developers, are both useful and visually appealing. Delivering your news, updates, and advertisements correctly is a significant component of any organization.
As a result, each company email template has been tested with Campaign Monitor, MailChimp, and other email platforms. So professionals have ensured that your information looks attractive and organized at all times.
A fully-responsive design means that your emails will appear amazing on every screen, regardless of the device your clients may be using.
Do not forget that our promo code "ThatsJournal" gives 5% OFF on annual and lifetime plans on MonsterONE. It also provides a bunch of newsletter templates for different needs and tastes.
Thanks for reading!
Download thousands of Themes, Plugins & Graphics to create your Website. Use promo code ThatsJournal and get an additional 10% off
for All MonsterONE Plans
.
Disclosure: Thats Journal is supported by our readers. This page may contain affiliate links. That means, if you click on these links to make a purchase, we may earn a small commission (at no extra cost to you). These funds help us to keep this blog up and running.