SEO is a very important part of any online business. It helps you to make your website search engine friendly. Now, you must be wondering if that is all that SEO does then why not do it on your own without the help of any tool? Well, this is where you will be making the biggest mistake.
Tools are programmed to check against certain pre-determined parameters in a systematic manner while you are not. You are neither aware of the standards nor do you know the correct procedure for identifying problem areas.
As such, to get it right you will land up wasting a lot of your time with very little to show in terms of outcome. Be wise and make good use of SEO audit tools as they will give you good output within a very short span of time.
In this post, we shall take you on a ride to familiarize you with the best SEO audit tools to look out for in 2018 and beyond.
List Of Best SEO Audit, Website Checker And Analyzer Tools:
SEO Spider is a desktop program that can be installed locally on PC, Mac or Linux. It is a lite and flexible audit tool that can crawl extremely fast and hence permits you to analyze the results in real-time.It collects key onsite data to find broken links, analyze page titles and meta descriptions to identify those that are too short, long, duplicate or missing altogether.
The Spider will also extract data using XPath, generate XML sitemaps and find both temporary and permanent redirects. It also has the ability to discover exact duplicate URLs, Partially duplicate elements like headings or descriptions etc. Not only that, but it can also connect to the Google Analytics API to fetch all the relevant user-related data.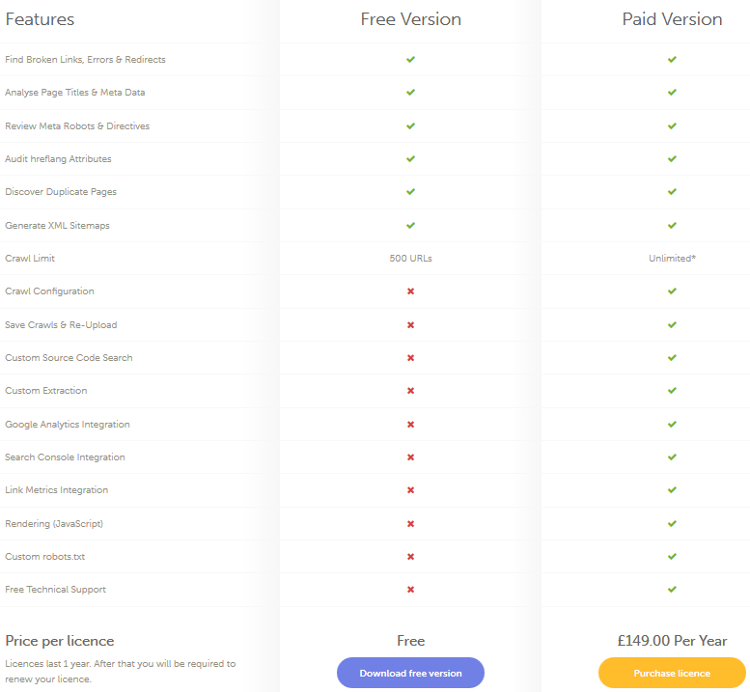 SEOmator is an extremely solid software suite that crawls and analyzes your website for a complete and in-depth technical SEO audit.
It checks the content to ensure its value and also the site structure for broken links, too many or too few internal and external links, incorrect multilingual language codes etc.
Additionally, it checks for missed structured data, duplicate or missing OpenGraph title tag, canonicalization errors, blocked CSS files, server response code errors etc. Refer to the below-attached screenshot for a full list of detectable issues.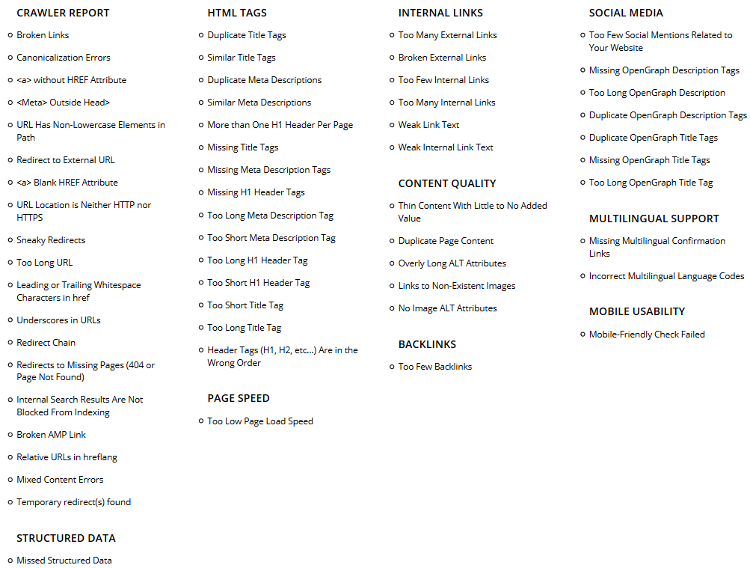 SEOmator also allows you to create your own reports as per your needs and requirements. For details on plans and pricing refer to the below screenshot: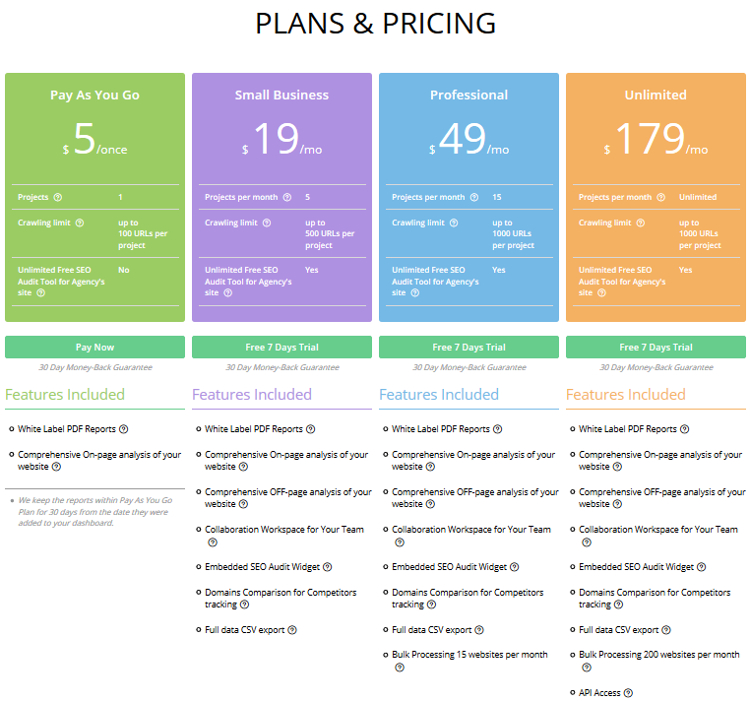 Sitebulb is a powerful desktop website crawler with the most insightful reporting system. As Adam Bate said,
"It is a perfect marriage of enterprise level analysis and data visualization with the no-limit convenience of a desktop-based application".
Its graphs and charts are most helpful in interpreting what the data actually means. Sitebulb has many context-specific hints that highlight core issues and at the same time, it also shows what your priority should be. It also checks the prime elements for mobile rendering and informs you exactly which URLs are lacking on specific elements.The reports are detailed, unique and insightful. For plans and pricing refer below: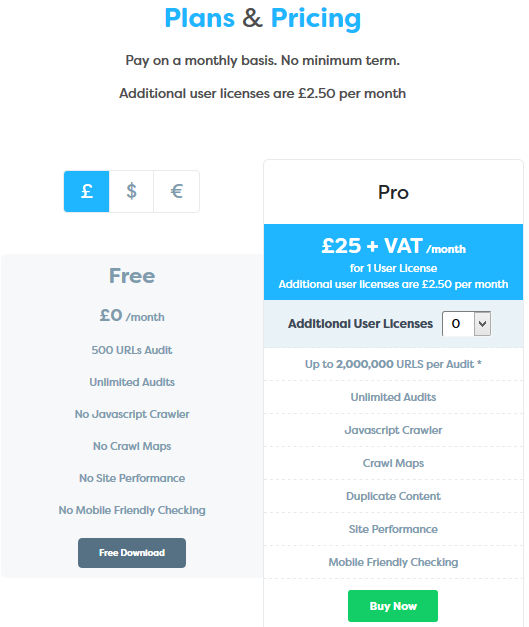 For detailed information on this product visit their website. All product related information is available under the "Product" tab.
ConttentKing claims to be the only SEO audit tool that can monitor your website 24×7. Using a wide array of signals its algorithms are successful in delivering meaningful and actionable insights.
Most importantly, it is cloud-based and hence there is no requirement for installing anything. All the reports and data are available whenever you need them. It tracks changes, sends out alerts, helps in prioritization etc.
Broadly speaking, its features can be broken into the content overview, content optimization, content monitoring and content collaboration. Its standard pricing is $20.27 per month, paid quarterly. While its agency pricing is as shown below: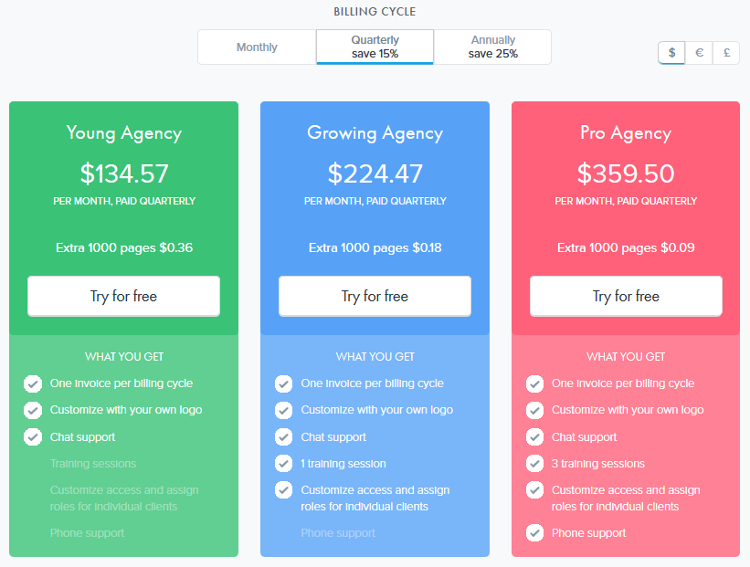 DeepCrawl is an SEO audit tool for all. It helps you in identifying opportunities and threats to your website even before Google does. As the site claims it is the world's most comprehensive website crawler that helps you understand your website architecture and monitor technical issues in order to improve the SEO performance of the website.
It not only monitors the site health but during migration it mitigates the risk and helps maintain control throughout the migration process with a full view of your live as well as staging sites. Redirect or hreflang errors can be a big problem when it comes to global marketing, DeepCrawl is successful in timely identifying them so that they can be easily fixed.
It checks for backlink optimization, flags all pages with thin content, helps in improving UX and aids in doing a competitor website analysis to understand their strategy and structure.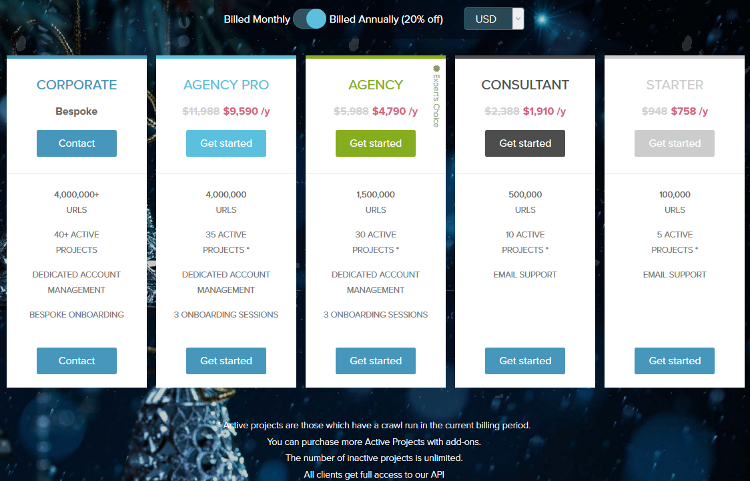 This is a tool for thorough technical site auditing. It digs painstakingly through the whole of your site to identify and audit each and every resource be it internal or external. The Website Auditor allows you to crawl your website as Google, Yahoo or Bing following robots.txt directives. Hence, you can now see and analyze the very same pages of your site that the search engines see.
Website Auditor helps your entire website work flawlessly, it builds Google XML sitemaps to boost your site's indexation, creates and manages the robots.txt files, gives the protection of many safety features and works on many platforms and speaks different languages. For pricing and a few feature comparison refer to the screenshot below: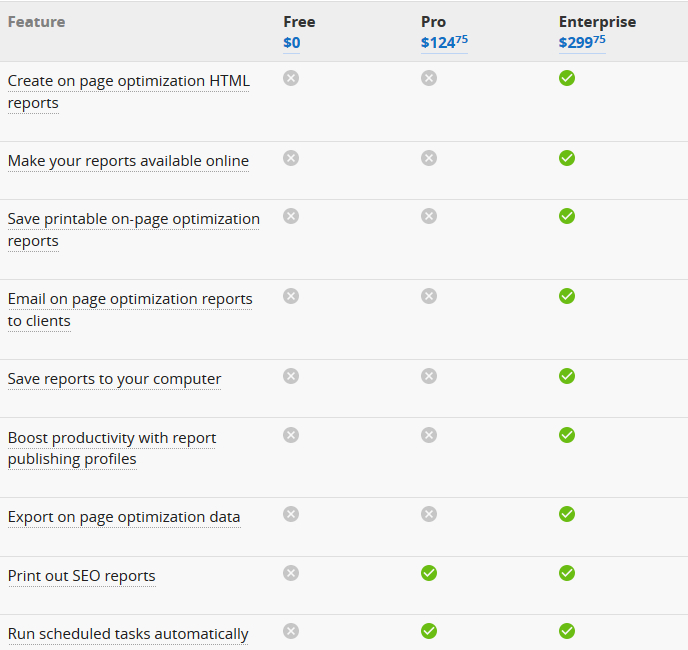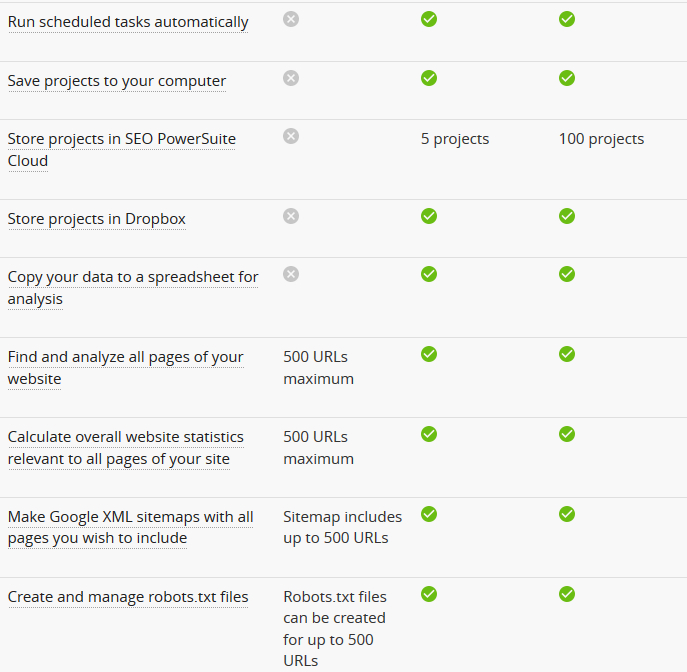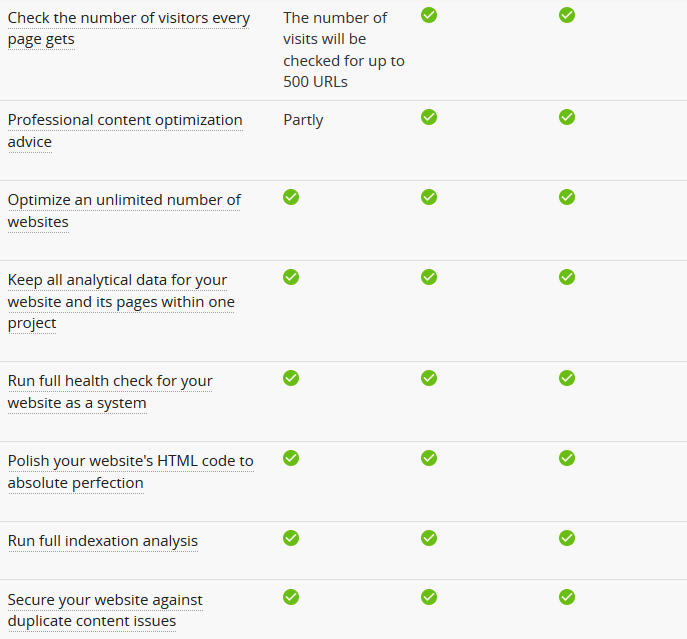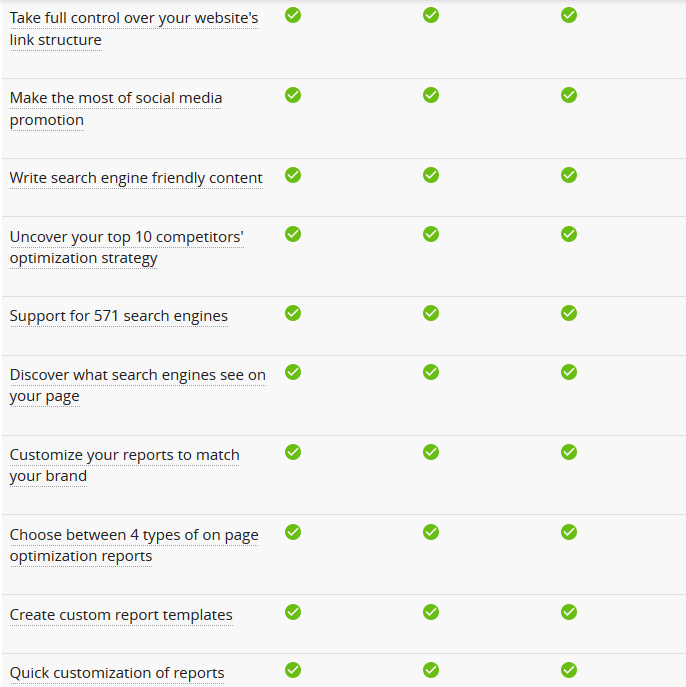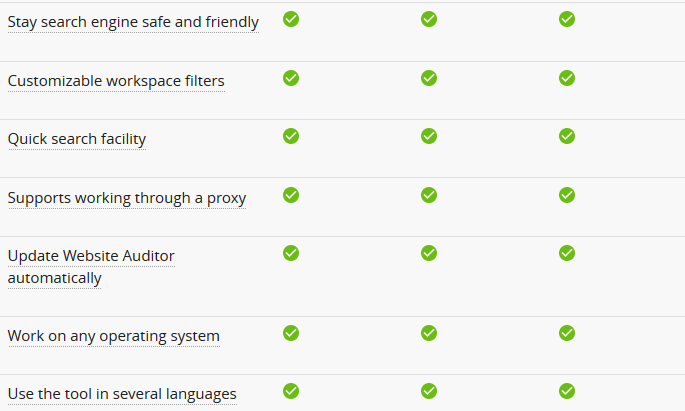 This is a data-driven SEO crawler and log analyzer that is used for enterprise SEO audits and everyday monitoring. OnCrawl claims that Google only knows a part of your website, and hence, to uncover the rest you have to use OnCrawl.
It can help you control the HTML quality basics for your website. It can also track how your website's loading time and page weight manipulate your SEO. You can also track your internal linking with accuracy using the InRank score. OnCrawl runs a semantic analysis of your content to identify both duplicates and near duplicates.
Pricewise you have the following options: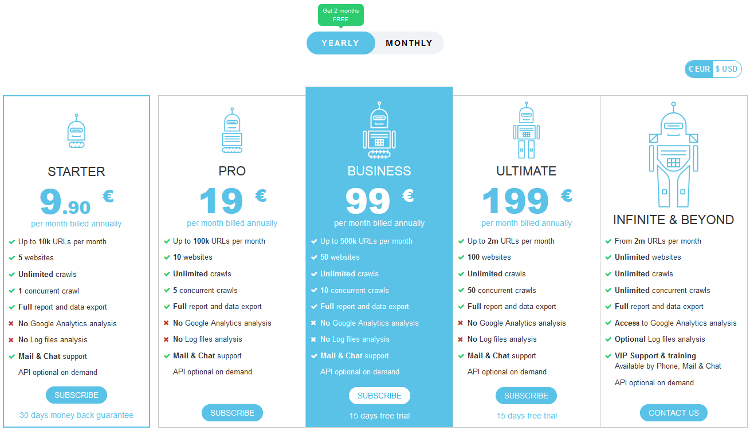 Lipperhey is a free SEO service for single projects. It performs free website analysis, free SEO analytics, gives free keyword suggestions and also provides backlinks checker for no additional cost. Lipperhey offers more than 200 features to improve the SEO of any website. It improves your indexability, optimizes the content, benchmarks your website, tracks visitors etc. The analysis is easy to assimilate and helps to improve the website's searchability, popularity, and overall quality.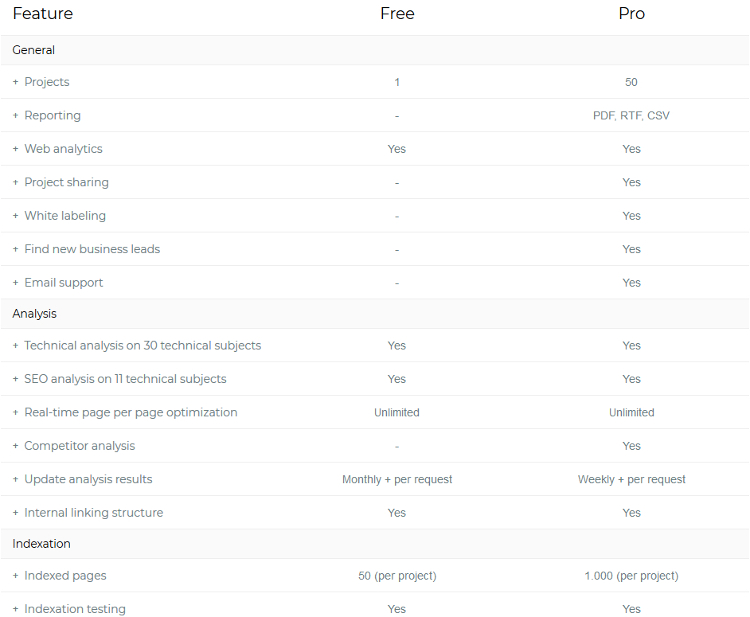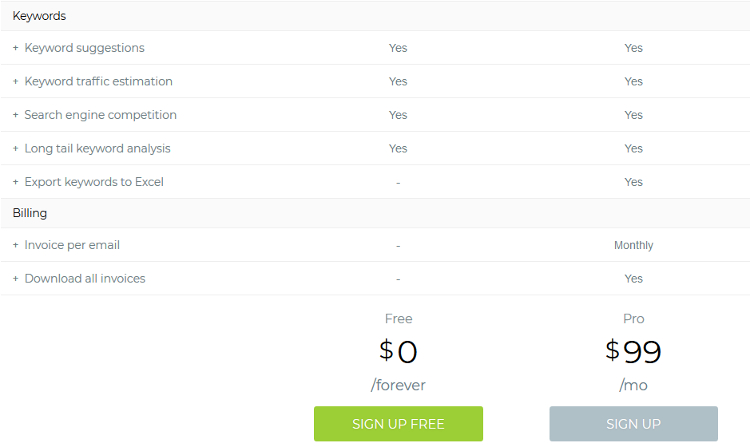 Raventools is designed to effectively manage SEO of a website, social media conversions and online advertising campaigns. Its real-time social stream tool allows a business to monitor and participate in different social conversions instantly.
It tracks search engine trends, manages link building, conducts complete research and analyses etc. It also helps in monitoring and managing ad campaigns, campaign reports, and social networks. Its pricing and feature comparison are provided in the attached screenshot.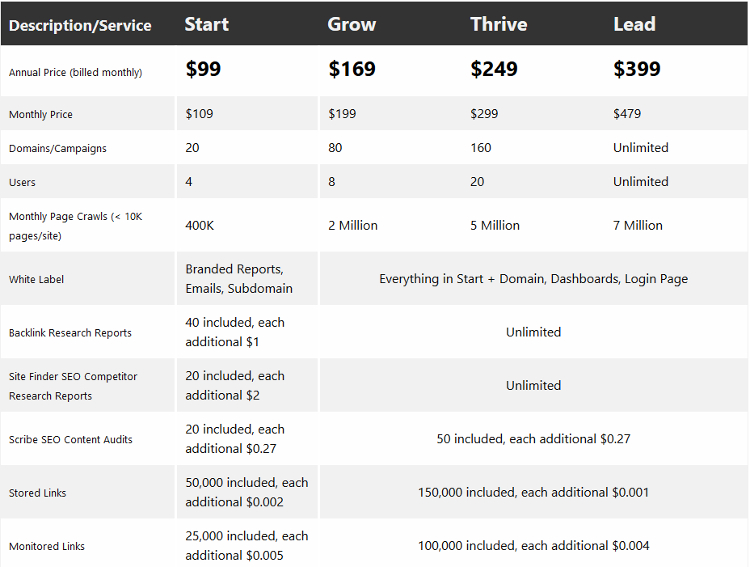 This is a desktop SEO software that offers an innovative visual approach to SEO. Some of the features that it offers to different sets of people are as follows: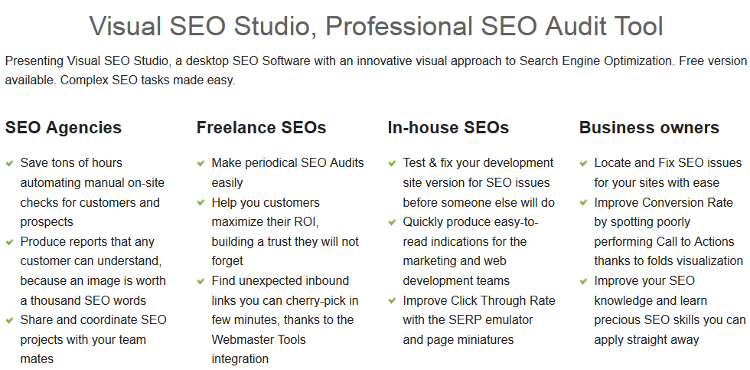 The community edition of Visual SEO Studio is free. A comparison of community and professional edition is given below: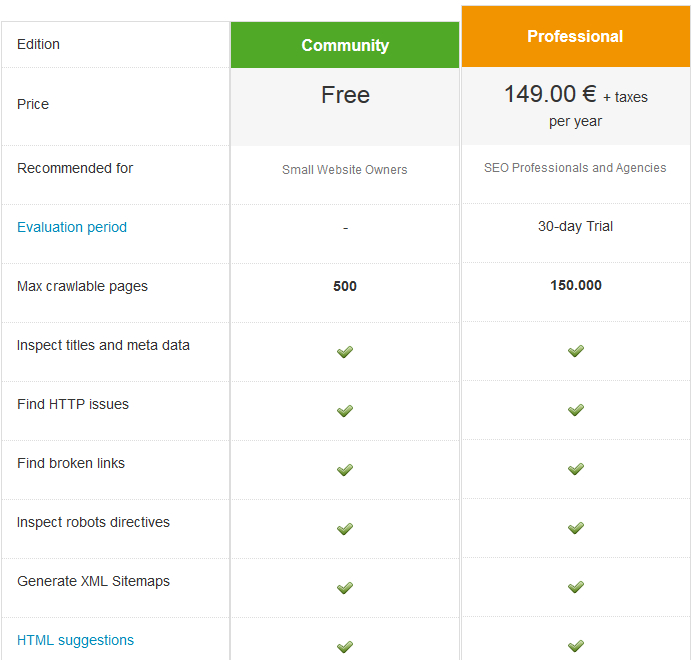 Mondovo is an intuitive SEO audit tool which also has a number of media marketing tools. This allows the companies to gauge their social network mentions along with checking the website's search engine ranking. Mondovo offers many features like rank tracker, bulk metrics, link research, on-page analysis, Facebook analytics, Google analytics, real-time site data monitoring, keyword research etc.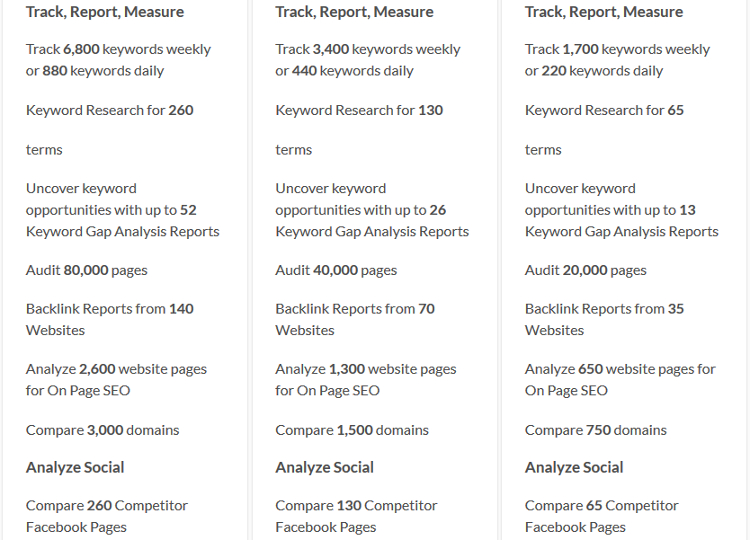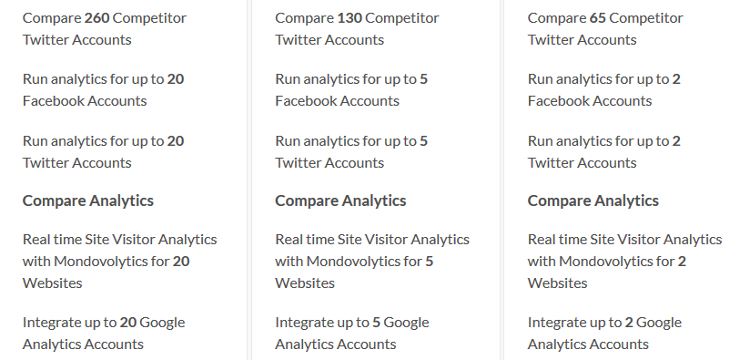 Webceo allows you to run basic SEO routines, provides social media tracking, permits the use of analytical tools for researching competition and tracking your own performance. You can also use dedicated tools for SEO and schedule automatic emailing of reports for client satisfaction. Webceo provides customizable dashboards, mobile optimization check, page speed test, internal links optimization, SEO roadmap and much more.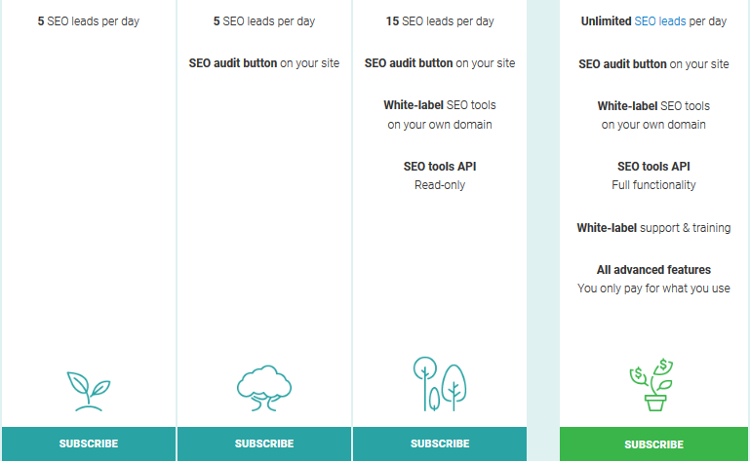 This is a tool for digital marketing experts that provides an unparalleled depth of information. Sitecondor crawls the entire site to extract key on-page fundamentals and other related content. It slices, dices and searches aggregate results to identify problems and optimize opportunities.
Sitecondor runs crawls from anywhere and the results of which can be accessed anytime. To top it all, it provides an interactive visualization that helps provide an insight into the architecture of the website.
With no hidden fees, Sitecondor offers the following plans:

Botify is a premier technical SEO and content platform built by the SEOs for the SEOs. It is a cloud-based platform that compares structural data, search engine crawl, and audience analytics on both desktop and mobile for unparalleled website intelligence. Winner of many awards, Botify gives the user the power to control the ranking of their site. This particular audit tool is available through subscription only but for individuals and small businesses, it is a little expensive to handle.
Download thousands of Themes, Plugins & Graphics to create your Website. Use promo code ThatsJournal and get an additional 10% off
for All MonsterONE Plans
.
Disclosure: Thats Journal is supported by our readers. This page may contain affiliate links. That means, if you click on these links to make a purchase, we may earn a small commission (at no extra cost to you). These funds help us to keep this blog up and running.