This post is a beginner's guide and a tutorial for using Klout. By using this tutorial you can change basic settings in Klout, add social networking accounts, add and edit relevant topics, create and share content in Klout, schedule content, enable or disable Kout link shortener, change timezone settings, measure social media influence, give +K to a member, and increase Klout score.
1) Change basic settings: After you have created your account, click on Settings menu on the left side to change your account settings. You can log in by using your Twitter or Facebook account. Under Profile tab, you can enter Account name, Profile pic and About. You can use Klout for an individual account or for a business account. I am using Klout for a business account. When you connect your Twitter account, you can use your Twitter profile picture and description.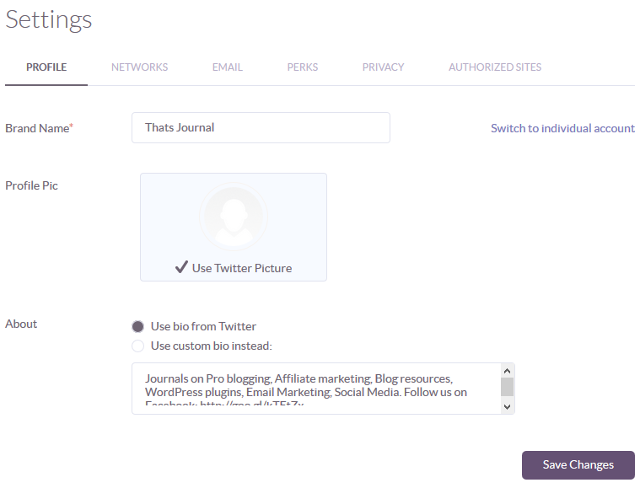 2) Add social networking accounts: Under Settings, go to Networks tab. Here you can connect all your social networking accounts in Klout. You can connect to Twitter, Facebook account, Facebook page, Google+, Instagram, Foursquare, LinkedIn, Tumblr, YouTube, Blogger, Last.fm, WordPress, Flickr and Yammer.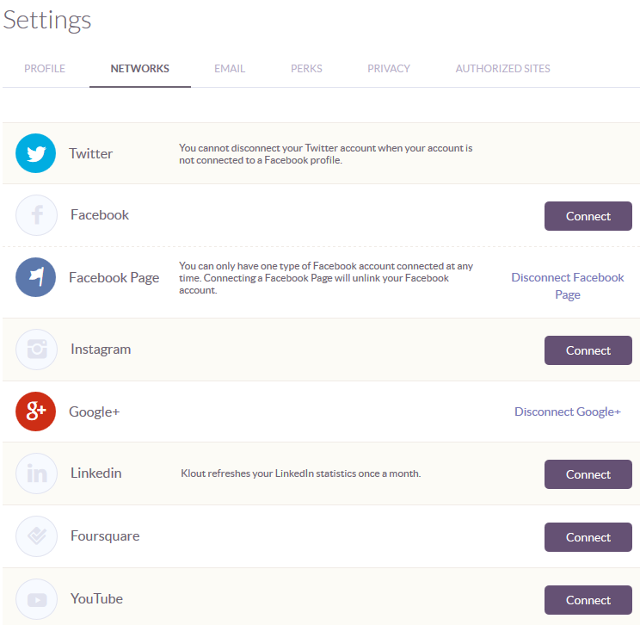 3) Edit content filters: You can set up content filters so that content related to specific topics will be displayed to you in the dashboard. Click on Create menu on the left side. On the right side, under Content Filters, click on Edit. Then, you can add relevant topics which interests you. Also, you can delete irrelevant topics.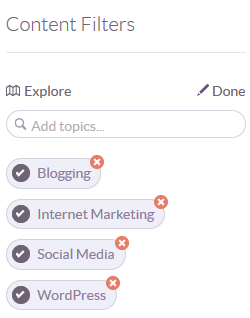 These content filters are also displayed on your profile page.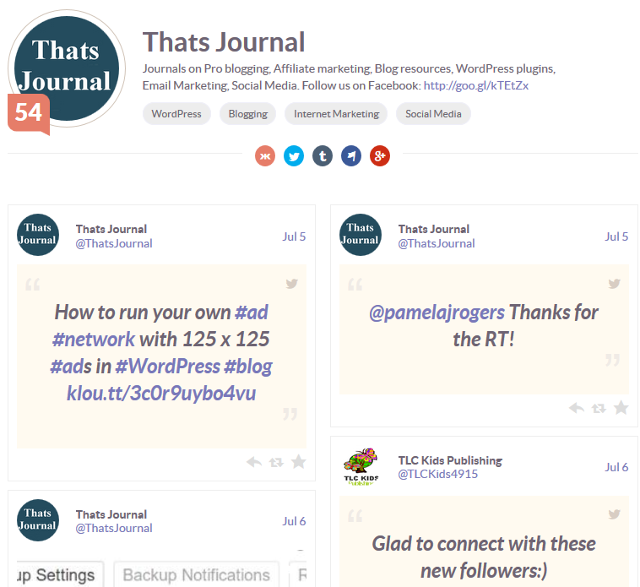 4) Create and share content: To create content to be shared on social networks, click on Create menu and then click on "What do you want to share today?" Enter the content and the URL to be shared. Klout will automatically shorten the URL after you add it. Click on Upload photo and add a picture to your content. Under "to" you can select the social network to which you want to share your content. If you don't want to schedule your content and share it now, click on Share Now button.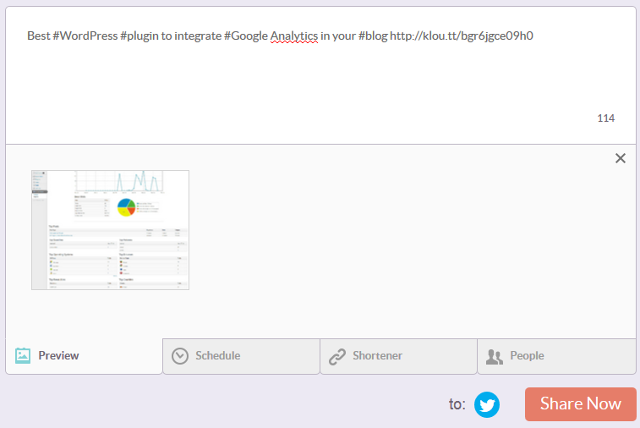 5) Schedule content: To schedule content, go to Schedule tab. Select a date from the calendar. Klout determines the best time to share your content. However, under Set a custom time you can select a custom time to share your content.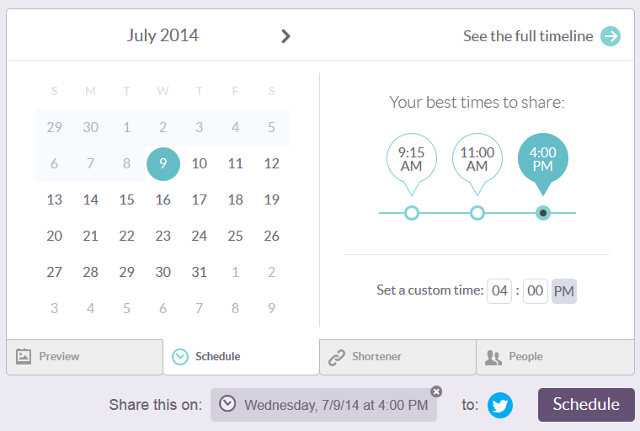 To see the full timeline when your audience is most active, click on "See the full timeline"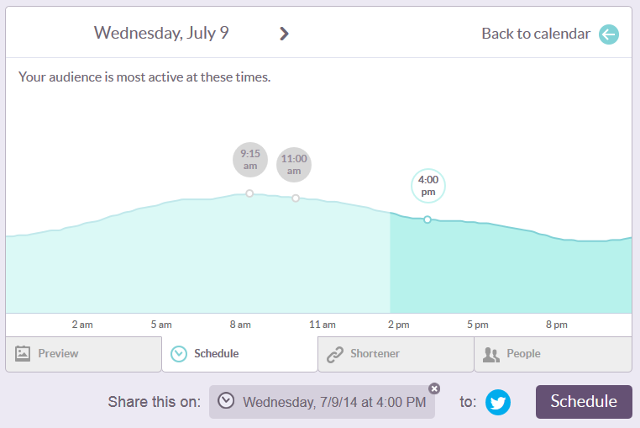 When you are done, click on Schedule button to schedule the content.
6) Enable or disable link shortener: To enable or disable Klout link shortener, go to Shortener tab, check option "Use klou.tt link shortener" to enable link shortener or check option "Don't shorten links" to disable Klout link shortener.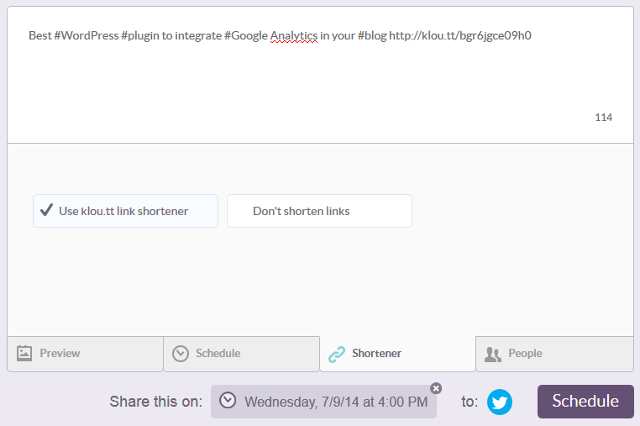 7) Change Timezone settings: To change timezone settings in Klout, click on Schedule menu and then select a timezone.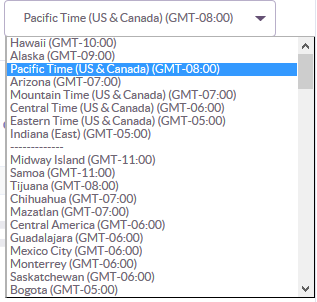 8) Measure social media influence: Click on Measure menu on the left side. Based on your activity, Klout creates a score knows as the Klout score. Under "90 Day Score History" you can check the history of your Klout scores. You can check the recent activity on your social networks under "Recent Activity". Network contribution shows the impact of different social networks on your Klout score.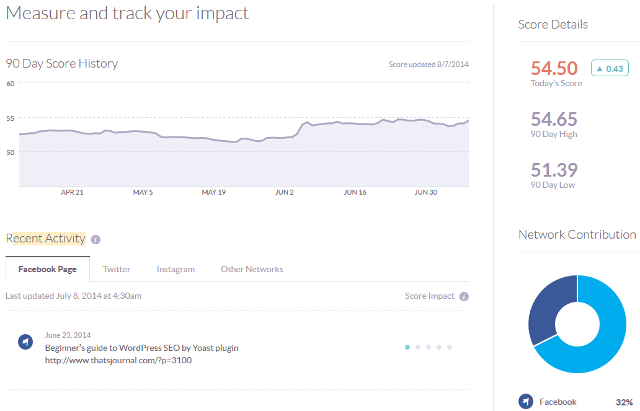 9) To give +K to a member: Every day you can give 10 +K to other Klout members. To give +K to a member, enter the name of the member or their Twitter handle in the Search field at the top.

Then, click on the profile of the member. Click on the topic for which you want to give +K to the member. For Example, here I am giving +K to Ken Herron for Social Marketing.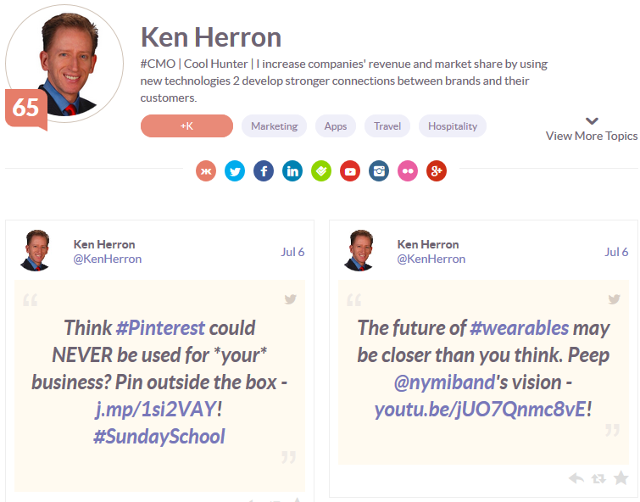 10) To increase Klout score: To increase your Klout score, keep sharing engaging content in social networks. Also, you can add all your social networking accounts in Klout. This helps Klout to measure your social media influence accurately and generate a higher Klout score.
Download thousands of Themes, Plugins & Graphics to create your Website. Use promo code ThatsJournal and get an additional 10% off
for All MonsterONE Plans
.
Disclosure: Thats Journal is supported by our readers. This page may contain affiliate links. That means, if you click on these links to make a purchase, we may earn a small commission (at no extra cost to you). These funds help us to keep this blog up and running.