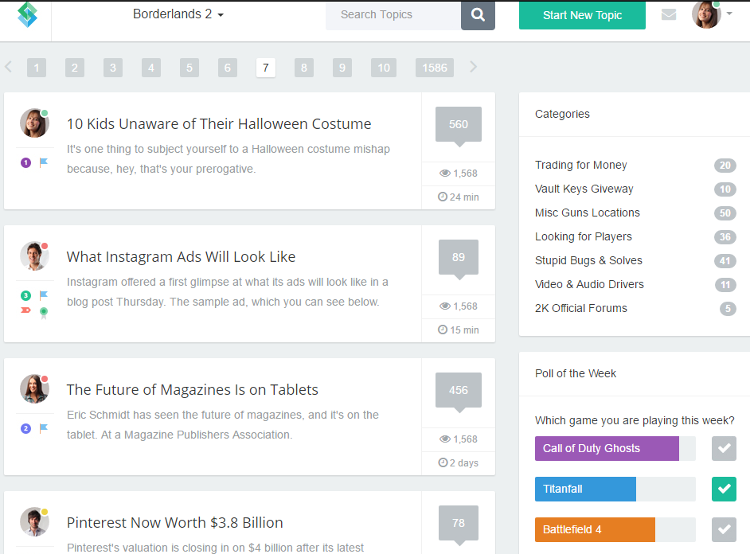 This post is about a forum, discussion, bulletin board, bootstrap HTML5 template. By using this website HTML template you can create an online forum site, community site, online message site and user generated content site. Users can create forum threads and ask questions and post comments on different kinds of topics. You can use this HTML5 website template to create a modern forum with profile builder, polls and various other types of community and discussion features.
Here are the features of forum, discussion, bulletin board, bootstrap HTML5 template:
Responsive forum and discussion board HTML5 template.
Compatible with Bootstrap framework.
Built by using HTML5 and CSS3.
SEO optimized and fast loading forum and discussion board HTML5 template.
To create a topic users have to enter topic title, select categories, sub categories and enter the description for the forum topic.
Option for the user to make the forum topic public for everyone to see or to make it visible only to the friends of the user.
Option for the user to share the forum topic on different types of social media channels automatically like Facebook, Twitter and Google+.
Supports Google fonts.
Option for the user to email and notified them when another user posts a reply on their topic.
Option to create weekly polls for the users on random topics and display them on the sidebar as a widget. The date at which the poll will be ended, will be displayed on the widget.
Category widget to display the most popular and active categories on your online forum.
Award points to users for their actions. Based on these points you can also award badges to your users. This feature is helpful for making sure that your users are active and it keeps the forum engaged.
Display My Active Threads widget on the sidebar to show most active threads of the users.
Display number of views for a forum topic, number of comments and time at which the last comment was placed. This feature is helpful for displaying the activity in your online forum.
Option for users to search various kinds of topics.
Users can create and build their profile by adding their profile picture, first name, last name and username. They can make their profile visible to everyone or only to their friends. You can also add other fields for users to enter their age, location and any other types of optional questions with drop downs and radio buttons.
Users have the option to link their Facebook account, Twitter account, Google+ account and Pinterest account. You can enable badges such as when they link their social media account they will earn a new badge. After they have linked the social media accounts they can directly share posts on their social channels by selecting a check box for their forum topics.
Users can view each others profiles and add them as friends and send private messages to each other.
Also, when a user is online, they are displayed by using a small green icon.
Download thousands of Themes, Plugins & Graphics to create your Website. Use promo code ThatsJournal and get an additional 10% off
for All MonsterONE Plans
.
Disclosure: Thats Journal is supported by our readers. This page may contain affiliate links. That means, if you click on these links to make a purchase, we may earn a small commission (at no extra cost to you). These funds help us to keep this blog up and running.