Domain Check is the best domain checker and SSL checker plugin available for WordPress, (it's also 100% free which is awesome.) Using Domain Check like a pro turns your WordPress admin in to a powerful domain management tool. Every blog has a domain, and every blog with ecommerce has an SSL certificate, which makes Domain Check a natural plugin for beginner WordPress bloggers. But once you start using Domain Check you quickly realize it is built for webmasters, agencies, rock-star developers, domainers, and power users.
You can download the plugin from the Domain Check website or from the WordPress plugin directory.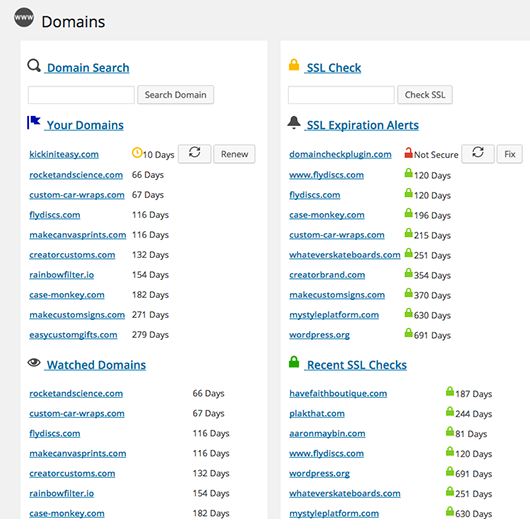 From using the bulk domain checker, to the first thing you need to do before buying a domain, here are six quick tips for pros to help you take your installs of Domain Check to the next level:
1. Use the Bulk Domain Checker
Inside the Import section of Domain Check is one of the most powerful tools, the bulk domain checker. While Domain Check does put your WordPress blog's URL in when you install and  activate, most people have multiple domains and SSL certificates. Agencies and large web companies may have clients with domains and SSL certificates across various domain registrars and hosting companies. Domain Check lets you see all the action items on these domains at a glance in the dashboard, you just need to Import them. Copy and paste any text and it will pull out the domain names for you, then follow the instructions and the domain checker automatically searches and saves any of the domains you put in. It's as easy as copy paste.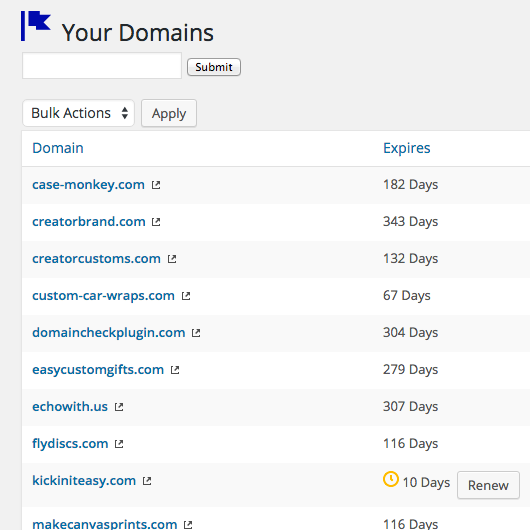 2. Don't Forget SSL Checks
After you're done using the domain checker to import your domains, don't forget to import them as SSL. You may be surprised to see certificates expired or expiring soon. It is extremely common for SSL certificates to expire: unlike domains SSL certificates cannot be autorenewed each year and you have to manually renew them. Unfortunately an expired SSL certificate will cause an immediate drop in ecommerce conversion, (for example on WordPress blogs using WooCommerce). Importing all your SSL certificated upfront let Domain Check send you or any email address you add expiration alerts for SSL certificates before they take down your business.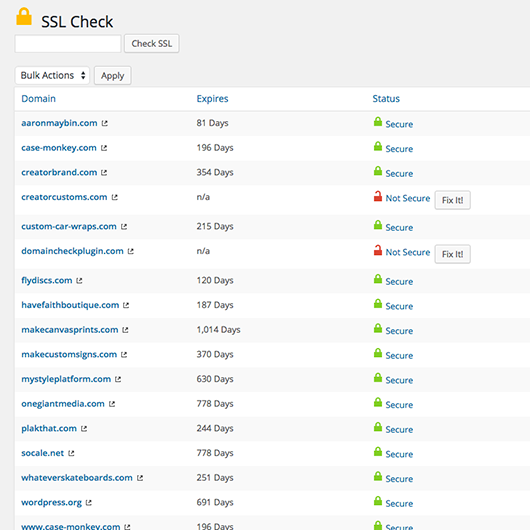 3. Install it Everywhere, People Will Thank You
Domain Check does not make any public pages on your blog, it is only in your wp-admin, and it changes nothing about your domain name, DNS, hosting, or SSL certificates. It is a very low profile plugin that will not break anything so its perfect for every level of WordPress user. If you work with multiple WordPress blogs, beginner bloggers, or multiple clients using WordPress then Domain Check is a quick win with no cost to help bloggers check their domains and SSL certificates on their own. It can also stop inexperienced bloggers become victims of domain front running and the coupon codes in the admin provide a spam and malware free location to find working coupon codes.
4. Search for Coupon Codes Before Buying Domain Names, SSL Certificates, and Hosting
Stop buying domain names and SSL certificates at full price, use the Coupon Search in Domain Check. It's ridiculous to pay $14 for a domain name when you can get that same domain name for $0.99. And never, ever pay retail prices for WordPress hosting. Always search Domain Check for coupons or deals because every hosting company has them. That alone can save you hundreds or thousands of dollars per year with just a few blogs. Also the most annoying thing about domain name coupons is finding working coupon codes, Domain Check updates the coupon codes daily and lets you update whenever you want so your code always works and you know where to find them.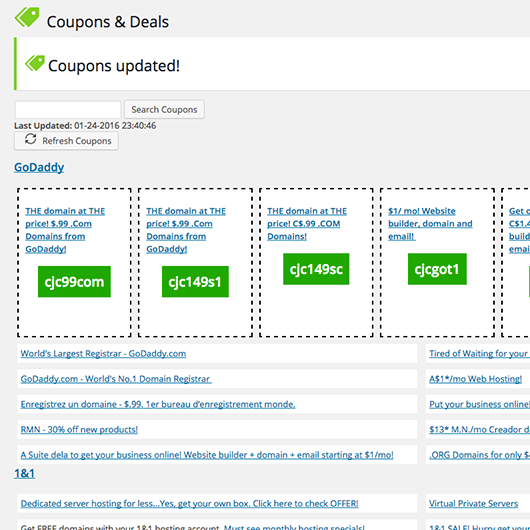 5. Add In Another Email and Give Yourself Some Backup
Sometimes you miss alerts, it happens. Domain Check comes from your blog so its separated from normal advertisements and spam, but maybe you just need someone else to get the alerts too. It's very common to need a webmaster to replace your SSL certificate. Inside the Settings for Domain Check is a section to add additional emails. You can add any other email addresses in there and they will also get the alerts. If you want to add an email address to get notifications for just one domain or just one SSL certificates you can in Domain Check by clicking in to the domain. It's nice to give yourself some backup by adding in another email address.
6. Remember Your Next Domain Search in Domain Check
It's hard to refrain yourself to search for domain names inside Domain Check but it can be essential during a domain name brainstorming session. One of the killer features of Domain Check is saving your domain name searches. Keep track of the exact domain names you liked that were available, collaborate with other people on the domain search process, and take a second look at the domains you wanted the next day to make sure you get the perfect fit.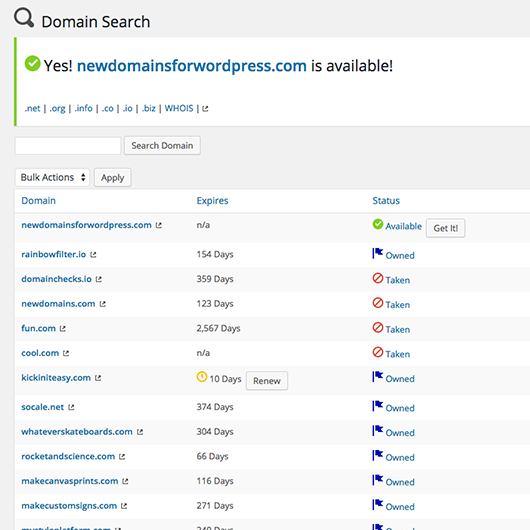 You can follow Domain Check Twitter account for trending domain names @domaincheckplug where they pull the trending topics and retweet the most popular trending topic that has an available dot com. They're not all winners but some of the domain names it tweets out are actually pretty good. If you're on Twitter the Domain Check account is definitely worth a follow.
Domain Check is a great plugin for bloggers just getting started but now you know six secrets to turning Domain Check in to your own enterprise level domain management suite. Got another pro tip to add to the discussion? Reply in the comments with how you use Domain Check like a pro!
Download thousands of Themes, Plugins & Graphics to create your Website. Use promo code ThatsJournal and get an additional 10% off
for All MonsterONE Plans
.
Disclosure: Thats Journal is supported by our readers. This page may contain affiliate links. That means, if you click on these links to make a purchase, we may earn a small commission (at no extra cost to you). These funds help us to keep this blog up and running.