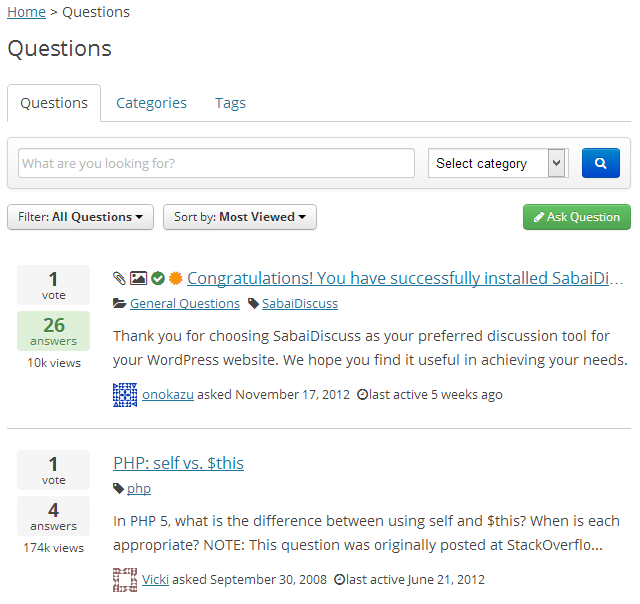 In this post, I will describe one of the best WordPress plugins for adding a hierarchical Questions and Answers community, discussion stream and forum in your WordPress blog. Users can ask questions and it could be replied by the other users of the blog from the front end of the blog. The user who has asked the question can pick a relevant answer. You can also manage the questions and answers from the plugin settings page. Along with that, the plugin comes with a voting system module which could be used to cast votes on questions and answers. This plugin can integrate Questions and Answers system in any WordPress theme. Plugin is fully customizable and you can use it to create your own question and answer system in your blog.
Here are the features of the plugin:
1) Comments for questions and answers: Users can post comments on the questions and answers.
2) Featured questions: As an admin you can also mark important questions as featured.
3) Spam control: To handle spam you can provide options to users to flag questions and answers as spam. They can select the reason for flagging a question or an answer and add their comments. When a question has increased the spam threshold it will be automatically removed from the forum. You can set up spam threshold based on number of votes as per your choice. Also, you have the option to delete spam questions automatically after a particular number of days. This feature will make sure that the junk and spam questions are removed from your discussion streams.
4) Favorite questions and answers: Users can pick their favorite questions and answers.
5) User profile page: Plugin adds user profile pages and reputation system. You can set up and customize reputation points for the users from the plugin settings page.
6) User roles: As an admin you can set up access roles and permissions for the users from the plugin settings page. These permissions can be assigned for individual user roles for questions and answers.
7) Fully customizable: The fields in the front end can be fully customized by the admin from the plugin settings page. You can add custom text fields, paragraph fields, drop down menus, check boxes, radio buttons and date and time fields for the questions. Plugin comes with a collection of add-on modules like Auto complete, comment, content, date, field, form, HTML, questions, taxonomy, voting, widgets, jQuery etc. You can enable or disable these modules as per your needs. Also, you can select number of posts displayed per page, sorting order for the questions for latest posts, most active posts or for most voted posts.
8) Multiple instances: You can also use multiple instances of the plugin in the same blog.
9) Create questions and answers: In the front end users can see previews while editing their questions and answers. They can also highlight codes and other texts. Also, they have the option to select categories for questions, and enter tags.
10) Strip HTML codes submitted by users: As admin you can set filters for stripping unwanted HTML.
11) Email notifications: Plugin supports email notifications and widgets which you can use in the widget ready areas. Notification emails are fully customizable and you can use tags and placeholders for personalizing emails.
12) Language support: You can use any language with the plugin.
13) Question and answers settings for unregistered members: From the plugin settings page, you can enable or disable unregistered members to post questions and answers.
14) Number of views: Plugin also displays the number of views for questions.
Download thousands of Themes, Plugins & Graphics to create your Website. Use promo code ThatsJournal and get an additional 10% off
for All MonsterONE Plans
.
Disclosure: Thats Journal is supported by our readers. This page may contain affiliate links. That means, if you click on these links to make a purchase, we may earn a small commission (at no extra cost to you). These funds help us to keep this blog up and running.