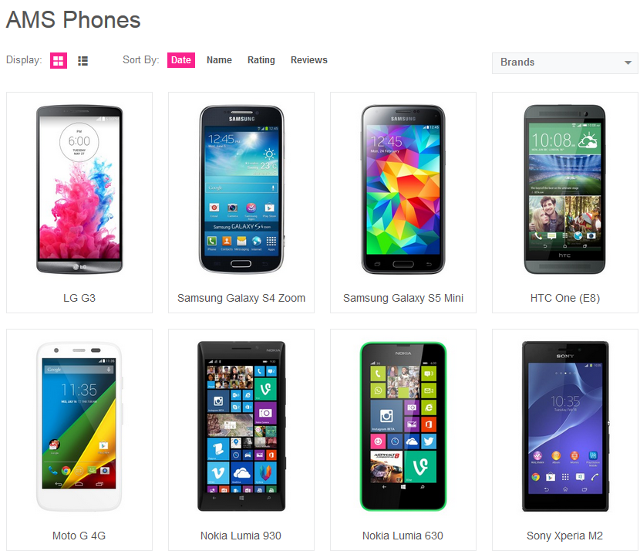 This post is about a WordPress plugin which can be used for creating a responsive mobile phone or cell phone comparison website in your WordPress blog. By using this WordPress plugin can create a mobile phone comparison site, mobile phone specifications site, mobile phone affiliate site, cell phone reviews and ratings site and mobile phone information site in WordPress. From the plugin settings page you can add Mobile phone models with brand information, mobile phone specifications, mobile phone page with image gallery, edit plugin design settings, add zoom effect for featured image and add mobile phone comparisons. This WordPress plugin also supports user ratings and reviews, Amazon affiliate integration, instant search with Ajax support and custom widgets.
Here are the features of this WordPress plugin:
1) Add Mobile phone models: This WordPress plugin uses custom post types for creating new posts about mobile phone models. You can add details about mobile phones, brand information, mobile phone images, image gallery and featured image for mobile phone models.
2) Mobile phone specifications: You can add the following details about mobile phones: Device type, Model information, Announced date, Released date, Status, Price of the mobile phone, Design type of mobile phone, protection information, Available colors, Weight of mobile phone, Dimensions of mobile phone, Network support for 2G, 3G and 4G networks, SIM type, Dual SIM capability, Display type, Display size, Colors, Pixel density, Resolution, Touch screen support, Secondary display information, Audio playback support, Video playback support, FM radio, Video out, Ring tones, Alert types, Headphone jack information, Loudspeaker support, Primary camera, Secondary camera, Video information, Image information, Camera features, Flash support, User interface, Operating system, Facebook support, YouTube support, Java support, Chipset information, CPU information, GPU information, Ram information, Internal storage, Card slot information, Sensors, Wi-Fi support, Bluetooth support, Infrared support, Wi-Fi hotspot support, GPS support, USB support, NFC support, HDMI support, Wireless charging support, EDGE support, GPRS support, Data Speed, Web browser information, SMS support, IM support, MMS support, Email support, Battery type, Battery capacity, Placement information, Standby information, Music play information and Talk time information.
3) User ratings and reviews: Users of your site have the option to post ratings and reviews for mobile phones. They can rate a mobile phone from 1 to 10 based on Camera, Display, Design, Multimedia, Features, Connectivity, Usability, Call quality, Battery and Performance. User ratings are fully animated.
4) Amazon affiliate integration: You can add Amazon affiliate links and offers for the mobile phones in your site.
5) Mobile phone page: You can customize the mobile phone page as per your requirements. Mobile phone information is displayed in tabs: Overview, Specifications, Reviews, Gallery and Offers. You have the option to customize tabs as per your needs.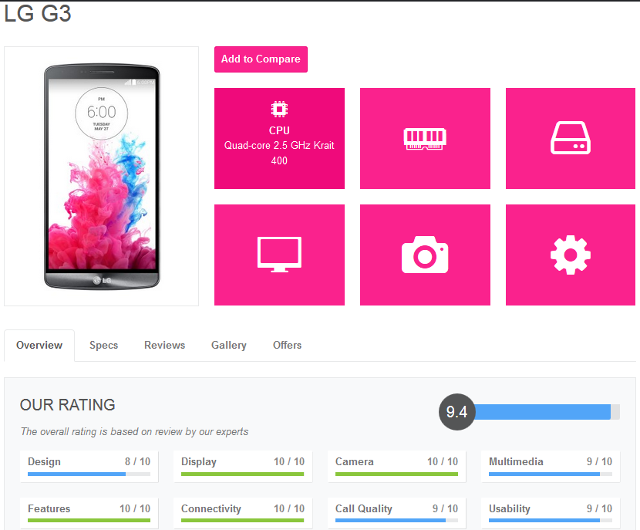 6) Responsive design: Mobile phone comparison site created by using this WordPress plugin is fully responsive and will work on all types of devices including desktops, laptops, cell phones and tablets.
7) Design settings: From the plugin settings page you can edit container width, select the position for the content display, select a color scheme, select border color, enable or disable group icons and add custom CSS codes.
8) Zoom effect for featured image: Users can hover and zoom the main mobile phone image.
9) Mobile phone comparisons: Users of your site can add up to three mobile phones and compare them. As an admin you can also create your own mobile phone comparisons and display it as a widget in the sidebars.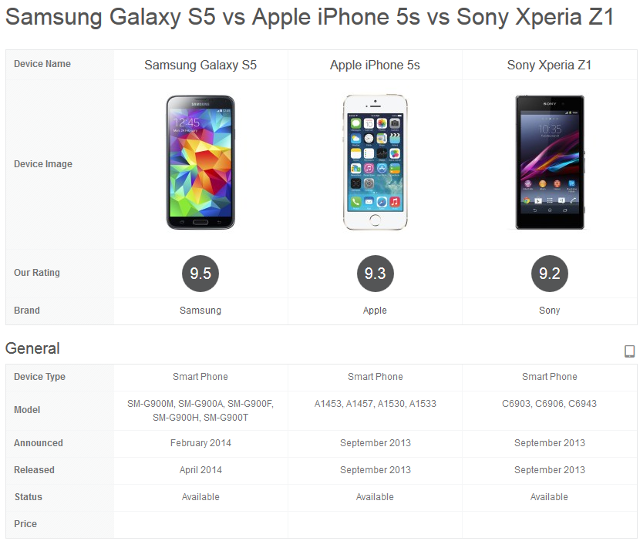 10) Instant search with Ajax support: You can add instant search with Ajax support in your mobile phone comparison website. When users start typing in the search box results are displayed instantly.
11) Custom widgets: This WordPress plugin comes with various types of custom widgets: New arrivals widget to display new mobile phones added in your website, Brand widget with number of phones added, Top rated mobile phones widget, etc.
Download thousands of Themes, Plugins & Graphics to create your Website. Use promo code ThatsJournal and get an additional 10% off
for All MonsterONE Plans
.
Disclosure: Thats Journal is supported by our readers. This page may contain affiliate links. That means, if you click on these links to make a purchase, we may earn a small commission (at no extra cost to you). These funds help us to keep this blog up and running.