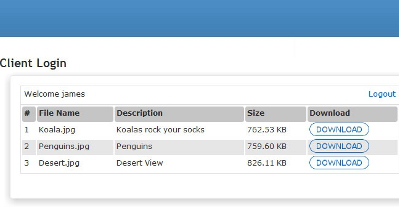 If you are selling eBooks, PDFs, audio content or any other file then you have to allow your users to download these files. Now, when a user makes a purchase a file should be available to that particular user and not everyone. So in order to do that you have to apply permissions to the files to be downloaded only when a purchase has been made. Doing all this manually can take a lot of time and it will be confusing. To make this process simple, you can download and install this WordPress plugin. By the help of this plugin you can allow a user to access and download a particular file by providing him the access code or the password. This is one of the best WordPress plugins for securing files in your WordPress blog.
Advantages of this WordPress plugin: 
1) Secure files in WordPress blog: Files can be accessed only by the logged in user. A user has to enter his credentials (user name and password)  to access the files.
2) Restrict file access: Files can be accessed only by the users for which you have assigned the file downloads.
3) Easy management of files: From the plugin settings page you can easily add and delete files for a particular user account. Also, you have the option to modify the passwords.
Download thousands of Themes, Plugins & Graphics to create your Website. Use promo code ThatsJournal and get an additional 10% off
for All MonsterONE Plans
.
Disclosure: Thats Journal is supported by our readers. This page may contain affiliate links. That means, if you click on these links to make a purchase, we may earn a small commission (at no extra cost to you). These funds help us to keep this blog up and running.