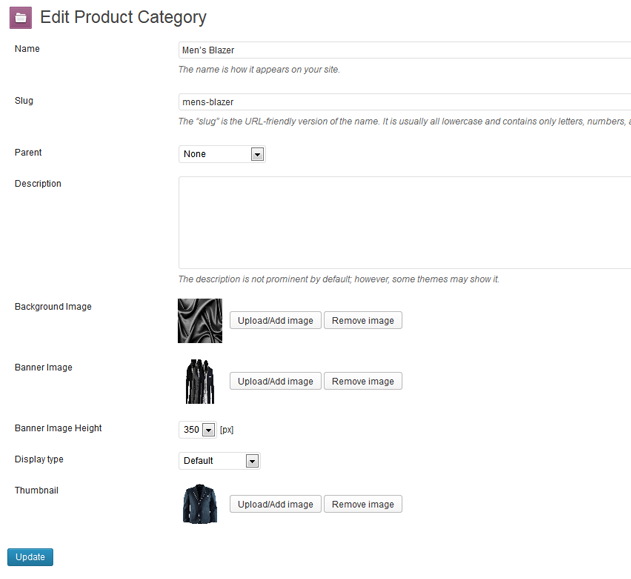 This post is about a WordPress plugin which you can use for changing background images for categories and products in WooCommerce store. By using this WordPress plugin you can add different backgrounds for category pages and product pages in your WooCommerce shop. Also, you can add a different header banner image for category pages. This WordPress plugin is fully responsive and will work in all types of devices. Advantages of this WordPress plugin is that your WooCommerce store will look unique and your customers can easily differentiate the products and categories when they are browsing.
Here are the features of this WordPress plugin:
1) Change backgrounds: From the plugin settings page, you can add a different background for any product category or for any product in your WooCommerce store. All you need to do is to upload the image for the product category or for the product. Background images for products can be added from the product editor.
2) Change header banner image: You also have the option to change the header banner image for any product category in your WooCommerce store. You can upload the header banner image and set up the height of the header banner image. This banner image is added just after the menus and before the products in your WooCommerce store. Header banner image is useful for your customers as it displays a unique banner image for every category. Thus, just by just looking at the header banner image, customers would know the category in which they are browsing.
3) Responsive and adaptive: Category backgrounds and product backgrounds will work on all types of devices including cell phones and tablets.
Download thousands of Themes, Plugins & Graphics to create your Website. Use promo code ThatsJournal and get an additional 10% off
for All MonsterONE Plans
.
Disclosure: Thats Journal is supported by our readers. This page may contain affiliate links. That means, if you click on these links to make a purchase, we may earn a small commission (at no extra cost to you). These funds help us to keep this blog up and running.