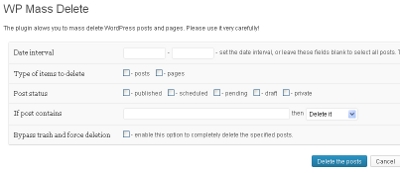 If you are running an article directory in your WordPress blog or if you have opened the registration then you will get a lot of posts. Many of them may be junk and if you want to delete them then it will take hours since in WordPress you can delete only 20 items in one shot.
Solution: You need a mass delete plugin. Simply, download and install this WordPress plugin.
To delete posts Go to: Settings–> WP Mass Delete.
1) Enter "Date interval" if you wish to delete posts or pages based on dates. The dates must be specified in the following format: YYYY-MM-DD
2) Type of items to delete: Select posts or pages as per your requirements.
3) Post status: Select published, scheduled, pending, draft, or private as per your needs.
4) If post contains: You can use this field to enter keywords to match specific posts or pages to delete.
5) Bypass trash and force deletion: You can use this option to completely delete the specified posts. If you select this option there is no way to retrieve the deleted posts.
There are other WordPress plugins out there to delete posts in bulk, however, they crash when you delete many posts. By this plugin I have deleted more than 50,000 posts in a blog in a single shot.
Download thousands of Themes, Plugins & Graphics to create your Website. Use promo code ThatsJournal and get an additional 10% off
for All MonsterONE Plans
.
Disclosure: Thats Journal is supported by our readers. This page may contain affiliate links. That means, if you click on these links to make a purchase, we may earn a small commission (at no extra cost to you). These funds help us to keep this blog up and running.