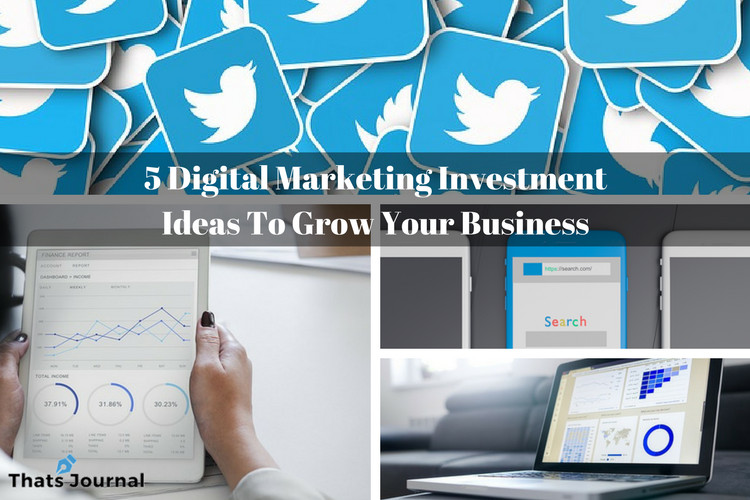 Many small businesses ask the same question- how much they should invest in digital marketing. Most importantly, they want to know where to invest. Of course, there is no singular answer to these questions. If you look them up online, you will realize that the approaches and opinions on this subject matter vary greatly.
Looking at the Big Picture
When starting out, businesses look for the most effective ways to improve their financial health.
To maximize their revenue and minimize their expenses, they make financial predictions, look for different funding sources, and partner up with other companies. This means constantly analyzing your term sheet, contract notes, financial statements, and other related documents.
However, you shouldn't forget that digital marketing is one of the most powerful, and yet less painful ways to boost your cash flow and build a solid brand. It's a long-term investment that brings outstanding results.
It boosts your transparency.
It helps you stand out and reach out to your target audience.
It enhances your authority and relevance.
It improves your SEO efforts.
It's highly customizable and easily measurable.
It helps you attract new customers and retain existing ones.
Given all these facts, it's not surprising that digital marketing is predicted to reach almost 45% of the total media ad spend by 2020.
Forrester came to the similar conclusions, pointing out that the U.S. digital marketing spend will be close to $120 billion by 2021.
Where to Allocate your Resources?
Here are a few areas of digital marketing you should pay special attention to in 2018.
1) Strategy Creation
The majority of businesses use at least some form of digital marketing. However, what's worrisome about all this is that 49% of businesses don't have any digital marketing strategy.
If you further analyze this phenomenon, you will see that out of 90% of businesses that create content, only 37% of them have a plan.
The same goes for social media marketing. Did you know that 87% of marketers are not sure what their most profitable social media tactics are?
Digital marketing is not just about opening social media accounts, sharing a post or two every once in a while, and having a website. It's an immensely important aspect of your business promotion and it requires strategic planning. And, to make it effective, you need to keep track of the industry trends, analyze your performance, and update your strategy regularly.
2) Content Marketing
Most of your rivals are already creating content. Logically, it makes it more difficult for you to stand out and address your target customers. To cut through the noise, you need to provide your customers with a highly targeted experience. Apart from the traditional articles, you need to invest in more engaging and exciting forms of content. For instance, invest in visuals. Videos have become extremely popular and they are expected to "usurp" over 80% of the internet traffic.
Today, everything is about context and you need to remember that you're not writing your content for Google's crawlers. You're doing so for your visitors. So, make sure your content is data-backed, relevant, and informative. Most importantly, always provide interesting examples and have a good story to round all this up.
3) Social Media Marketing
As statistics show that there will be 3.02 billion social media users by 2021, social networks have become the nerve center of your business.
They give you the opportunity to do a detailed customer segmentation and build awesome buyer personas.
Social networks are also a perfect place to improve your communication with your customers. You can invest in the right social media monitoring tools and get notified whenever someone mentions your brand or products. This way, you can answer all their questions and participate in their discussions in real time, boosting their experience with your brand.
Most importantly, social networks are great for sharing engaging and interactive content. Create and share quizzes, polls, user-generated content, behind-the-scenes photos, explainer videos, stories, and live videos to humanize your brand and boost people's engagement with it.
4) Mobile Optimization
If you've been browsing the web or your social networks these days, then you've probably heard that Google has finally put their mobile-first index to use. From now on, they will focus on your site's mobile version and, if it's not optimized well, this may affect your rankings. To prevent this from happening, you need to invest in a responsive website design.
Here is what this means:
Improve your website speed by removing redirects, enabling compression, reducing the image size, etc. You could also switch to Google's AMPs to give your pages a boost.
Simplify your navigation.
Make your content reader-friendly, visually appealing, and easy-to-navigate.
Make all important elements of your site, like CTAs, a search box, or payment options prominent.
Beware mobile popups, as Google has confirmed the introduction of "intrusive interstitial penalty".
Your website forms should be easy to tap on and fill out.
In other words, you need to take a completely new approach to your website design. It needs to include the same content as your desktop site, be simplified, and tailored to different devices. For any additional information on how to prepare for the mobile-first index, check out this Google's post.
5) SEO
Search engine optimization is an immensely important aspect of your digital marketing strategy. Of course, effective SEO practices are never cheap. You will need to hire SEO writers, link builders, user experience specialists, as well as invest in the right tools, consultation, technical development, and outreach. Search Engine Journal emphasizes that, depending on whether you do it in-house or outsource it to an agency, the monthly cost of SEO for small businesses is somewhere from $2000 to $5000. For larger enterprises, on the other hand, $5000 is a bare minimum.
Conclusions
As you can see, neither of these digital marketing strategies can be observed in a vacuum. They are all equally important to the growth of your business.
Always keep in mind that your digital marketing strategy isn't carved in stone. You need to analyze their effectiveness regularly, keep track of the industry trends, and update your strategy according to them.
Which digital marketing strategies do you use to grow your business?
Download thousands of Themes, Plugins & Graphics to create your Website. Use promo code ThatsJournal and get an additional 10% off
for All MonsterONE Plans
.
Disclosure: Thats Journal is supported by our readers. This page may contain affiliate links. That means, if you click on these links to make a purchase, we may earn a small commission (at no extra cost to you). These funds help us to keep this blog up and running.