It has been estimated that by the year 2020, Gen Z will account for 40% of all consumers. And, with 81% of Gen Z-ers checking their email at least once a day, email marketing continues to prove its value in the competitive world of digital marketing.
Are you prepared to conquer the Gen Z market, or do you still need some guidance? In this post, we'll discuss the different ways Gen Z-ers communicate with brands, and provide you with tips on how you can effectively engage with your Gen Z audience.
Generation Z and their interactions with brands
Earlier this year, we surveyed Gen Z-ers to better understand their marketing preferences and how they interacted with brands online. Our respondents were made up of 300 people ranging from ages14 to 26 , with 96.39% of them falling in the 18 to 24-year range.
We'll share with you key data points from our survey and how you can use these data points to create email marketing campaigns that grab the attention of your Gen Z audience.
How to leverage email for the Gen Z market
Take a look at the most significant data points from our survey and how you can apply them to your email marketing strategy in order to better engage with your Gen Z audience.
1) Include a preference center
According to our survey, 31.8% of Gen Z-ers preferred receiving emails from brands twice a week, and 27.5% preferred receiving emails once a day. Meanwhile, 19% preferred receiving emails once a week.
This means that an overwhelming majority of Gen Zers (78.3%) want to receive emails from brands at least once a week.
To accommodate each of your Gen Z subscribers, include a preference center in your signup forms.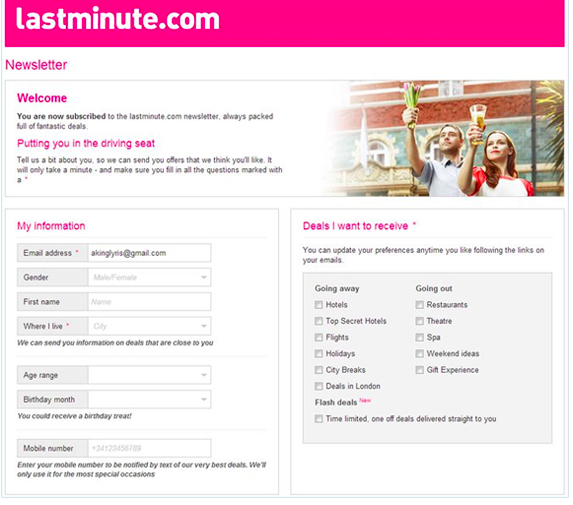 With a preference center, you give subscribers the freedom to choose how often they want to receive emails and the type of email content they'd like to receive. This type of self-segmentation will allow you to easily collect data that you can use to send emails that are tailor-made to suit each subscriber's preferences.
2) Integrate email marketing with social media
When we asked respondents how many times they've made a purchase in the last month as a direct result of receiving an email, 28.5% said 2 to 5 times, and 27.9% said only one time.
To compare, when we asked them how many times they've made a purchase in the last month as a direct result of seeing it on social media, 29.5% said 2 to 5 times, and 33% said only one time.
Furthermore, when we asked what channel they preferred to use when engaging with brands, social media received the most votes followed closely by email.
It's clear that social and email marketing are the channels that Gen Z-ers use the most when interacting with brands. So why not combine the two?
For example, if you're going to post a new product on Instagram with a goal to encourage purchases, do the same with email by sending a product announcement message to your subscribers that includes a special introductory discount. This way, you maximize conversions using two channels instead of just one.
You can also grow your email list via social media by posting links to your signup forms on Twitter and Instagram. Some email marketing platforms even allow you to add a dedicated signup form to your Facebook account, which appears as a separate tab at the top of your page.
3) Send relevant offers and incentives
When asked what makes them open emails from brands, 68% said it was because of sales and offers and 36.1% said it was because of the personalized subject line.
Therefore, a surefire way to get Gen Z-ers to open your emails is to send them email offers and discounts.
Like any other demographic, Gen Z-ers love a good sale, and they'd hate to miss out on these sales, so make sure you tap into their fear of missing out (FOMO). To further increase the chances of Gen Zers opening your emails, personalize your subject lines by including the subscribers' first names.
4) Maintain engagement with videos
Data from the Pew Research Institute suggests that 85% of Gen Z-ers use YouTube, and 32% of them use it more than any other social media site. 
Including videos or GIFs in your emails is a great way to keep from becoming stale or boring. By including visually stimulating graphics and videos in your emails, you can keep your Gen Z audience engaged and interested in your campaigns.
Wrap up
Gen Z is a powerful demographic that is expected to make up a good portion of all consumers by 2020, so it pays to reach out to them. If you want to do so successfully, make sure you consider all the advice mentioned in this article.
Want to know more about how you can market to Gen Z customers? Check out Campaign Monitor's Ultimate Guide to Marketing to Gen Z in 2019.
Download thousands of Themes, Plugins & Graphics to create your Website. Use promo code ThatsJournal and get an additional 10% off
for All MonsterONE Plans
.
Disclosure: Thats Journal is supported by our readers. This page may contain affiliate links. That means, if you click on these links to make a purchase, we may earn a small commission (at no extra cost to you). These funds help us to keep this blog up and running.