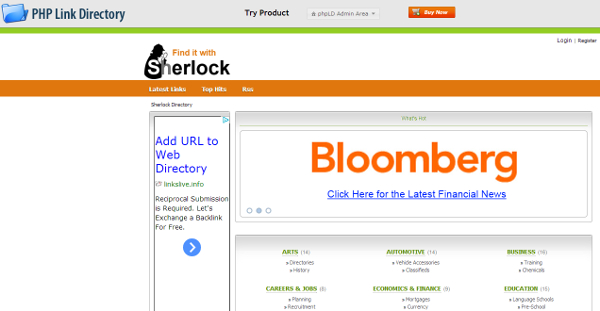 This week, we will be giving away one license of PHP Link Directory script. You can use this license for installing PHP Link Directory script in one of your domains. PHP Link Directory script is one of the best scripts to create any type of a link or article directory, classifieds site or a quotes site in a fly. Here are the features of PHP Link Directory script:
1) Built by using PHP and MySQL: PHP Link Directory is a simple yet powerful script in PHP which uses MySQL as the back end. You don't have to be a hard core programmer to change the settings of your link or article directory. If you know little bit of PHP and HTML you can easily edit the template.
2) Easy to install: It's very easy to install PHP Link Directory script in your servers. Al you have to do is to create a database, upload the files to your server and go to the install page to add necessary information about your link directory and you are done. Then, you can login to the admin interface to change the settings of your directory.
3) Create any type of site: Not just the link directory, by using PHP Link Directory you can create an article directory, video directory, blog, deals site, classifieds site, , tech site, fan site, travel site quotes site or a niche site. Also, you can enhance the functionality by adding maps.
4) Free templates: There are many free templates in the templates directory of PHP Link Directory. To change the template, all you have to do is to download the templates and then upload it in your server in the templates section and then switch the templates from the admin section.
5) Cache functionality: When you have multiple users accessing the directory at the same time, the directory will tend to load slow. However, from the admin section, you can enable the cache which will make your directory load faster. You can also set up the time at which cache will be flushed.
6) Widgets and Sidebars: You can add different widgets which are required for a directory site in the sidebars of your site. These widgets can be enabled from the admin section.
7) Paypal integration: You have the option for enabling payments so that your users can buy featured listings directly using Paypal.
8) Listing packages: You can create listing packages with time limits. After a stipulated time duration, the listings will be deactivated. This is a great feature for a classifieds site as you can receive recurring payments.
9) Email templates: You can edit the email templates in your directory. These email templates are used for sending automated email messages to the users of your directory when thy submit, modify or buy a paid listing.
10) Advertisements ready: You can easily add advertisements from Google Adsense or from any other ad network in your directory site as per your requirements anywhere in the site.
By looking at the above features I am very sure that you would wish to grab this free directory script for yourself. Well, as usual the rules to enter the giveaway are very simple. You just have to perform simple social actions and you will receive points:
1) Like us on Facebook: 10 points
2) Follow us on Twitter: 5 points
3) Tweet about this Giveaway: 5 points
4) Leave a comment on this post: 5 points
Based on these points we will choose a winner next week.
To enter the giveaway, use this interface:
UPDATE: This Giveaway has ended. Thank you for participating!
Download thousands of Themes, Plugins & Graphics to create your Website. Use promo code ThatsJournal and get an additional 10% off
for All MonsterONE Plans
.
Disclosure: Thats Journal is supported by our readers. This page may contain affiliate links. That means, if you click on these links to make a purchase, we may earn a small commission (at no extra cost to you). These funds help us to keep this blog up and running.