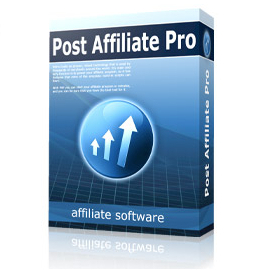 Giveaway Number 3 is very exciting and I am sure you will love it. We are giving away 3 downloadable licenses of Post Affiliate Pro affiliate marketing software, and each license is worth $299. That means the total value of this giveaway is $299 x 3 = $897.
Post Affiliate Pro is one of the best affiliate marketing softwares for enabling a full fledged affiliate system in your website or blog. By using Post Affiliate pro you can start your own affiliate program in your site. You don't have to pay a third party affiliate network on a monthly basis. All you have to do is to download the software, install it in your site and modify the settings.
Here are the features of Post Affiliate Pro:
1) Fully customizable: You can customize the Pro Affiliate Pro front end and back end as per your requirements.
2) Multi level affiliate marketing: Post Affiliate Pro supports multi level affiliate marketing. That means your affiliate can also receive commissions if the sub affiliates generate a sale. These settings are customizable and you can set it up as per your requirements.
3) Unlimited admins: You can add any number of administrators in the affiliate marketing system from the admin section.
4) Pay affiliates in one shot: When you have plethora of affiliates then paying them individually will take a lot of time. However, in Post Affiliate Pro you can save yourself from this trouble by paying all the affiliates in a single shot.
5) Ajax based: Post Affiliate Pro supports Ajax that means you don't have reload the page when you have to perform some of the common tasks. This makes your affiliate system look professional and also it makes it user friendly.
6) Recurring commissions for affiliates: You can enable recurring commissions to your affiliate from the admin section. This feature is great if you are selling a service where users have to pay monthly. This will also encourage your affiliates to promote your product. Affiliates can make lifetime commissions as cookies are not the only way used for tracking affiliate links in Post Affiliate Pro.
7) Private campaign for specific users: You have the option for enabling private campaigns for some specific affiliates in Post Affiliate Pro. This campaign will be hidden for the regular affiliates.
8) Custom theme: You can set up any theme in Post Affiliate pro to match it with your site. There are many pre-designed themes available to choose from.
9) Assign commissions to groups: In Post Affiliate Pro you can assign different users in different commission groups. For Example, you can create two groups A and B and you can assign some of the users to Group A and some of the other users to Group B. Now, you can set up commission structure as 30% for group A and 35% for Group B.
10) Different conditions based on performance: You can offer higher commission rates to the affiliates who are driving more sales to your site.
11) Powerful tracking system: The best part of Pro Affiliate Pro is the tracking system. It uses multiple tracking techniques to make sure that accurate results are generated. You can be rest assured that there will not be any type of fraudulent activity in your affiliate system.
12) Pay per action: You can set up commissions in your affiliate system for any action of the user. For Example, if you want to publicize a recent eBook you wrote. Then you can award commissions to your affiliate when someone downloads the eBook and when they are sent by an affiliate. Here, you can award commissions to your affiliate for any action as per your needs.
13) Any currency: You can use the Post Affiliate Pro software in any currency as per your choice.
14) Unique features like Split commission and direct links tracking: Split commission and direct links tracking are the two features which are only available with Post Affiliate Pro and they are not available with any other affiliate network or with any other affiliate marketing software as of now. Split commission feature can be used for providing a share to all the affiliates in a transaction if multiple affiliates are involved. Direct links tracking helps in affiliate link cloaking and is great for SEO. Affiliates can also set up their own style of tracking codes as per their requirements.
15) Different types of promotional content: You can offer your affiliates a wide variety of promotional material including text links, image banners, flash banners, hover banners, peel away banners, coupons, zip banners, HTML banners, PDF banners, banner rotators, and tools for creating affiliate pages and posts.
16) Translation ready: Post Affiliate Pro supports more than 16 languages. If you site is in a language other than English, then you can translate the entire front end and the admin section as per the desired language of your choice.
17) Custom reports: In Post Affiliate Pro, you can generate any type of reports including quick reports, affiliate reports, top URL reports, top affiliate reports, banner reports, campaign reports, and geo reports which are based on locations and maps.
Rules of the giveaway are simple. You just have to perform simple social actions to enter in the giveaway:
1) Like us on Facebook: 10 points
2) Follow us on Twitter: 5 points
3) Tweet about this Giveaway: 5 points
4) Leave a comment on this post: 5 points
Based on these points we will choose three winners next month.
To enter the giveaway, login using this Rafflecopter interface:
UPDATE: This Giveaway has ended. Thank you for participating
Download thousands of Themes, Plugins & Graphics to create your Website. Use promo code ThatsJournal and get an additional 10% off
for All MonsterONE Plans
.
Disclosure: Thats Journal is supported by our readers. This page may contain affiliate links. That means, if you click on these links to make a purchase, we may earn a small commission (at no extra cost to you). These funds help us to keep this blog up and running.