WordPress is spreading its wings in the world of websites and is one of the best Content Management Systems available today. Being a cost-effective and low maintenance platform for the development of the website, most of the users are switching to WP. But as they have quite a low experience of the stage, they make some common mistakes that lead to the downfall of their websites. However, those problems can be avoided by just keeping a small check on some aspects. Below, we have listed the 11 most popular mistakes that people do on WordPress and how can they be avoided.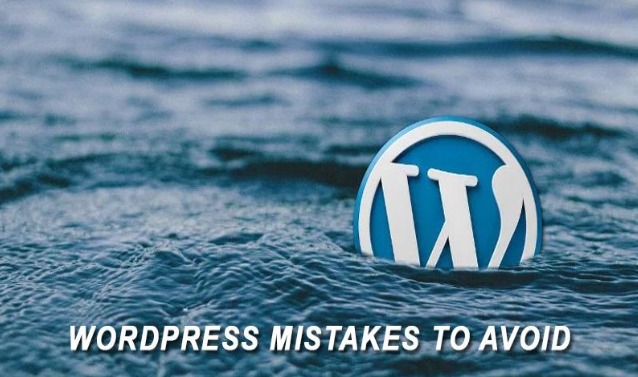 WordPress Mistakes
Selection of Wrong Platform
Beginners generally get confused between the two platforms – self-hosted WordPress and free WordPress.com. You have to first understand the need and purpose of your website and select the platform accordingly. If you want a simple blog and you opt for self-hosted WP, you will get irritated with the cost of management. On the other hand, opting for free WP when you need a website for earning purposes goes against you as you get a limited access to the functions of your website.
The difference between self-hosted and free WordPress is that you get to choose the themes, plugins etc. in self-hosted WP but you have to pay for the services on a regular basis. On the other hand, free WP, as the name suggests, is free of maintenance but it does not support any plugins and has only limited theme support. So, choose the platform wisely.
Not Keeping WordPress Version, Themes and Plugins Updated
WordPress version, themes and plugins are needed to be updated as soon as there is a notification of their update. Not updating them opens the door for hackers and viruses into your account which in turn can manipulate all your data and harm your website.
Default Login Credentials
The default username and password of your WP account are 'admin'. The new users often forget to change this username and password to something different that cannot be easy to access for the hackers. This mistake results in the hackers entering the account and taking full control of your website.
Wrong Selection of Plugins and Themes
It should be clear in your mind that you need to install only a limited number of plugins and themes that are useful for you. There is no need to keep unused plugins and themes that are not updated as they unnecessary fill the storage space and your account becomes susceptible to malware infections. The selection of themes and plugins should also be done carefully as the ones that are not offered by WP might be harmful to your website.
No WordPress Backup
Backing up your data at regular intervals is a necessity because all the data will be gone in case of any failure or if your account gets hacked or infected. There are certain WP plugins to backup the data automatically and to keep your website safe even if it gets hacked, all the data can be restored without much loss.
Besides using plugins for backup, you can also store all your content on a system so that it can be used later if required.
Complicating Categories and Tags
Tags and Categories hold its own significance in every WordPress article. WP allows you to categorize every article easily and add tags to it. But sometimes the beginners try to be very specific in every article and keep on creating new categories every time they add a new article, while they use limited tags with them. This improper use of tags and categories lead to an imbalance in the architecture of your website and is also not good from SEO perspective.
So, you have to keep a check that a balance between categories and tags is maintained. Also, you can interchange your categories and tags and use them accordingly.
Caching and SEO Plugins Missing
Some plugins are necessary for the good operation of the website, out of which,  Caching and SEO plugins are the essential ones. A new user might not be aware of the importance of these plugins and can miss out on the installation of these important elements. Where the caching plugin improves the loading time of your website, the SEO plugin is helpful for indexing your website on search engines.
Missing out on Google Analytics
Google analytics gives you an insight to your website. It shows all the data and traffic details of your website than can be very useful for you as you get to know the areas that need improvement for a better performance. Without Google Analytics, you will miss all the essential details of your website. All experienced campaigners use Google Analytics to analyze the performance of their websites but the beginners might miss on it due to lack of knowledge.
Not Updating your Permalinks
Generally, if you are not an expert in this field, you would not change the permalinks of your website and leave it as default (domainname.com/?p=23). This acts against you as it is not good for both: SEO and website users. You need to change your permalink structure in the beginning by going to – Settings → Permalinks.
No Contact Form
Almost every website has a contact page so that the users can connect with the ones handling the website. Some sites use contact forms and others list their emails for the same purpose. Those emails listed on the website are an invitation to a lot of spam messages for your inbox. On the other hand, the contact form lets you collect the information from the users who want to get in touch with you. You can contact them personally and minimize the chances of irrelevant emails.
Using Default Favicon and Tagline
There are some things that come as default with a WordPress website or account and you need to change them. New WP users often forget to amend these changes which make the website look inauthentic.
Favicons are the small icons next to the page title in the browser. Generally, favicons are provided by web hosting services and are required to be changed. They are as important as the website's logo.
Every blog on WordPress comes with a tagline – "Just Another Blog".  This needs to be changed as it affects the indexing of your website on Google. You can change the tagline by visiting – Settings → General. Remember, your tagline must be unique, impressive, and SEO friendly.
Conclusion
If you are new to WordPress Blogging, you will definitely face the problems mentioned above and you are quite likely to make these mistakes. You have to either keep a regular check on all these issues or you take assistance of a professional WordPress programmer who will make your task easier and provide you with the best  features for your website based on your requirements. We hope this article was useful for you, keep following us for more such articles.
Happy Reading!
Download thousands of Themes, Plugins & Graphics to create your Website. Use promo code ThatsJournal and get an additional 10% off
for All MonsterONE Plans
.
Disclosure: Thats Journal is supported by our readers. This page may contain affiliate links. That means, if you click on these links to make a purchase, we may earn a small commission (at no extra cost to you). These funds help us to keep this blog up and running.