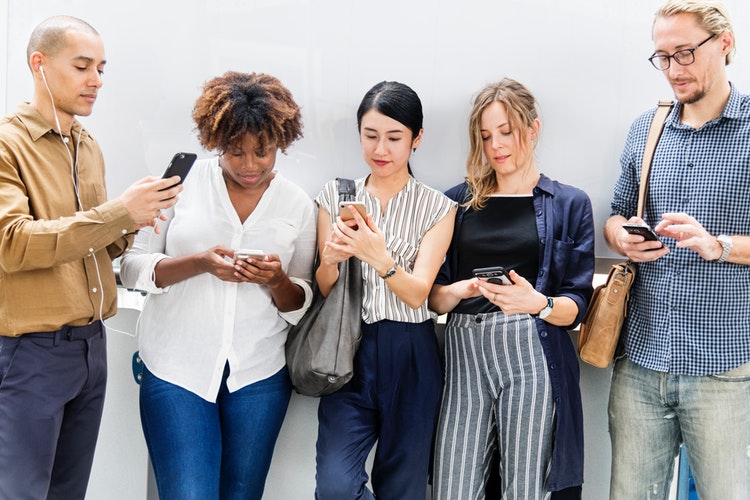 You can never be a truly international company with just a multilingual website, or even a culturally localized website.
You need a social media presence to engage the audience from all over the world. And that too not just on a single platform or in a single language, but multiple languages and platforms as per the target market.
This is precisely where you need social media localization. But why go through all the trouble? Here are the benefits of having a strong multilingual presence.
1) Engage with Users in their Own Language
Majority of the people are not comfortable interacting in English. Often users fail to understand the true meaning or the depth of the posts that you share.
The best that can earn you is a passive response i.e. only following and maybe sometimes sharing any updates. What you need is a much active response, i.e. comments, sharing, reposting, etc.
This goal can be achieved by localizing your social media. The users will understand and spread your message better if it is in their native language.
2) Increase Website Traffic
People tend to use social media much more than they browse online. Social media gives them an overview of your business.
When they see that the content on social media is only in one language, this beats the purpose of having a multilingual website. The people remain unaware of your localized websites.
When you share content in their native language, it attracts them towards your business. Ultimately it entices them to visit your website and find out more about your business.
This ultimately increases website traffic.
3) Better Local Presence
Social media is a major source of awareness these days.
When you share posts in the native language, you convey to the people that you have a good grip of the localities of the market. It shows that you understand the culture, practices, and traditions of the market very well.
It also makes your customer feel like you are within reach. There is no sense of virtual distance.
4) Customize Promotions
The best way to capture a market is to make them feel that you are all about them.
Generalized posts defeat the purpose of localization. Custom posts help you get to the customers and make them feel special.
When you send out a message in their native language, with references soaked in their culture, it attracts the customers with a certain power.
This will help you develop a relationship with your customer that is meaningful, strong, and long-lasting.
5) Understand Your Customers Better
The point of any business is to serve the customers. The quality of a business is determined by the satisfaction of the customers.
When your social media presence is in the native language of the customers, they naturally interact more openly. This helps your business understand and meet their expectations.
This also helps them maintain their expectations by making easy for them to interact with the business.
When the business knows what the customer is looking for, it is easier for them to meet their expectations and ensure quality.
6) Ways to Ensure Strong Multilingual Social Presence
Having a mere presence multilingual presence on social media is not enough. To make it effective, it needs to be strong. Here are ways you can ensure that:
7) Hire Local Influencers
You can never achieve a truly successful presence if you neglect the "local" in localization. It is, after all, the defining element of the process.
Who can possibly know the local market better than a local? And who better to influence your customers than a social media influencer? A local social media influencer can strengthen your multilingual social presence better than any other way you can possibly think of.
8) Create a Positive Brand Image
When people think about your brand, what comes to their mind? What are the things that they associate with the name of your brand?
You need to build a strong brand image with your customers. You need to strongly communicate the message, style, personality, etc. of your brand.
Make sure that you are keeping all cultural and linguistic sensitivity in mind when you target a local market. Make sure that you help your customers relate to your brand in a way that makes you memorable.
9) Go Beyond Just Translation
To make a strong impression on the local customers, your business needs to break through the walls of "just translation"
Localization goes way beyond that. Your social media needs to adopt the culture of the market entirely. Every post, every message, every piece of information that you share needs to be immersed in their culture. It needs to be culturally sensitive and relevant.
Invest time in finding the cultural trends, the sub-cultures, and everything relevant. And incorporate that in your localization strategy.
10) Serve the Community
When you enter a market, make sure that you make your presence known.
Give back as much as you can. Keep ahead of the current affairs of the market.
For instance, if there is a natural mishap, help the people by providing the service that you are unique in. You can also help out in other ways such as dedicate the time of the staff, etc.
Keep an eye out for important moments to connect with your customers and help out the community.
11) The Mobile Audience
The use of mobile phones has long surpassed the use of the desktop. While the audience that uses desktop should not be neglected, it is only wiser to optimize the mobile audience.
People today are used to the ease provided to them by the smartphone, and much more by mobile apps. To maximize the benefits of this fact, businesses need to post mobile-friendly localized content to reach out to the maximum number of customers.
Final Word
Social media localization is the best way to reach out to the maximum number of audience. A strong multilingual presence can be very beneficial for your business in terms of image, sales, visibility and customer satisfaction.

Download thousands of Themes, Plugins & Graphics to create your Website. Use promo code ThatsJournal and get an additional 10% off
for All MonsterONE Plans
.
Disclosure: Thats Journal is supported by our readers. This page may contain affiliate links. That means, if you click on these links to make a purchase, we may earn a small commission (at no extra cost to you). These funds help us to keep this blog up and running.