This post is a tutorial and a beginner's step by step guide to Paper.li. Paper.li is a free tool for creating curated online newspapers using content from Twitter, RSS feeds, Facebook, Google+ and YouTube. You can search for a content source and then add it to your paper. You also have the option to edit title for your paper, edit paper settings, select publishing schedule, edit paper layout and appearance settings like fonts, colors, backgrounds, and thumbnails, add widgets in your paper and add your social networks. Online newspaper is updated periodically and you can change the update frequency as per your requirements.
Below given is a step by step guide to create curated online newspapers using Paper.li:
1) You can sign up to Paper.li using your Twitter or Facebook account.
2) Enter the title for your paper: Here, you can enter the title of your paper. Click on Next.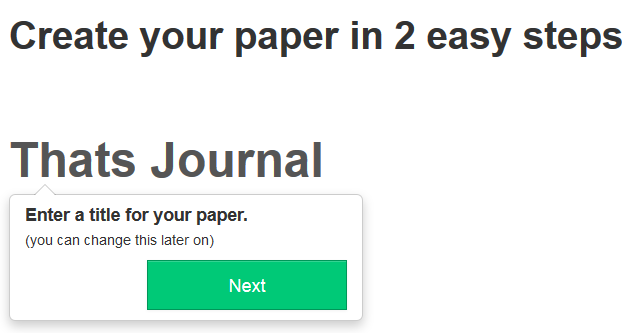 3) Now, you can search and add content sources for your paper from Twitter, RSS feeds, Facebook, Google+ and YouTube. For Example, I am searching content related to WordPress. To add a content source, click on the + green button.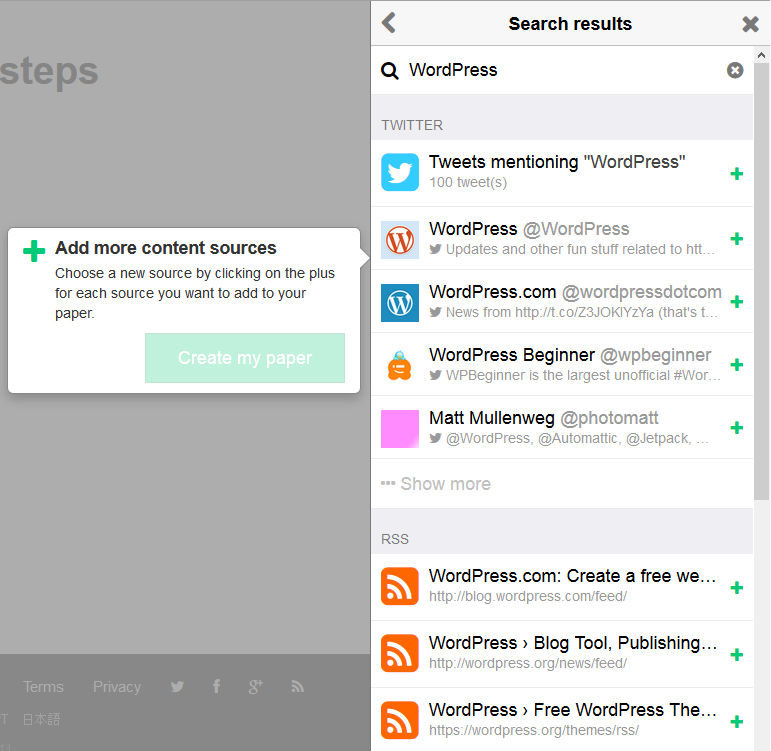 4) Click on "All options from your Twitter account" to add your timeline links, your tweeted links, and your favorites.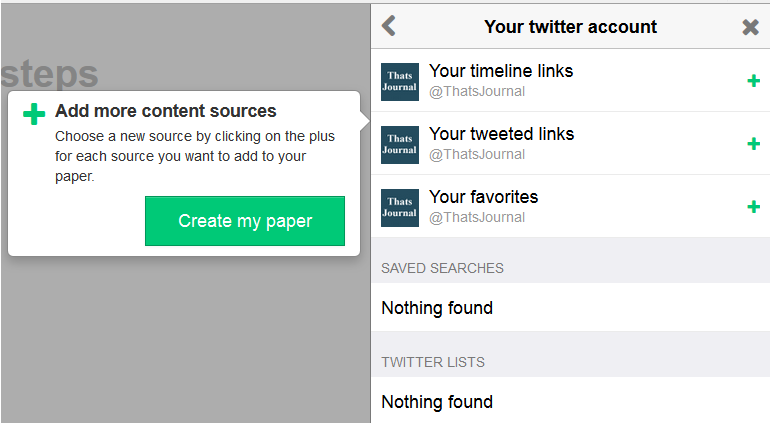 5) When you have added the content sources, click on "Create my paper" button. Wait for some time while your paper will be created.
6) After you have published your paper you can edit settings. To edit settings, click on the gear button on the top right corner.
7) Global settings: Here you can edit some basic settings like Title of paper, Subtitle of paper and Editor's note for your paper.
Click on Publishing schedule.
i) Update frequency: You have the option to update your paper twice daily, daily and weekly.
ii) Time: Enter the time at which you want to update your paper.
iii) Timezone: Change the time zone settings.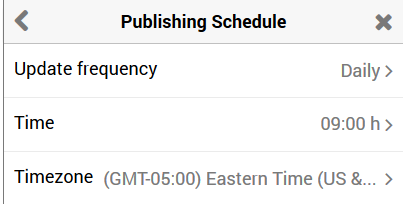 8) Content: Here you can add the content sources for your paper. You can also drag and drop the content sources and arrange them as per priority.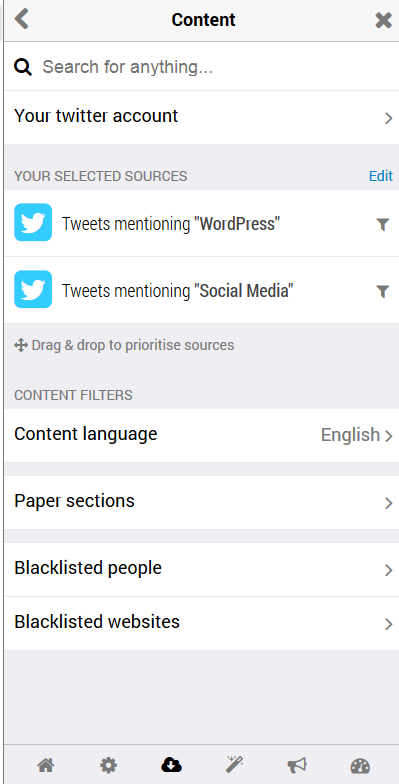 i) Content language: Select the content language for your paper.
ii) Paper sections: Click on Select paper sections to include or exclude different sections in your paper like images, videos, trending hashtags and categories.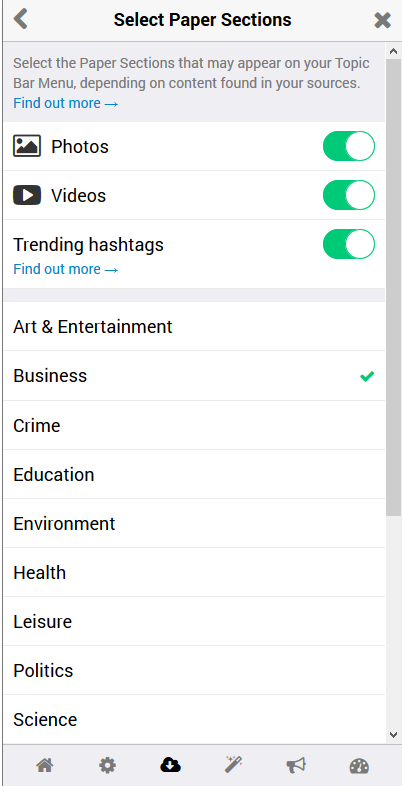 When you have made the changes, click on the gear menu and then click on Fetch new content and then click on Confirm to update your paper.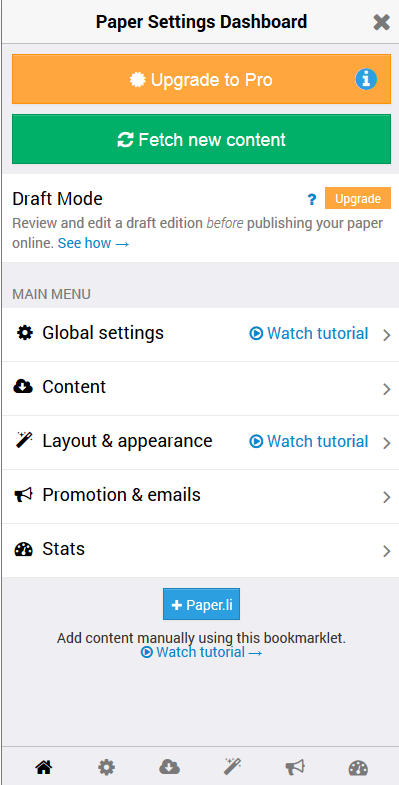 9) Layout and appearance: Click on Layout & appearance.
i) Look and feel: Click on Look and feel to change the following:
a) Color scheme: Select a color or add the HTML color code and then click on the color to save it.
b) Font scheme: Here you can change Paper title font, Paper font size, Paper font color, Article title font, Article font size, Article text font and Article text font size.
c) Paper background: Here, you can upload a background image for your paper. You can make the image tiled, align it right, align it right or alight it center. You also have the option to change the background color.
d) Paper thumbnail: Here, you can upload a thumbnail image for your paper.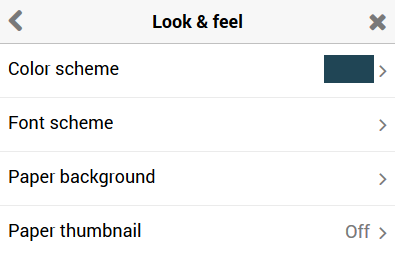 ii) Layout widgets: Click on Layout widgets and then enable the following widgets.
a) Twitter widget: To enable the Twitter timeline widget, first you have the create a Twitter timeline widget from widgets section in Twitter. Click on Create New. Then, select a timeline source: User timeline, favorites, list, search or collection. For Example, here I will create a user timeline widget. Select option "Exclude replies" to exclude replies in the widget and "Auto-expand photos" to show images in the widget. Select the height of the widget, theme edit link color and click on Create widget. This will generate the HTMl code for the widget.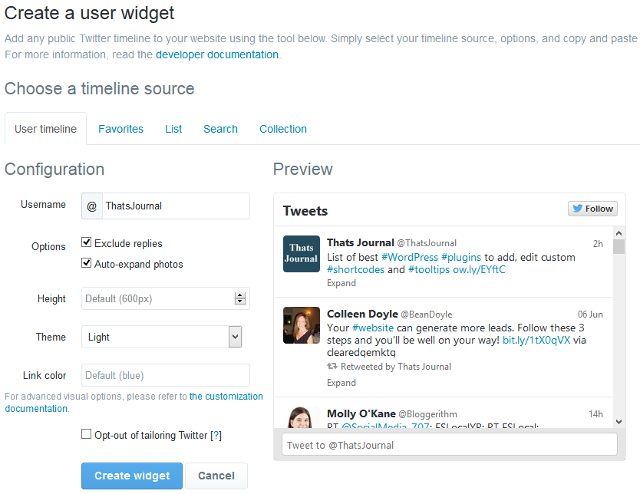 Turn on the Twitter widget option in your paper. Copy and paste the HTML code in the Twitter widget section in your paper and then click on Save.
b) Other widgets: Enable other widgets like Email me widget, Facebook commenting widget and Display share widget.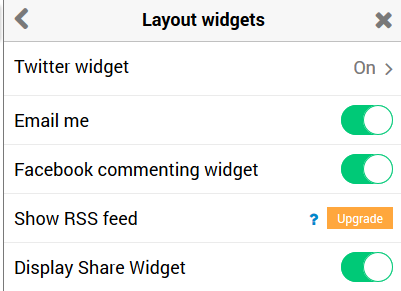 10) Promotion and emails:
i) Newsletter option: Enable this option to send email newsletters to your subscribers.
ii) Social channels: Here you can add your Twitter account, Facebook account and LinkedIn account. For Twitter, you can edit the tweet text, enable or disable mentions and edit Prefix text to the mentions. This tweet is sent when your paper is updated.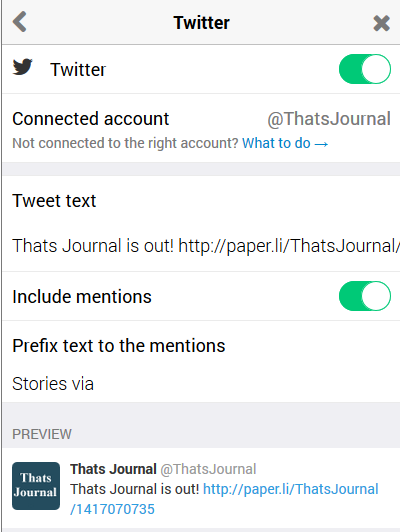 iii) Headlines widget: Here, you can create HTML codes for embedding your paper headlines in your blog.
iv) Nomad widget: Here, you can create HTML codes for embedding your paper news widget in your blog.
11) Stats: This is the statistics section where you can view the number of your followers, total views to your paper and number of embeds on blogs and other sites.
12) Add Paper.li bookmarklet in your browser: You can add the Paper.li bookmarklet by dragging and dropping the blue button in your browsers favorite bar.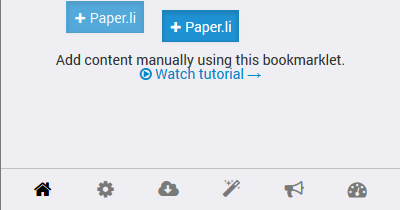 Advantage of this bookmarklet is that while browsing any website you can click on the bookmarklet and then add the content on your paper. You will have the option to select or deselect text, images, feeds and category for the content. Click on Add to Paper.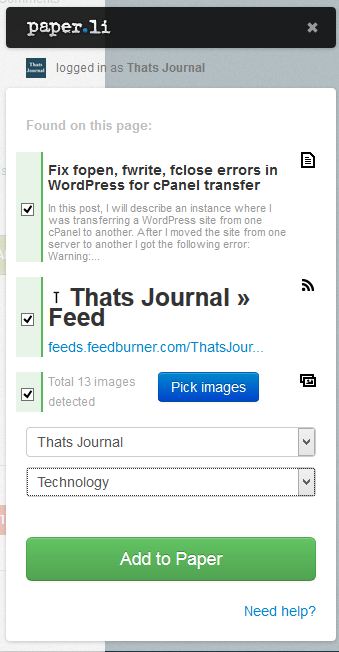 13) Change account settings: To change account settings, click on Menu on the top left side. Then, click on Gear menu.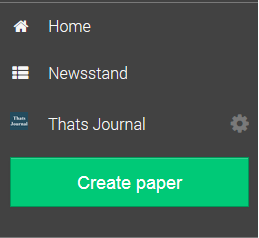 Here, you can change your account picture, account name, profile description and edit email notification settings.
You can visit my Paper.li paper where I share curated content related to WordPress, Blogging, Social Media, Digital Marketing, etc.
Download thousands of Themes, Plugins & Graphics to create your Website. Use promo code ThatsJournal and get an additional 10% off
for All MonsterONE Plans
.
Disclosure: Thats Journal is supported by our readers. This page may contain affiliate links. That means, if you click on these links to make a purchase, we may earn a small commission (at no extra cost to you). These funds help us to keep this blog up and running.