Nowadays, the biggest part of the Internet users got used to accessing all the sites using their smartphones. As a result, many businesses ensure a chance to access their online projects through mobile gadgets. A bunch of companies turned to HTML5, and it is a smart decision.
For this reason, we decided to gather a small catalog of Bootstrap HTML5 themes. Before looking through them, it is critical to understand some advantages of HTML5.
Its capacity to run in almost any environment is the primary reason it has remained prominent in the mobile industry. Among the numerous advantages of HTML5, the most notable is all about upgraded web standards. They result in increased performance and more streamlined content management.
HTML5 allows web developers to construct fully responsive websites without the use of plugins or add-ons. This provides a smooth surfing experience for all visitors.
What is more, HTML5 allows video and audio to be seamlessly integrated into browsers without the use of Flash. In the beginning, there was no straightforward method to add videos to web pages.
We have also prepared a special promo code (ThatsJournal) for those who want to grab a couple of Bootstrap HTML5 templates right now. It works for all HTML templates and provides a 5% discount.
Which Five Bootstrap HTML5 Templates Are Trending?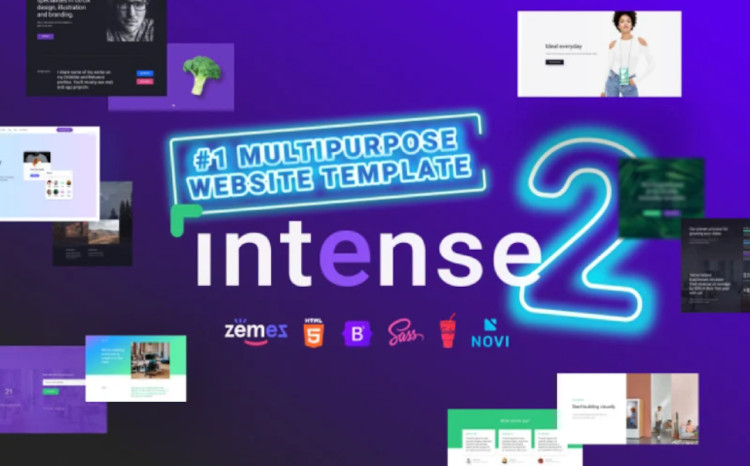 Have you been looking for multipurpose HTML5 templates that have literally everything for your needs?
In this case, this fully featured theme might become your exact match. It is a highly flexible and dynamic choice that you can change according to your taste and brand goals. Together with a fully functional package, it is possible to skyrocket your sales and showcase your identity.
What are the most useful characteristics and tools that will allow standing out from the crowd?
To start with, these are multiple child themes for many popular niches. As an example, you are free to speak about the activities of photographers, financial advisors, barbers, and other professionals.
In addition to this, the package includes a bunch of pre-made options. You can take advantage of 120+ HTML files, 15+ header and footer styles, 20+ blog templates, and 10+ portfolio variants.
It is also possible to work with 10+ eCommerce shop templates. More features give a chance to get an eye-catching site. Make sure to add a Parallax effect, sliders, carousels, and video backgrounds. To provide people with an incredible user experience, there are more instruments that you need to grab.
First of all, it will take you nothing to divide your pieces of content into categories and sub-categories. A powerful mega-menu will assist you in this goal. To showcase your images in the best possible light, use excellent gallery functionality.
There is also a special bonus that is waiting for you inside the package. These are multiple bonus images that will save you time and energy.
Other Features:
Novi Builder;
full calendar;
various sidebar and footer widgets;
advanced search;
various additional related pages;
Google Fonts;
contact form;
newsletter subscription;
drop-down menu.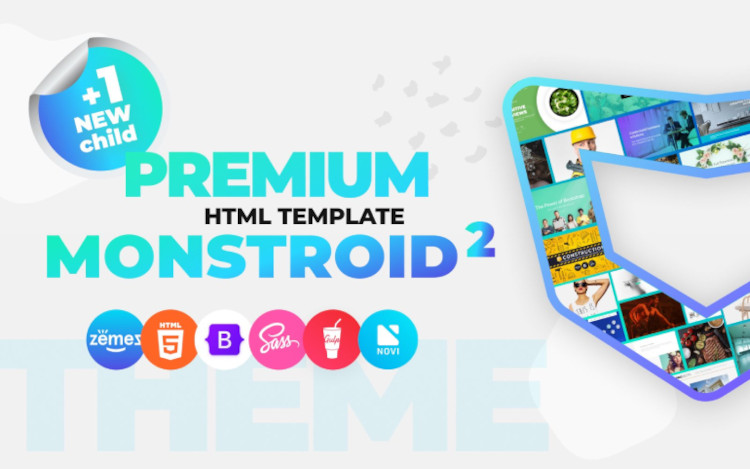 There is another stunning theme that has everything for successful website creation. Thanks to its highly professional package, it is effortless to get a well-designed site for different companies.
As a result, you will get an amazing instrument that will help you reach the top in your advertising campaign. Let us understand what options will allow achieving positive results.
To begin with, it has a wide range of ready-made child themes. Each of them comes together with a set of pre-designed pages and layouts for various topics. You have the freedom to promote such niches as a hotel, construction company, furniture, loan offer center, and others.
Without a doubt, every child theme is fully editable and customizable. In other words, adapting them for your needs is not complicated.
The package also includes 10+ header and footer styles for making your online project original and one-of-a-kind. There are also 20+ blog variations that will present your additional pieces of info at their best. It is also crucial to mention that it will provide you with a fully-responsive design.
Actually, the biggest part of Bootstrap HTML5 templates does this. Anyway, you need to remember that all the visitors can view your site through all the gadgets.
Do you have an interest in turning your website into an eCommerce project?
In this case, a variety of eCommerce pages will become your trustworthy assistants.
Other Features:
events templates and calendar;
Parallax effects;
background video;
carousel and accordion;
newsletter subscription;
contact form;
Google Maps;
drop-down menu;
mega-menu.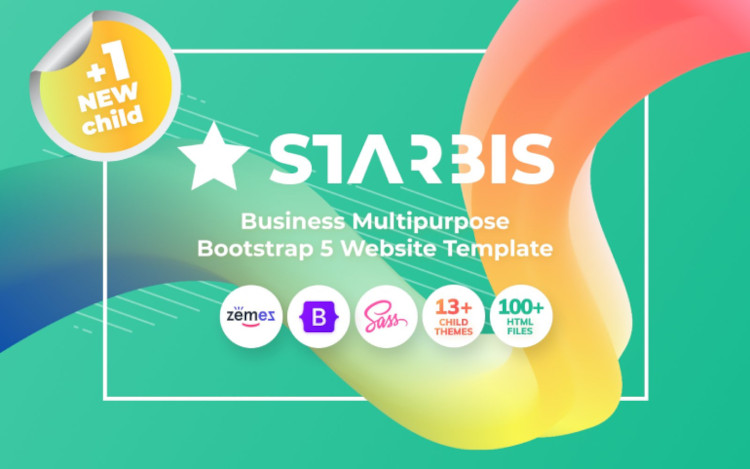 We have prepared one more example of Bootstrap HTML5 templates that can impress your imagination. It guarantees flawless functioning and makes sure your site distinguishes itself from others.
To cut a long story short, your visitors will experience professionalism and elegance. Undoubtedly, the package comes pre-loaded with a wide variety of useful tools for various purposes. As usual, we want to start with the availability of different child themes. They allow promoting such topics as law services, tax management, investment, crediting, and many others.
You can configure headers, footers, and many pre-made pages to achieve unexpected results. In general, the package has 100+ PSD and HTML files that enable playing around with the site look.
What are instruments that will assist you in growing your client's base?
To start with, there is a newsletter subscription that allows people to get familiar with the latest updates. You can also implement wonderful blog functionality and start sharing some tips and exciting facts. All potential clients will get a chance to communicate with your team, thanks to a powerful contact form.
It is also an eCommerce-ready theme. It provides a grid and list view, shopping cart page, single product page, and other options.
Other Features:
cross-browser compatible design;
animation effects and transitions;
Google Fonts;
gallery functionality;
advanced search;
mega-menu;
carousel, accordion, and slider;
drop-down menu;
Parallax effect.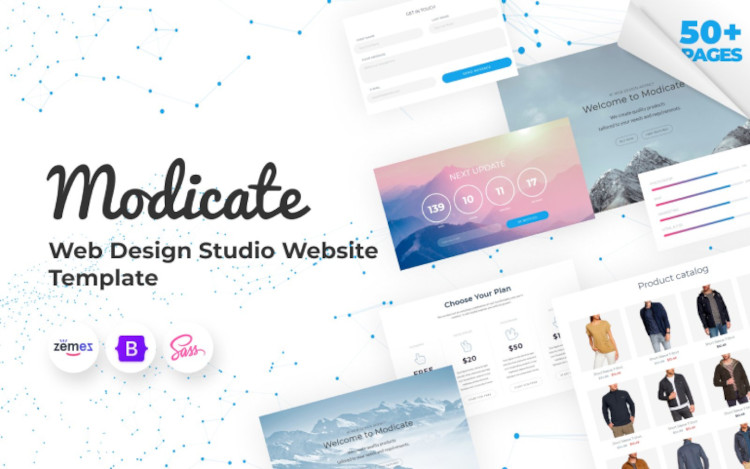 It is time to speak about Bootstrap HTML5 templates suitable for those who have something to do with web design. This minimalist-looking theme will deliver outstanding functionality.
Besides having a remarkable appearance, it provides a flexible layout. It is possible to manage it according to your preferences. You have the freedom to present all the essential info about your services and their advantages.
The package has 20+ pre-made pages that allow presenting photos, the latest news, pricing tables, and other details. There are also 6+ blog layouts that can showcase your updates in a well-structured manner.
Furthermore, it guarantees absolute responsiveness that will increase the number of your clients. It also has a wide range of galleries that will impress people with their visual attractiveness.
As an example, you can showcase the best pictures using an accordion, carousel, slider, and other gallery types. To make your site look unforgettable, make sure to add some animation effects or transitions.
By the way, it also includes a Parallax effect. We should also draw your attention to the availability of the contact form and newsletter subscription. These are critical because people need to know they can rely on your services.
Main Features:
eCommerce-ready (product catalog, single product, shopping cart, and checkout);
fully-responsive design;
mega-menu;
Google Fonts;
advanced search;
drop-down menu;
Google Maps;
50+ pre-designed HTML pages;
fully-customizable nature.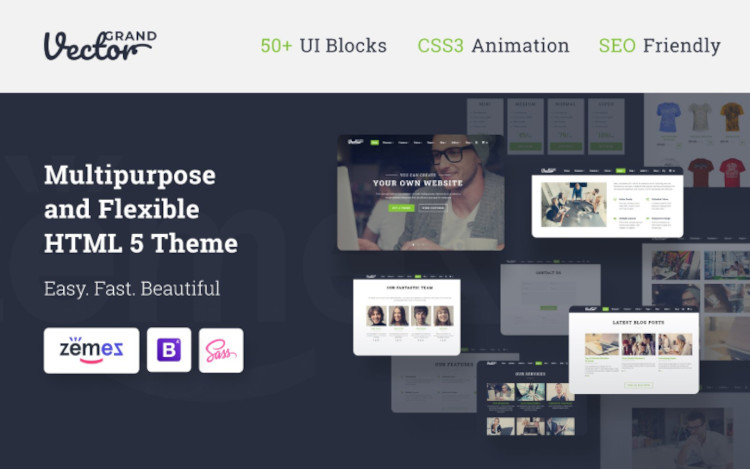 Here is another variant that we have found among web design Bootstrap HTML5 templates. It will create a lasting impression on your target audience. It comes together with all the necessary options that allow launching a professionally-looking site quickly.
Without a doubt, it is impossible not to mention its modern and exquisite design. Alongside a fantastic look, it grants access to an informative and well-organized layout. It allows presenting different types of media, including texts, images, and videos.
What are other options that will enhance the site functionality and make it more attractive?
There is a wide range of pre-made pages that come in two or more layouts. There are also eCommerce pages that allow integrating an online store into your website. You should also pay attention to blog and gallery pages.
Together with them, showcasing your recent projects and news will be effortless. Making your site more special is possible, thanks to multiple header and footer layouts.
Main Features:
animation effects and transitions;
contact form;
live search;
Google Maps;
carousel and accordion;
booking form;
newsletter subscription;
six blog layouts;
Parallax effect.
A Few Words in Conclusion
Probably, HTML5 is not only today but it is also our future. As you can understand, many web developers produce their ready-made solutions for this platform.
To be honest, it is not surprising. There is no need to develop numerous scripts for different mobile platforms with HTML5. With HTML5, one batch of code is sufficient to run on various platforms.
It is also crucial to mention that more individuals prefer to use their smartphones or tablets to access the Internet. This means that mobile-friendly websites with a positive user experience have become essential.
Make sure to become an owner of free HTML5 website templates, download and impress the whole world with your project.
Thanks for reading!
Download thousands of Themes, Plugins & Graphics to create your Website. Use promo code ThatsJournal and get an additional 10% off
for All MonsterONE Plans
.
Disclosure: Thats Journal is supported by our readers. This page may contain affiliate links. That means, if you click on these links to make a purchase, we may earn a small commission (at no extra cost to you). These funds help us to keep this blog up and running.