In this day and age, farmers need a solid online presentation more than anyone else! Looks like, you're one of those visionaries who clearly understand what they need. Or else, why would you be looking for green agriculture website templates for farmers? With so many directions to follow in agricultural business, it's impossible to get into the spotlight without a professional, yet attractive website!
Whether it's crop farms or cattle farms you deal with, you might need a catalog to present agricultural products on the web. In addition, providing agricultural services, you absolutely need reviews and user testimonials to show the potential customers. And how about selling produce at farmers' markets? If you company deals in fertilizing, having a website becomes a necessity!
All agriculture website designs in this collection are 100% responsive and come with handy drag-and-drop editor. This allows customizing them the way you see fit for your project. Also, you can test-drive every MotoCMS website design for 14 days absolutely free of charge. Any changes you make to the initial website template will stay after you purchase the item!
1) Farm Website Design for Crop Cultivation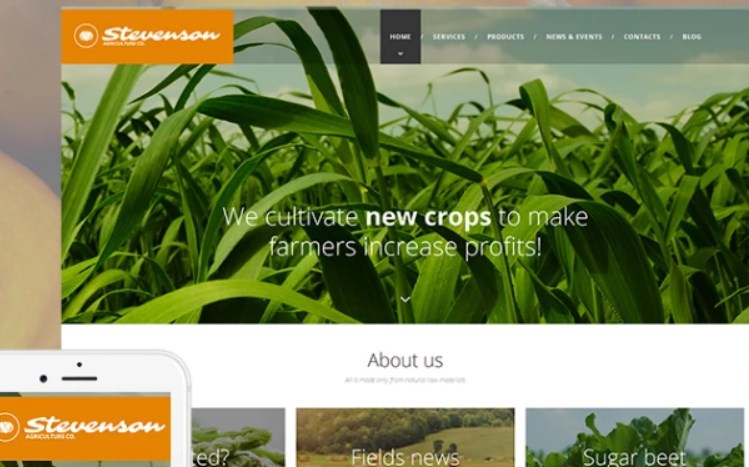 Sleek and simple, this agro farm website design offers a presets builder and a bunch of handy widgets to allow easy customization. Parallax and animation effect will help you build an attractive site in mere hours. With Slider & Audio Player widgets, your farm website design become more interactive and interesting to use.
2) Tractor Website Template for Agricultural Machinery Manufacturer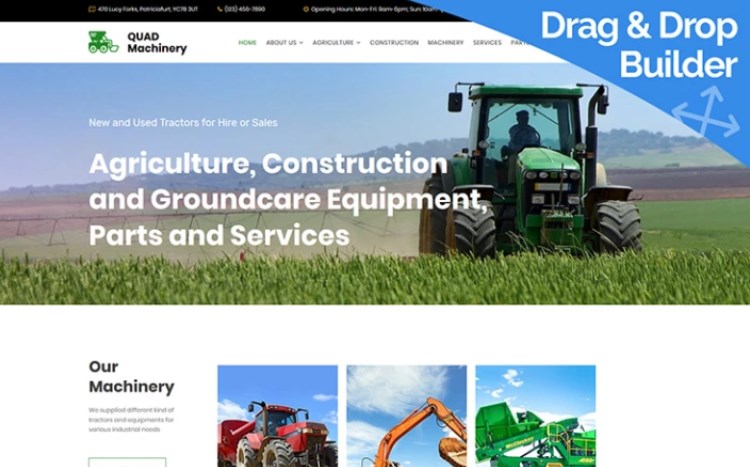 Tractor website template for agricultural machinery manufacturer can boast fully customizable set of pre-made pages and exquisite blog functionality, so you can tell more about your farm and agriculture business. Handy widgets will allow supplying your website with extra functionality to make it more entertaining to the customers. Video widget, audio player, color picker, social media widget and photo gallery are all at your fingertips!
3) Best Responsive Website Template for Crop Farming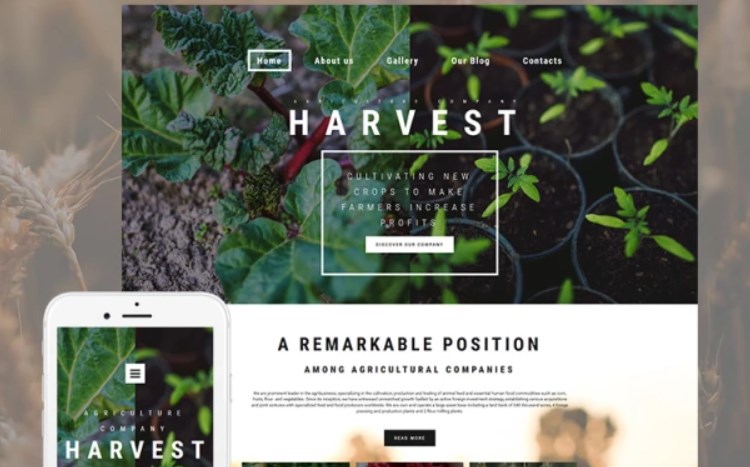 Harvest is a sleek-looking website design for crop farms or cattle farms. Similar to other agricultural designs, it has all the functionality to establish your business presence on the web. Widgets for extra functionality, color picker, drag-and-drop editor, color picker and whatnot! Run a test-drive of this spectacular template to see everything it has!
4) Irrigation Website Template for Lawn Watering and Water System Websites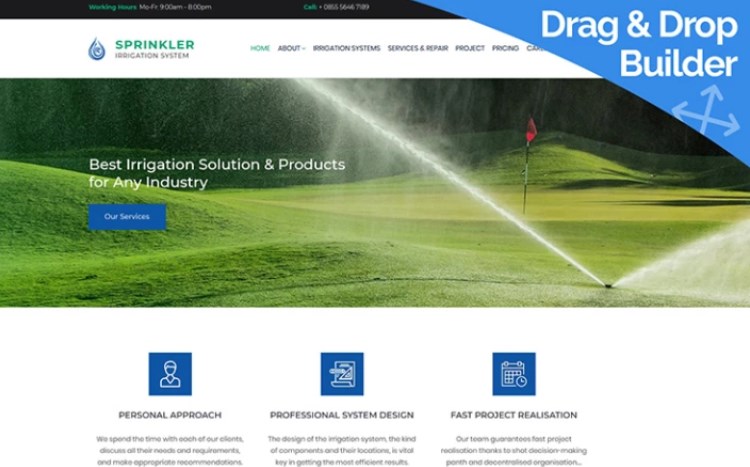 If you deal in agricultural water systems, lawn watering and irrigation, this item is just the thing for you! The structure of this web design is developed to present your irrigation business at its best. As per usual, the template offers a vast variety of customization options to help you make it truly your own.
5) Sheep Farm Website Template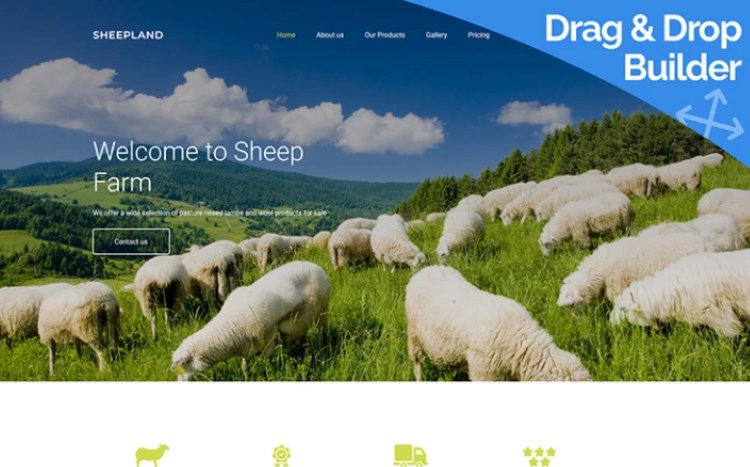 Dealing in sheep farming? Then, this sheep farm website template will come in handy. Not only the initial website design is customizable, but also widgets that come with a presets builder. Also, this item comes with an SEO integration, so you can do an on-page optimization fast and easy.
6) Agro Website Template for Pork Farms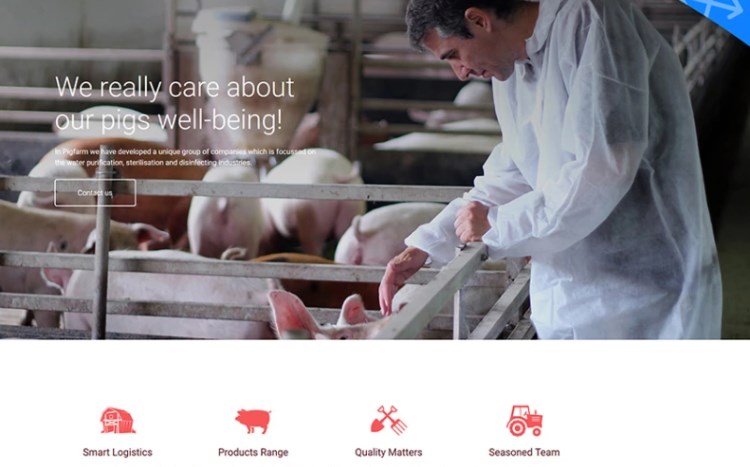 This agro website template for pork farms is just the thing for cattle breeders! It comes with extensive language support, so you can trade your cattle produce worldwide using local website versions. The template has recently been updated. The set of standard MotoCMS widgets includes Menu, Container, Accordion, Progress Bar, Social Buttons, Countdown Timer, Iframe, Embed widget, Google Map, Disqus and more.
7) Jorden – Wine And Winery Website Template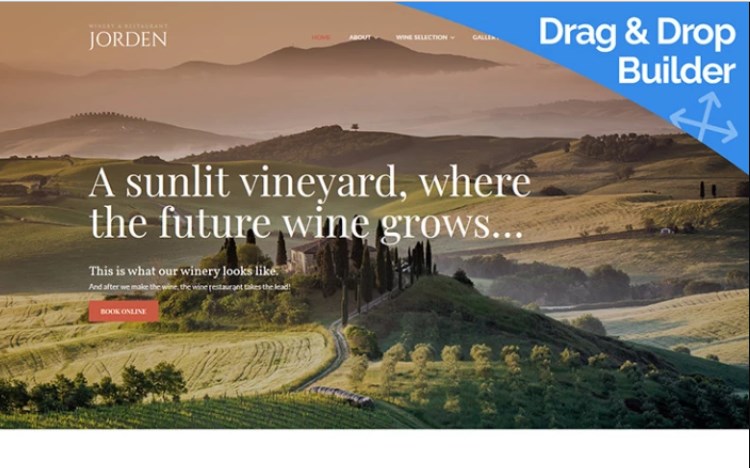 If you sell wine or own a vineyard, you'll be in awe of Jorden, a gorgeous website design for wine and winery business. With Jorden, you can create a full-blown website in mere hours and start getting orders within three days! In case you have no coding or website building skills, use step-by-step tutorial to figure out the customization process or call the friendly 24/7 tech support!
8) Organic Food Website Design for Farmers Market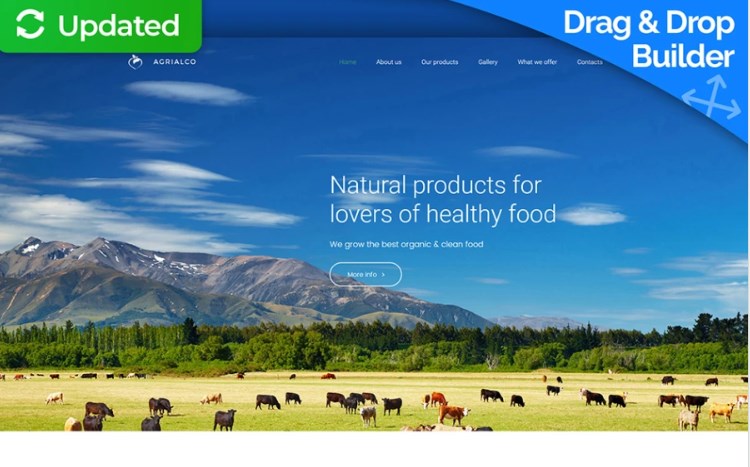 Selling natural products and organic food? Then use this organic food website design for farmers market to promote your business on the web! The Personal Blog feature will help you reveal more about your business, while Subscription form will help getting the timely feedback from your audience. Do we need to say this website design doesn't require coding skills to get customized?
9) Farming Website Template for Agribusiness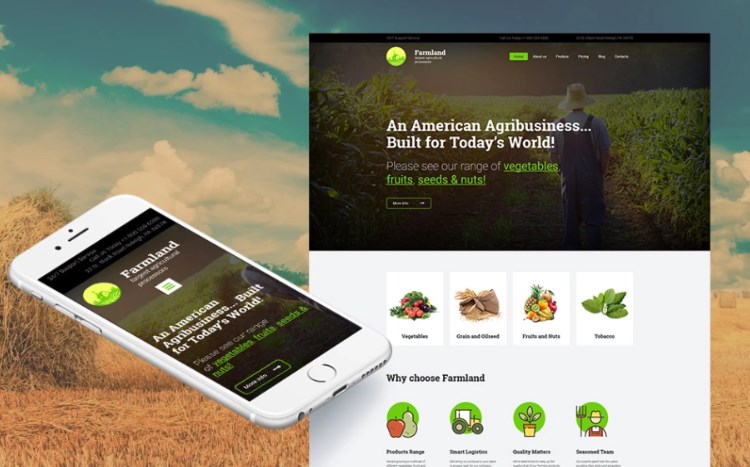 This farming website template for agribusiness looks stylish and sleek in its black, white and green color scheme. Unbelievably, this website design installs in 2-5 minutes, so it won't take long before you can customize it to your liking. As usual, it comes with a selection of functionality including galleries, audio and video widgets, social integration, Google maps and iFrame widgets. Try it yourself!
10) Organic Farm Template for Crop Farming Business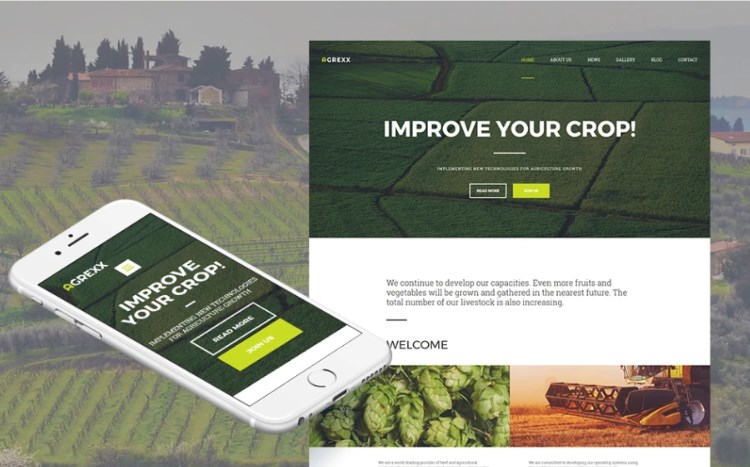 If you sell crops, this organic farm template for crop farming business will give you the online visibility you need! Like other templates in this collection, it looks beautiful on any device due to being 100% responsive. Feel free to customize everything on the fly without taking much effort. This website design comes with a set of widgets to make sure your site looks professional and trustworthy.
Download thousands of Themes, Plugins & Graphics to create your Website. Use promo code ThatsJournal and get an additional 10% off
for All MonsterONE Plans
.
Disclosure: Thats Journal is supported by our readers. This page may contain affiliate links. That means, if you click on these links to make a purchase, we may earn a small commission (at no extra cost to you). These funds help us to keep this blog up and running.