Over the last few years, the word cryptocurrency has gained popularity and increased awareness of its use and significance. It appeared mysterious and somewhat frightening at first, much like the credit card did to consumers in its early stages.
You may be more acquainted with the concepts of Bitcoin and Ether. All of these are cryptocurrencies that make use of Blockchain Technology. They have also turned out to be mainstream finance sector fixation. Investors are now including cryptocurrencies in their portfolios.
With so many innovative currencies becoming available, it is no wonder that developers have created cryptocurrency HTML website templates to match.
We have already understood that cryptocurrency's meteoric rise and popularity in recent decades has opened a wide range of doors for online businesses. As the topic became popular, many crypto projects arose. These include offering services such as selling cryptocurrencies, mining, trading, consulting, investing in cryptocurrency blogs, and others.
You do not need to hire developers to create a complete cryptocurrency site. All you need are specially equipped cryptocurrency HTML website templates.
To assist you, we have compiled a list of the best ready-made solutions that will be a good fit for your cryptocurrency business. These come together with multiple benefits, including a fully-responsive design, easy customization, and social-media friendly nature. What is more, they have pre-made pages which means you can save time and effort adding your content.
Perhaps, not all of them have such functions as cryptocurrency conversion calculators or coin price trackers. Anyway, you will get all the basic functions to build a superb cryptocurrency-related site.
5 Cryptocurrency HTML Website Templates to Build Sites Without Stress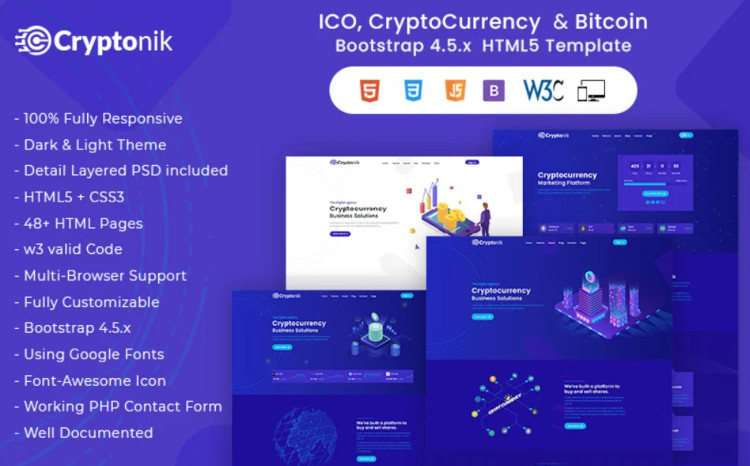 Cryptonik is one of the best cryptocurrency HTML5 website templates that are capable of giving you an original and unusual project. As you can understand, it is a perfect match for those who need to showcase ICO, Bitcoin, and cryptocurrency topics.
It will be also suitable for ICO startups, cryptocurrency Investments, and tokenized exchange platforms. Thanks to a fully-responsive design, there is no need to think about how your site will look on different devices. In other words, it will adjust to both mobile and desktop gadgets immediately.
In addition to this, the package comes together with multiple animated sections. Among them, you are going to find a banner section, roadmap, tokens with countdown, and team.
You can also spread the word using the section with news and get in touch with people through a contact page. In general, there are 48+ HTML pages for various purposes.
It is also worth mentioning that you will get a fully-customizable design. You have the freedom to change different elements and make sure they meet your vision.
Main Features:
horizontal live ticker;
live market;
Google Fonts;
animation effects;
Google Maps.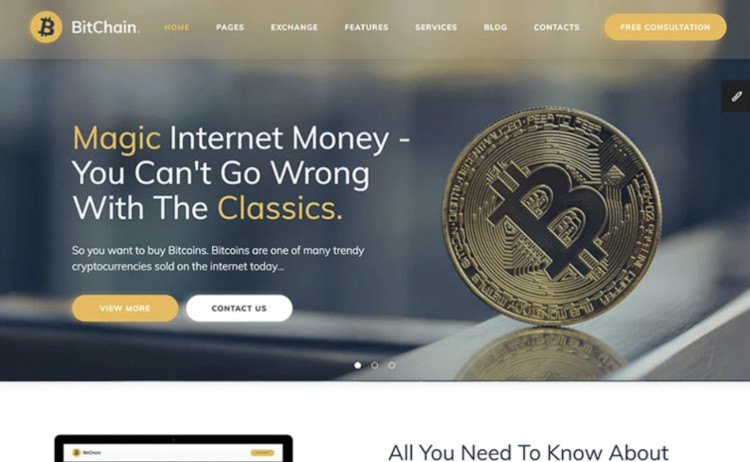 It is time to get familiar with another option crafted for cryptocurrency mining and exchange websites. You will get a niche-oriented design that makes a long-lasting impression on the audience.
It will also provide you with rock-solid reliability which means getting a perfect set of functions for various needs. The package also has a large set of layout elements. They will allow you to create a professional website at a low cost without applying any effort.
You will not face issues in terms of the customization process. Together with a user-friendly page builder, it is possible to build a unique project that stands out from the crowd.
Without a doubt, you will be happy to get a fully-responsive design. What does it mean for your online projects and their visitors? They are free to view your content through all the modern devices, no matter what screen resolution they have.
You cannot forget about the availability of multiple pre-made pages. These are suitable for showcasing info about events, teams, timetables, and other crucial aspects.
You can also create a gallery to present visual content and attract more people to the cryptocurrency topic.
Main Features:
blog functionality;
contacts;
social media integration;
newsletter subscription;
menus and footers.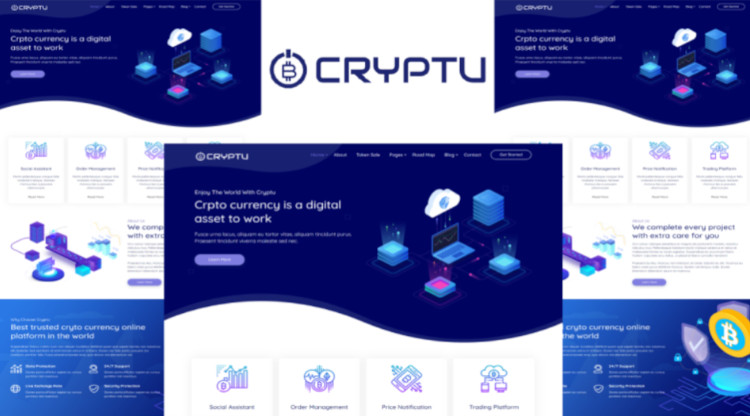 Cryptu is a revolutionary template that we have found among the most attractive cryptocurrency HTML website templates. As you can understand, it will be an excellent choice for topics such as cryptocurrency, cryptocurrency trading startups, Bitcoin, and ICO agencies.
It will aid in the effective channeling of traffic generated by marketing campaigns. We can describe it as a modern, bright, and noteworthy design that distinguishes you from direct competitors and attracts new customers.
Like other options from this collection, it features a fully-responsive design. It means that you do not need to worry about how your online project will work on various devices.
Another advantage of this marvelous ready-made solution is a straightforward customization process. You will not face any difficulties, even if you are a newcomer to the sphere of programming.
What are other functions that will enhance your site functionality and appearance?
As an example, it is a wonderful contact form that allows people to ask you more questions. There are also different smooth animation effects. Thanks to them, looking through your pages and their content may become more engaging.
Main Features:
social links;
drop-down menu;
flexible layout;
blog functionality;
team members.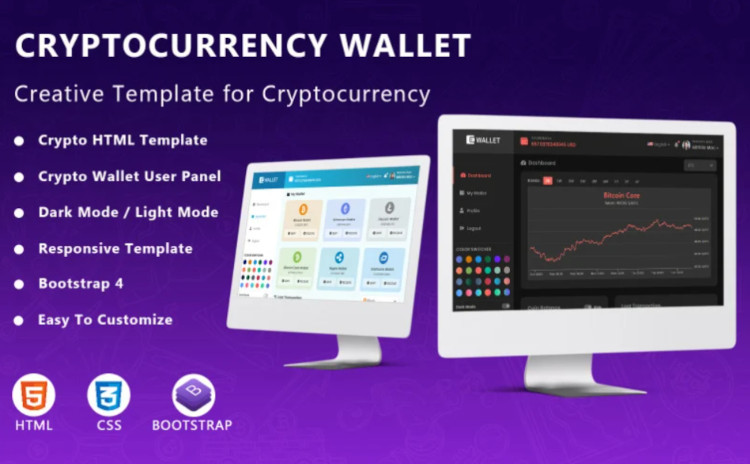 There are more cryptocurrency HTML website templates that you cannot leave out of your consideration. What about setting up multiple cryptocurrency wallets to transmit and receive cryptocurrencies such as Bitcoin, Ethereum, Litecoin, and others?
In this case, you might want to take advantage of this professional and beautiful template. It has a wide range of options that make it possible to create an online project that you have been always dreaming of.
To start with, it is a fully-responsive design. This key characteristic makes sure your audience can get familiar with the site using various devices.
Moreover, its creative design is something that will focus the attention on your content. We are pretty sure that people will not be ready to leave your site.
You should also remember that an easy customization process is available for everyone. It does not matter what level of coding knowledge you have. It will be possible to edit all the components according to your vision, even if you are doing this for the first time.
Main Features:
drop-down menu;
bonus images;
dark and light mode;
crypto wallet user panel;
color switcher.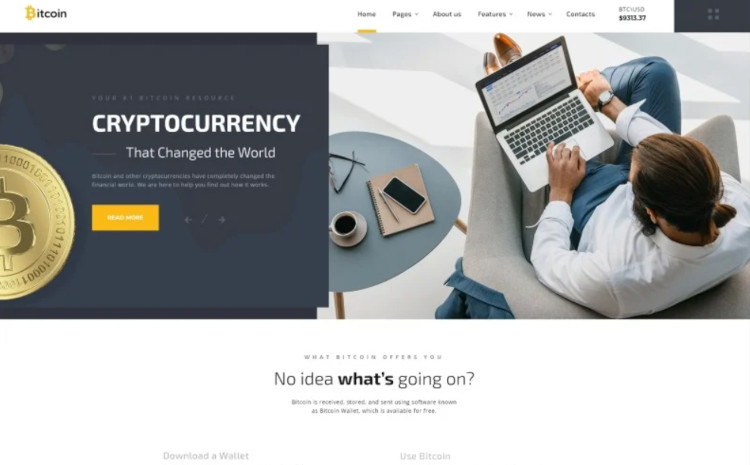 This minimalist-looking choice is another example of impressive and remarkable cryptocurrency HTML website templates. It is a multi-page ready-made solution that can become your reliable assistant in promoting cryptocurrency-related topics.
You will get a massive set of UI elements that are ready to improve your site functionality. There are also different widgets that will also do everything in their power to provide people with the best user experience.
Together with excellent blog functionality, it will take you nothing to share more info and post some amazing articles.
Furthermore, you will have a chance to add a contact form. It makes sure your site is trustworthy and allows communication with visitors who have an interest in learning more.
They can also subscribe to your newsletters using a special form. When it comes to finding the necessary content, there is an advanced search that helps the audience in this task.
Do not forget about eye-catching animation effects. They can decorate your online project and make it more engaging to browse.
It is also critical to mention that you will get 20+ HTML pages to present your content in the best possible light.
Main Features:
fully-responsive design;
different gallery types (carousel, accordion, and slider);
drop-down menu;
social media integration;
news.
A Few Words in Conclusion
Cryptocurrency is the latest addition to the digitalized world. This currency system is designed to serve as a medium for the exchange of services and goods. So, if you intend to take the lead in this industry, you may require cryptocurrency HTML website templates optimized for related sites to run your operations.
Assume you want to sell cryptocurrency, build an exchange platform, start a blogging site, or provide an ICO service. So, you will undoubtedly require a robust website built in accordance with current standards to assist your business in running smoothly.
Putting together a team of designers and developers can be a costly process. As a result, we have compiled this collection of HTML5 website templates for cryptocurrency. Remember that all of them are carefully crafted and require only a few steps to create an excellent website.
Thanks for reading!
Download thousands of Themes, Plugins & Graphics to create your Website. Use promo code ThatsJournal and get an additional 10% off
for All MonsterONE Plans
.
Disclosure: Thats Journal is supported by our readers. This page may contain affiliate links. That means, if you click on these links to make a purchase, we may earn a small commission (at no extra cost to you). These funds help us to keep this blog up and running.