Today we are going to focus on NFT marketplace HTML website templates. Before looking through them, there are more things to take into consideration.
Non-fungible tokens (NFTs) may appear to be only a trend. However, with more than $10 billion transacted in the third quarter of 2021 alone, it is evident that this is growing technology. Thanks to this blockchain-based tool, everybody's free to monetize their digital material.
As a result, it turns out to be a rapidly emerging big business. What is more, the demise of different art-related establishments ushered in a new age for art collectors. Creating an NFT marketplace website might be the most efficient means of assisting different groups of people in the purchase and sale of digital art tokens. These are painters, artists, auctioneers, and art collectors.
Why Is It Worth Choosing NFT Marketplace Website Templates?
You will save a lot of time by choosing a ready-made template since you will be able to bypass two time-consuming project steps. This includes design and front-end code.
It will be quickly converted to function on any mobile device, saving you hours of tedious programming.
It includes extensive customization possibilities, including fonts, colors, and others. This ensures that your website will seem truly unique while applying the lowest amount of time and effort possible.
Why Do You Need to Try Working With HTML5?
Its ability to operate in virtually any setting is the fundamental reason it has stayed popular in the mobile sector.
Among other benefits of HTML5, the most significant is improved web standards. They lead to improved performance and more efficient content management.
HTML5 enables web designers to create fully-responsive websites without the need for plugins or add-ons. This ensures that all visitors have a pleasant surfing experience.
HTML5 enables the seamless integration of video and music into browsers without the usage of Flash.
Choose Your Ideal Variant Among These Top 5 NFT Marketplace Website Templates!
We are ready to speak about some incredible NFT marketplace website templates.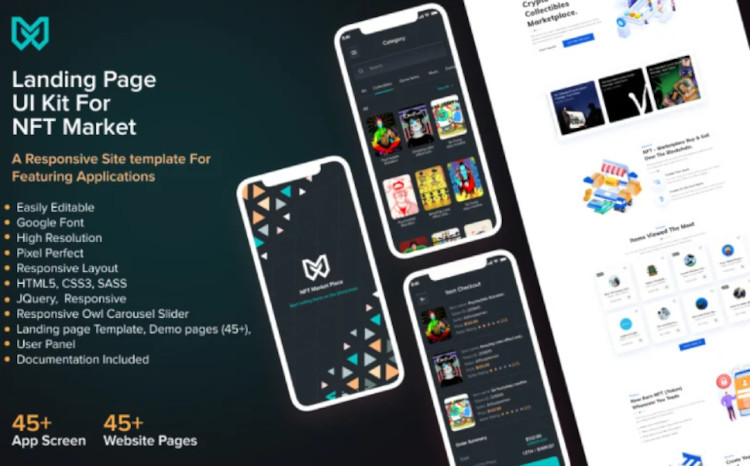 As the name suggests, this solid and powerful ready-made solution is all about creating an NFT marketplace website. Thanks to gathering feedback from business owners and taking every piece of advice into consideration, the team developed this professional option.
So, you can be sure of getting a decent UI and UX which are an indispensable part of such templates. In general, it allows you to sell and purchase digital products on the blockchain.
As a result, it will take you nothing to set up your own NFT store and achieve a variety of other goals.
Let us get familiar with its main characteristics and understand how they will assist you in building an amazing site.
To start with, it is critical to mention the availability of a fully-responsive design. In other words, viewing your online project on multiple devices regardless of their screen resolution is not an issue.
The package comes together with 45+ modern app screens for your needs. In addition to this, a well-organized layer will certainly impress your imagination.
There are also varied color styles that allow expressing branding through your design. You can also turn to a dark style that people consider to be a big trend these days.
Main Features:
developed with Figma software;
well-organized guides;
100% scalable vectors;
easy-to-customize Figma files;
prototype included.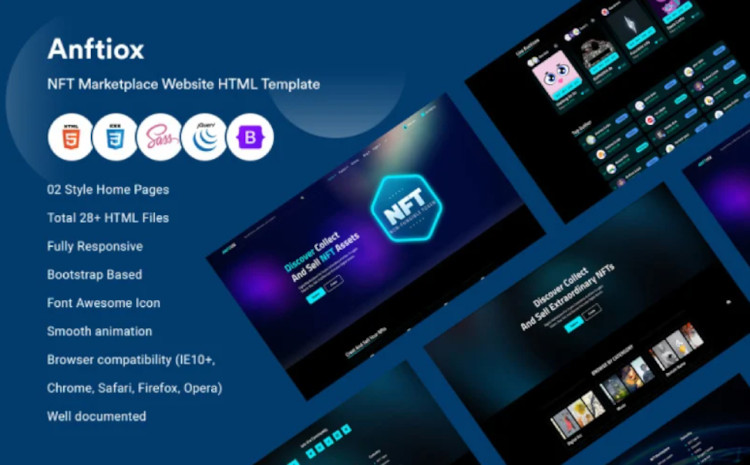 Anftiox is another incredible NFT marketplace website template that deserves your attention. Without a doubt, it is a perfect match for those who need to market NFTs (non-fungible tokens).
If you need to promote digital arts, digital music, and other types of digital assets, it can also become your reliable assistant. As a result, it will be effortless to produce, sell, and purchase NFTs or virtual assets.
It is impossible to keep silent about its creative and remarkable appearance. In other words, it is designed using improved UX and advanced capabilities, as well as coded using cutting-edge technology.
To cut a long story short, what features to expect from this amazing ready-made solution?
First of all, you will get two homepage variations to choose from. It seems to us that each of them is very eye-catching, so you will find something for your taste.
The package includes 28+ HTML files that will help you build the site and the necessary content as quickly as possible.
Furthermore, it is crucial to say that you are going to get a cross-browser-compatible design. It means that your NFT marketplace will be available to people no matter what contemporary browser they use. It might be Safari, Firefox, Opera, Chrome, and others.
There are also some attractive and smooth animation effects included in the package. It is a smart idea to add a few of them because they make it more engaging to browse the site.
Main Features:
background video;
Google Maps;
blog functionality;
gallery functionality;
ready-to-use inner pages.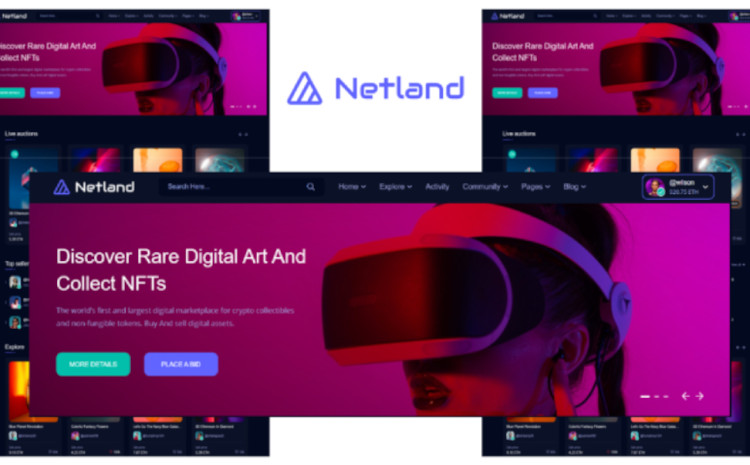 It is time to focus on another NFT marketplace website template that can also meet your demands. It is specifically for NFT asset stores and shops, crypto art marketplaces, and digital asset bidding websites.
It is also worth saying that it is well-suited for digital marketplaces, virtual products for crypto-collectibles, and non-fungible tokens.
The team was developing this marvelous ready-made solution with the newest design trends in crypto and blockchain technology in mind. For this reason, it turned out to be not only visually appealing. It also provides the finest user experience that your audience will adore.
Its layout is flawless, sleek, and contemporary.
So, we have mentioned that this professional option is really web-designed.
What about its features that will help you stand out from the crowd?
As with other options included in the collection, this sophisticated template has a fully-responsive design. It will adjust to different devices and their screens to make sure everyone can get familiar with your content. Do not forget about its flexible layout that allows presenting all the essential info in a visually attractive manner.
There is also a chance to add social links to the site. They will allow your visitors to share some info on their social media profiles and spread the word about your marketplace.
Do not forget to add a few transition effects. Perhaps, they will make it more exciting to look through your online project.
Main Features:
unique effects;
beautiful mobile menu;
Google Maps;
blog functionality;
easy customization process.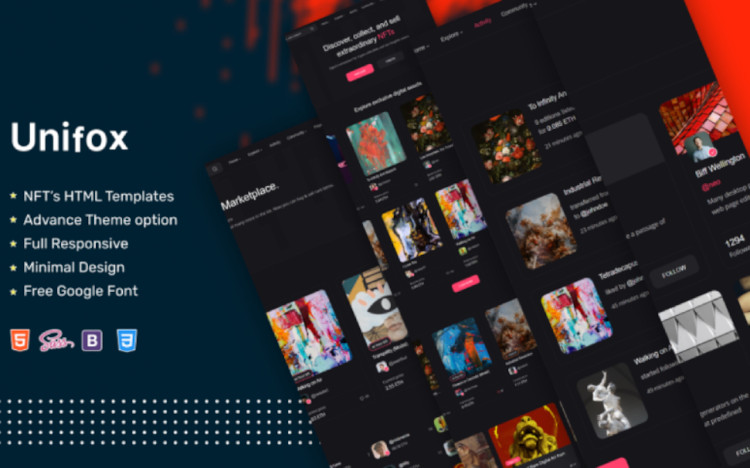 A multi-functional and strong NFT marketplace website template that you cannot pass by. As you can understand, it also enables getting a site that specializes in buying and selling digital things on blockchains.
Thanks to your user-friendly online projects, customers can become familiar with NFT in depth. Its intuitive interface makes it possible to buy NFT without applying any effort.
To meet all the needs of the audience, the team did everything in its power to develop an excellent design. They were engaged in the purchase of agricultural offerings and examined UX.
For this reason, you can be sure of getting the marketplace that all your visitors will be comfortable with. Now we need to look through its main characteristics in detail.
To begin with, it is worth mentioning that you will get a one-click demo import. It means that you will not waste installing different parts of the template one after another.
There are also advanced theme options that allow getting an original design that distinguishes itself from others. A customization process will also turn out to be straightforward. Well-organized layers will also make it easier to work with content and present it attractively.
Moreover, it is necessary to say that a fully-responsive design is also available. So, people will get access to your marketplace no matter what gadget they choose.
Main Features:
Google Fonts;
one-page unique layout;
custom icons;
blog functionality;
minimalist-looking design.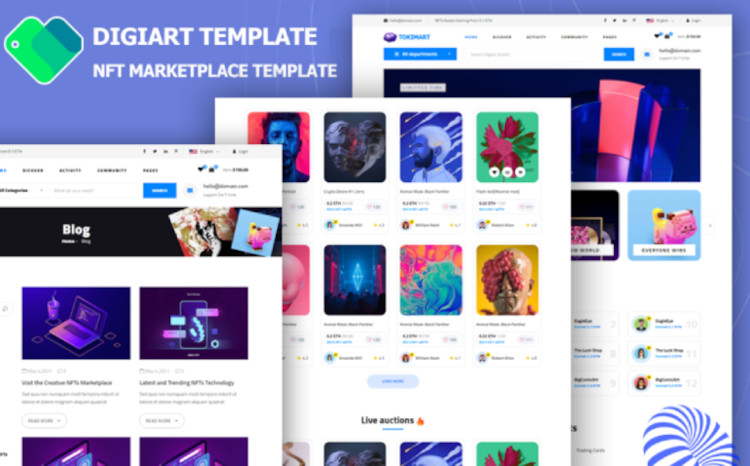 We are also pleased to present another innovative NFT marketplace template. It has a truly special design with a modern feel that can bring more visitors to your brand-new site.
For this reason, something like this stunning template is capable of bringing your business to unexpected heights. It is obvious that it is also designed specifically for NFT shops and NFT asset stores, crypto art marketplaces, and digital asset bidding websites.
It has a bunch of features that we need to bring to your attention.
Here are some of them.
As an example, it is a fully-responsive design about which we have already spoken today. However, it is critical to repeat that your online project will be suitable for different devices and their screen resolutions.
In addition to this, you will experience a straightforward customization process. There is no need to learn everything about coding before getting down to building your perfect marketplace.
Main Features:
custom icons;
gallery functionality;
well-structured layouts;
minimalist design;
light template.
A Few Words in Conclusion
Non-fungible tokens (NFTs) had been around for a few years, but 2021 was the year they broke into the mainstream. A bustling virtual high street of NFT markets has emerged, offering digital art and collectibles at every price range imaginable.
Even conventional auction houses have seen this as an opportunity to cash on, positioning themselves directly in the path of a potential paradigm change.
For this reason, it is not surprising that many people start thinking about working with HTML5 website templates for an NFT marketplace website.
We hope that you have managed to find something that suits your ideas and tastes.
Thanks for reading!
Download thousands of Themes, Plugins & Graphics to create your Website. Use promo code ThatsJournal and get an additional 10% off
for All MonsterONE Plans
.
Disclosure: Thats Journal is supported by our readers. This page may contain affiliate links. That means, if you click on these links to make a purchase, we may earn a small commission (at no extra cost to you). These funds help us to keep this blog up and running.