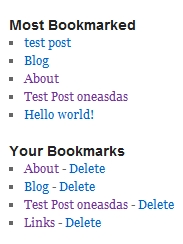 To run a bookmarking system in your blog is yet another way to engage visitors of your blog. If you have useful content in your blog then people like bookmarking, of course they can bookmark from their browsers, but providing a system in your blog would be great. That is a better way of engaging your visitors. You can install this WordPress plugin to integrate a full featured bookmark system in your blog which will work for any theme.
Here are the features of this plugin:
1) Personal bookmarks: By this plugin the logged in users can add or delete their personal bookmarks as per their requirements.
2) Widgets and shortcodes support: You can use widgets and short codes to display the bookmarks in your blog. Also, you can put custom widgets to show most bookmarked content.
3) Ajax support: This plugin uses Ajax and the page doesn't reloads when someone edits the bookmarks providing a smooth user experience.
4) Bookmark links in posts and pages: From the plugin settings page, you can enable or disable Add or Remove bookmarks links in posts and pages. This link can be used by your users for adding and removing bookmarks directly from posts and pages.
5) Modify Add Bookmark and Remove Bookmark text: You have the option to edit Add Bookmark and Remove Bookmark text and add your own text.
6) Modify Alert text: You also have the option to edit Bookmark successful and Bookmark deleted alert texts.
7) Custom CSS: You can change the look and feel of the plugin from the plugin settings page by adding your own CSS codes.
Download thousands of Themes, Plugins & Graphics to create your Website. Use promo code ThatsJournal and get an additional 10% off
for All MonsterONE Plans
.
Disclosure: Thats Journal is supported by our readers. This page may contain affiliate links. That means, if you click on these links to make a purchase, we may earn a small commission (at no extra cost to you). These funds help us to keep this blog up and running.