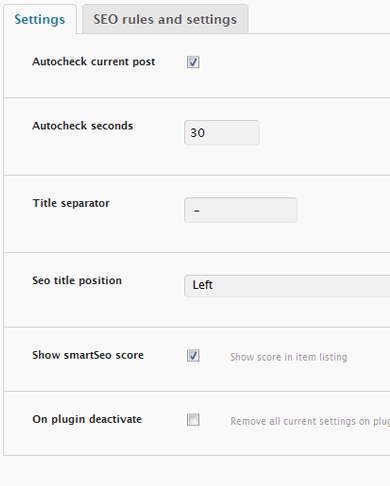 In this post, I will discuss about a WordPress plugin which can be used for checking the SEO score for a post or a page in your blog. After installing the plugin, from the post editor you can click on the SEO check button to check SEO score for a particular post.
Here are the features of the plugin:
1) Automatic SEO for each post: You don't have to manually do anything for the on page optimization of the posts. Just enter the title and the content and the rest of the things are automatically inserted by the plugin. You can enable the Auto check for posts option from the plugin settings page. You can select Auto check seconds, title separator and SEO title position.
2) SEO Score: By the help of this plugin you can check the SEO score of an individual post. It displays checks for keywords in title tag, keywords in description meta tag, keywords in meta tag, keywords density in body of the post, keywords in H1, H2 and H3 tags, keyword font size, and keywords in alt text.
3) Title for posts: The plugin also helps you set a perfect title. You can check whether the title is long or short and you can put the right keywords which would be relevant to the post.
4) SEO description: SEO description of the post is automatically filled up by the plugin.
5) Meta tags settings: It also takes care of the meta section basics like the keyword what you are using in the tags should be present in the body of the post. Meta tags should not be duplicates.
6) Keyword density: Plugin also automatically checks for the keyword density of posts.
Download thousands of Themes, Plugins & Graphics to create your Website. Use promo code ThatsJournal and get an additional 10% off
for All MonsterONE Plans
.
Disclosure: Thats Journal is supported by our readers. This page may contain affiliate links. That means, if you click on these links to make a purchase, we may earn a small commission (at no extra cost to you). These funds help us to keep this blog up and running.