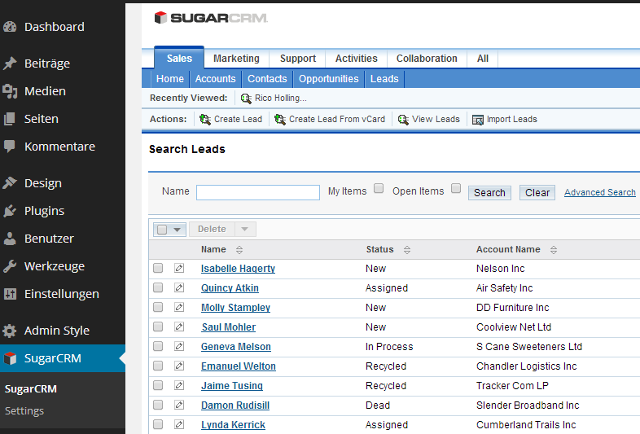 This post is about a WooCommerce WordPress plugin which can be used for adding SugarCRM in your WordPress blog.
SugarCRM is a feature rich Customer relationship management system which can be used to manage your customer account details, manage estimations, track social media activity, access analytics and create custom graphical performance metrics.
By using this WordPress plugin you can access SugarCRM directly from your WordPress blog. To add SugarCRM in your WordPress blog you have to enter the URL to your SugarCRM install, login ID and password.
Here are the features of SugarCRM Customer relationship management system:
1) Account details: Using SugarCRM you can access customer account details along with along with website, account type, phone numbers, industry, assigned to, teams, contacts, account insights, opportunity metrics in a graphical format and case summary.
2) Manage estimations: By using SugarCRM you can analyze and manage the forecasts and estimations for your running projects easily.
3) Track social media activity: Using SugarCRM you can access social media mentions and you have the option to reply to comments and messages from the Dashboard. It is also helpful in tracking the social media messages and posts.
4) Responsive CRM system: SugarCRM is fully responsive and works in all types of devices like desktops, cell phones and tablets.
5) Create performance metrics: You have the option to create custom performance metrics in a graphical format for your projects.
6) Tools integration: You can integrate various tools in SugarCRM like email management tools, Google apps, etc.
Download thousands of Themes, Plugins & Graphics to create your Website. Use promo code ThatsJournal and get an additional 10% off
for All MonsterONE Plans
.
Disclosure: Thats Journal is supported by our readers. This page may contain affiliate links. That means, if you click on these links to make a purchase, we may earn a small commission (at no extra cost to you). These funds help us to keep this blog up and running.