A heat map is very useful in analyzing the clicks of your visitors on your blog. It shows graphically, points where visitors have clicked. Applications of a click tracking heat map are endless. You can use this data for placement of PPC advertisements, important widgets, featured content, social media buttons, etc. In this post, I will discuss about a WordPress plugin which you can use for generating click tracking heat maps in your blog.
Here are the features of the heat map WordPress plugin for click tracking:
1) Heat maps and click tracking for all pages: Plugin track all pages of your blog for clicks. However, if you wish you can disable few pages for click tracking from the plugin settings section.
2) Select browsers: You have the option to select a browser for which you want to track clicks.
3) View Daily statistics or All time statistics: You can view daily statistics of click tracking in the heat map or you can view the All time statistics in the heat map.
4) Disable IP addresses: From the plugin settings page you can disable specific IP addresses for which you don't want the clicks to be counted.
5) Heat map display settings: You have the option to show the clicks as diamonds or squares in the heat maps.
6) Delete click tracking: At any given time, you have the option to delete all the clicks which have been tracked in the pages on your blog.
Here's how clicks are displayed in the heat maps. Diamonds in the below given image are the points where users have clicked: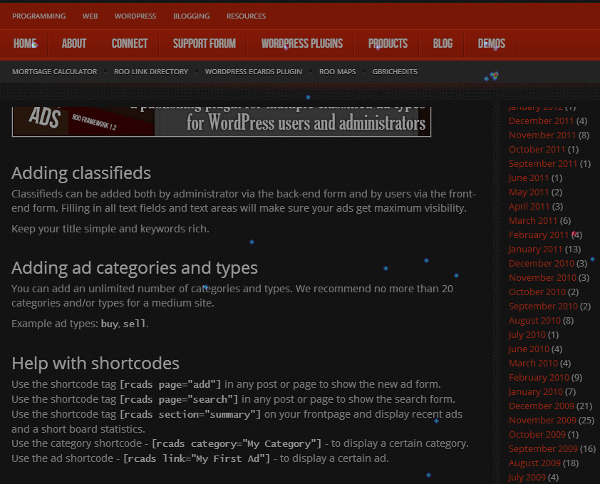 Download thousands of Themes, Plugins & Graphics to create your Website. Use promo code ThatsJournal and get an additional 10% off
for All MonsterONE Plans
.
Disclosure: Thats Journal is supported by our readers. This page may contain affiliate links. That means, if you click on these links to make a purchase, we may earn a small commission (at no extra cost to you). These funds help us to keep this blog up and running.