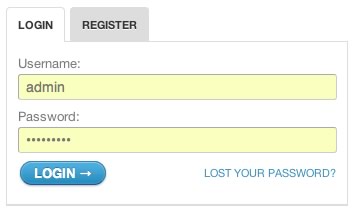 In this post, I will discuss about a WordPress plugin which you can use for adding login and register forms in the sidebar of your blog and modal login for your blog. When a user clicks on the login or register link then the form opens in the same page. After the login, a user can see last logged in date and time, recent activity in the blog and the number of posts and comments published since last logging in.
One of the shortcomings of the default WordPress install is the mechanism of login and register. When you include the Meta widget in your sidebar there is a login and register link. Now, when a user clicks on these link he's taken to another page for login or for registering in the blog. Well, it doesn't looks classy when you have multiple users registered to your blog. The best way to avoid it is to use an Ajax based login and register system in your blog. By installing this plugin your users can login, register and use the forgot password link directly from your blog's widget section No page reloading and stuffs like that.
Here are the features of this plugin:
1) Ajax support: Plugin uses Ajax and the login and register forms open in the same page.
2) Customize login and register widget: You can change the look and feel of the login and register widget as per your needs.
3) Lost your password link: Ajax login form also has a Lost your password link which can be used by your users for retrieving passwords.
4) Shortcodes support: You can also add login and register forms anywhere in your blog by using shortcodes.
If you simply want to customize the default login screen of WordPress blog then, you can try this plugin. By using this plugin you can replace the WordPress logo and add your own logo with a logo link. You can set up logo width and height as per your requirements. Also, you can add your own copyright notice in the login screen. This plugin comes with different login themes, you can pick any one which fits in your blog.
Download thousands of Themes, Plugins & Graphics to create your Website. Use promo code ThatsJournal and get an additional 10% off
for All MonsterONE Plans
.
Disclosure: Thats Journal is supported by our readers. This page may contain affiliate links. That means, if you click on these links to make a purchase, we may earn a small commission (at no extra cost to you). These funds help us to keep this blog up and running.