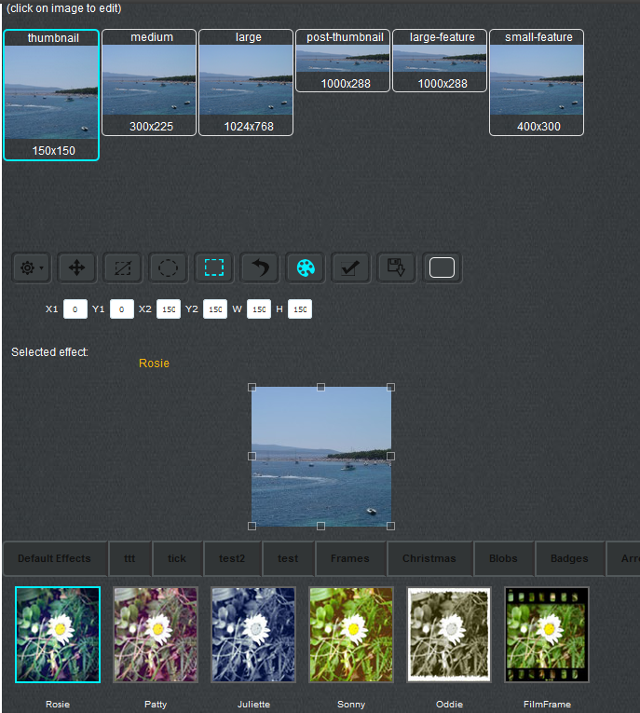 In this post I will describe a WordPress plugin which can be used for adding image editor in your WordPress blog. By using this WordPress plugin you can edit your images from the Media library using an image editor.
You have the option to edit any size of image like thumbnails, medium size images, large images, post thumbnails and Small featured images. Image editor has multiple types of image effects which you can apply to your images.
Also, from the plugin settings page you can add custom image effects in the image editor.
Here are the features of this WordPress plugin:
1) Edit images from the Media library: This WordPress plugin add edit it button for all the images in your blog in Media library. You can click on this button and edit the image.
2) Select image size to edit: This WordPress plugin provides option to edit the following image sizes: Thumbnail (150×150), Medium (300×225), Large (1024×768), Post thumbnails (1000×288) ans Small feature (400×300).
3) Image effects: You can add the following image effect to the images: Greyscale effect, Greyscale outside effect, Negative effect, Blur effect, Blur outside effect, Contrast effect, Add text to image, Emboss effect, Brightness effect, Colorize effect, Pixelate effect, Pixelate outside effect and Crop image.
4) Other options: Image editor has many options like Select all, Deselect, Round selector, Block selector, Undo option, Turn color on or off, Display selected color, Apply effect, Overwrite original image and Save as new image.
5) Add custom image effects: From the plugin settings page you have the option to create and add custom effects in image editor.
Download thousands of Themes, Plugins & Graphics to create your Website. Use promo code ThatsJournal and get an additional 10% off
for All MonsterONE Plans
.
Disclosure: Thats Journal is supported by our readers. This page may contain affiliate links. That means, if you click on these links to make a purchase, we may earn a small commission (at no extra cost to you). These funds help us to keep this blog up and running.