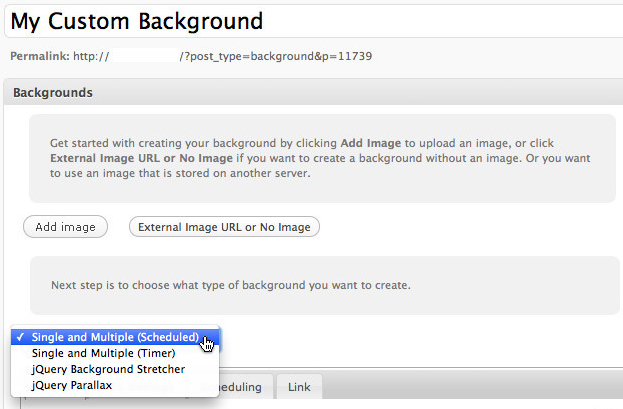 In this post I will describe a WordPress plugin which you can use for adding multiple, clickable and rotating backgrounds in a WordPress blog. Also, you can add custom backgrounds with parallax effects and scheduled backgrounds with timers in your blog. In many situations especially for a photography or an artist blog you need different backgrounds from time to time. Sometimes even you need a background should be rotating. For all these things this is a useful WordPress background plugin. By the use of this plugin you can change the background of your specific posts or pages and of all the pages or posts in a fly. Also, you can add backgrounds to custom post types and custom taxonomies. You can change the settings for the backgrounds from the plugin settings page.
Here are the features of this plugin:
1) Add single or multiple backgrounds: You have the option for adding single or rotating multiple backgrounds in your WordPress blog.
2) Background image customization: If your background image is smaller, then the jQuery in the plugin will stretch it to fit the theme. You have the option to enable Resize proportionality, Resize animation, Image width, Image height, Next slide delay in seconds, Slide show speed in seconds, enable or disable slide show, select transition effect, slide direction, sequence mode, Anchoring and Anchoring image.
3) Parallax effects in backgrounds: You can also have Parallax effects in your backgrounds. You can adjust the following parallax settings: Layer width, Layer height, Starting top and Starting left.
4) Backgrounds with timers: The most exciting part of the plugin is that you can set scheduling say date and time to show specific backgrounds, great for Halloween or Christmas products related blogs.
5) Clickable backgrounds: You can also create clickable backgrounds with the help of the plugin. You just have to add the URL of the target and that's it.
6) Custom backgrounds: You also have the option to add your own backgrounds. You can add a background image and add the URL if you want it to be a clickable background. Then, you can select the background color, add background attachment, select background position and size, and enable he background repeat setting. After that you can schedule the background to be visible on particular date and time.
7) Custom CSS: You can also add custom CSS codes for your backgrounds to change the appearance of the backgrounds.
8) Add backgrounds for specific pages: You can add backgrounds for login page, homepage, front page, search page, author page, archive page, 404 page, and set up a default background.
9) Backgrounds for custom post types and custom taxonomies: You can also set up custom backgrounds for custom post types and custom taxonomies.
Download thousands of Themes, Plugins & Graphics to create your Website. Use promo code ThatsJournal and get an additional 10% off
for All MonsterONE Plans
.
Disclosure: Thats Journal is supported by our readers. This page may contain affiliate links. That means, if you click on these links to make a purchase, we may earn a small commission (at no extra cost to you). These funds help us to keep this blog up and running.