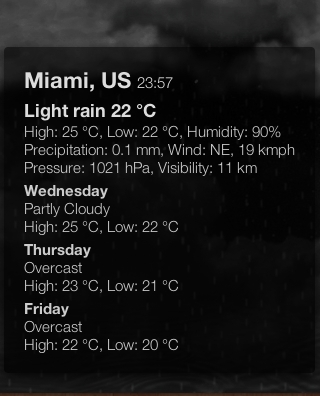 This WordPress plugin is one of the best and most powerful plugin for displaying Weather widget and forecast information in your WordPress blog. You can display weather information for multiple locations in sliders. According to the weather of a particular place or a location the images in the sliders are displayed. From the plugin settings page you can enter the locations for which you want to display the weather information the slider. Plugin also displays the following information for a location: Temperature, high temperature, low temperature, humidity, time precipitation, forecast, forecast condition, forecast low temperature, forecast high temperature, wind, pressure, and visibility information.
Here are the features of the plugin:
1) Different types of weather display options: This plugin comes with 48 types of weather like sunny, clear, partly cloudy, cloudy, overcast, fog, light rain, moderate rain, heavy rain with thunder, light sleet showers, light snow, moderate snow, etc. which can be displayed in the sliders. These conditions can be edited from the plugin settings page.
2) Weather forecast: 3 days forecast will also be displayed along with weather information. This can be enable or disabled from the plugin settings page.
3) Sliders: You can display the weather info in a slider with animation. This slider is fully responsive and will work with all types of devices. Plugin offers touch feature for touch sensitive devices and keyboard control for laptops and desktops. You have the option to set up width and height of the slider. Also, you can set slide delay, refresh interval,
4) Widgets support: You can add any number of widgets in your blog.
5) Search option in weather widget: There's a search bar in the widget for users to search for Weather in a particular location.
6) Change time format: Time format can be picked as per your needs.
7) Language support: The weather widget works in all the languages. You can pick any language as per your needs.
8) Animation settings: From the plugin settings page, you can enable or disable CSS, JavaScript animations, set up info box animation duration and set up reduction. You can also enable or disable snow, wind, rain and lighting animations.
9) Multisite and network support: This plugin supports WordPress multisite and network site.
Download thousands of Themes, Plugins & Graphics to create your Website. Use promo code ThatsJournal and get an additional 10% off
for All MonsterONE Plans
.
Disclosure: Thats Journal is supported by our readers. This page may contain affiliate links. That means, if you click on these links to make a purchase, we may earn a small commission (at no extra cost to you). These funds help us to keep this blog up and running.