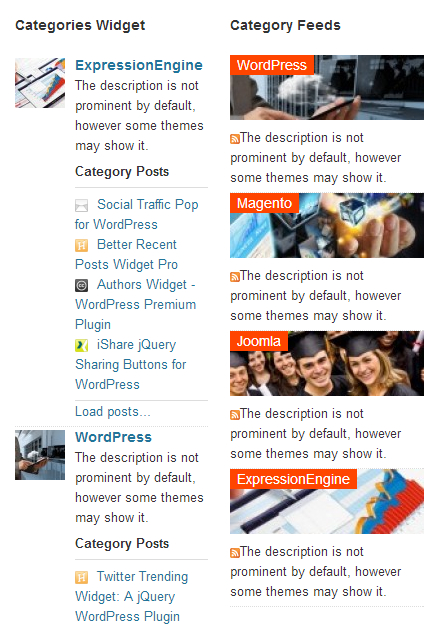 If you have many categories in your blog then, this WordPress plugin will help you mange them easily. By using this plugin you can add a category widget with multiple options in your blog. You can add images for categories and posts in the categories widget. Also, you can include RSS feed links in the category widget. You have total control on how the categories widget will be displayed in your blog.
Here are the features:
1) Add images: You can add images to the categories. From the Edit Category section you can add images to a category. Images in the categories will be automatically sized by using Tim thumb. For the category widget, you can set up the thumbnail height and width for parent categories and child categories. You also have the option to select the widget title icon and background image for the category widget. You can also display categories in a grid view by using thumbnails.
2) Modify title, description, ordering and depth of category widget: You can edit the title and description of the widget and set the order in ascending or descending order. You can also select the category depth in the widget which is the number of levels in hierarchy which will be displayed in the widget. Category title and Category description can be enabled or disabled as per your needs.
3) Add or remove categories: Categories can be added or removed in the category widget as per your needs.
4) RSS feeds in category widget: You can also display RSS feed links for categories in the category widget. Also, you have the option to select the feed type and add a feed image which will be displayed in the widget.
5) Display number of posts: You can display the number of posts in the categories in categories widget. Also you can hide empty categories.
6) Post in categories: From the plugin settings page, you can add posts header title, select number of characters for post title substring, display post in list or by using Ajax, enable or disable thumbnails for posts, select default thumbnail image for posts and select the height and width of post thumbnail image.
7) Custom HTML and CSS: For the categories widget, you can add custom HTML and CSS to change the appearance of the widget.
Download thousands of Themes, Plugins & Graphics to create your Website. Use promo code ThatsJournal and get an additional 10% off
for All MonsterONE Plans
.
Disclosure: Thats Journal is supported by our readers. This page may contain affiliate links. That means, if you click on these links to make a purchase, we may earn a small commission (at no extra cost to you). These funds help us to keep this blog up and running.