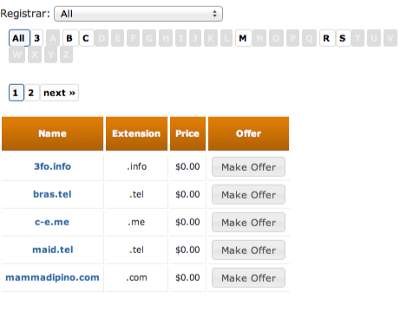 If you are selling domain names then there's no real need of taking external services. You can set up your very own domain shop right in your WordPress blog. Simply install this WordPress plugin and modify the settings from the plugin settings page to set up your custom domain shop. 
Here are the features of this plugin:
1) Set up a domain shop: By this plugin you can add all the domain names you wish to sell in the admin panel along with pricing, registrar information, owner of the domain, created, expires and other relevant information about the domain names. Most of the information related to domains will be populated automatically by the plugin. Then, the visitors of your blog can make offers on the domains which you have set up. When users make an offer, you will be notified. You can then accept or reject offers as per your needs.
2) Other settings: You also have the option to set table background color, table font color, domain list pagination style to alpha numeric or numeric and domain list filters.
3) Multiple currency support: Plugin supports many currencies so that your visitors can select currencies as per their choice.
If you want to add a domain name checker tool in your blog then you can try this plugin.
Download thousands of Themes, Plugins & Graphics to create your Website. Use promo code ThatsJournal and get an additional 10% off
for All MonsterONE Plans
.
Disclosure: Thats Journal is supported by our readers. This page may contain affiliate links. That means, if you click on these links to make a purchase, we may earn a small commission (at no extra cost to you). These funds help us to keep this blog up and running.