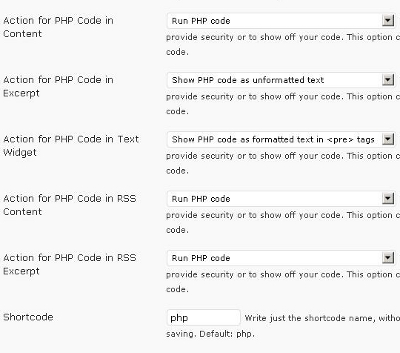 There are many occasions when you need to add PHP codes in WordPress  The only problem is that you have to edit any .php file to do that. You can't simply add a PHP code in the posts, pages, widgets, or RSS of WordPress blog. It simply won't execute. However, by the help of this WordPress plugin you can do exactly that. You can add PHP codes anywhere in your blog by using shortcodes provided by this plugin. You can also change the style by which the shortcodes are used. If you just want to format the PHP code, you can do that by this plugin.
Here are the features of this plugin:
1) Add PHP codes anywhere: You can add any PHP code in  posts, pages, widgets, excerpt, RSS feeds and RSS excerpts of your WordPress blog.
2) Turn Error reporting to on or off: You have the option to turn Error reporting to on or off. This setting can also be used for particular shortcodes.
3) Shortcodes support: You can add the PHP codes in the content by using the shortcode. You also have the option to change the name of the shortcode. There are other shortcodes available for accessing post data, for interaction with WordPress database, and you can use other shortcodes on a per action basis. You can refer the tutorial to learn more about the plugin shortcodes.
Download thousands of Themes, Plugins & Graphics to create your Website. Use promo code ThatsJournal and get an additional 10% off
for All MonsterONE Plans
.
Disclosure: Thats Journal is supported by our readers. This page may contain affiliate links. That means, if you click on these links to make a purchase, we may earn a small commission (at no extra cost to you). These funds help us to keep this blog up and running.