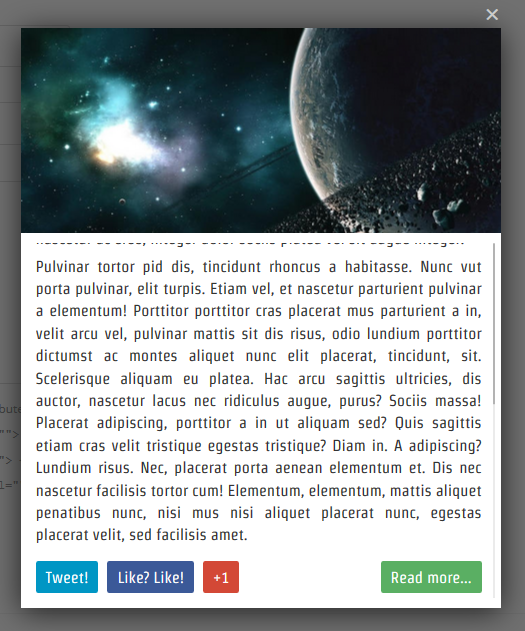 If you have an important post or page in your WordPress blog which you want to show it to your visitors then the easiest method is to show it in a responsive jQuery lightbox or modal window. This post or page can be anything like your most popular post, new product or service page, eBook download page, new features page, About page or any other post or page which you want to display it to your visitors. From the plugin settings page you can configure the plugin to set up the frequency to display lightbox, change lightbox settings and add social sharing buttons. This plugin can be used in any language.
Here are the features of this WordPress plugin:
1) Display settings: You can display the lightbox with the following options: Show it at every visit until they have visited the page, Show it to visitors only once per session until they have visited the page and Show it only once per visitor.
2) Lightbox settings: You can change the following lightbox settings: Lightbox overlay color, Lightbox overlay opacity, Button caption for the lightbox and the delay after which the lightbox will be displayed to the visitors. You can add any post or page to the lightbox from the post or the page editor. In the post or the page editor you have the following options to select the template for the lightbox: Image left and text right, Image right and text left, Image top and text bottom and Text only without image. You can also set up the lightbox window size, select image, set up width of the image, select lightbox window title which can be same as the post or page title or you can add a custom lightbox title and use post excerpt or page excerpt as light box content or add custom lightbox content.
3) Social sharing buttons: You have the option to add social sharing buttons for Twitter, Facebook and Google+ for the lightbox. You visitors can tweet, like or +1 the post or the page directly from the lightbox.
4) Responsive design: Lightbox is fully responsive and it will work in all types of devices.
5) Translation support: You can use this plugin in any language as per your needs.
Download thousands of Themes, Plugins & Graphics to create your Website. Use promo code ThatsJournal and get an additional 10% off
for All MonsterONE Plans
.
Disclosure: Thats Journal is supported by our readers. This page may contain affiliate links. That means, if you click on these links to make a purchase, we may earn a small commission (at no extra cost to you). These funds help us to keep this blog up and running.