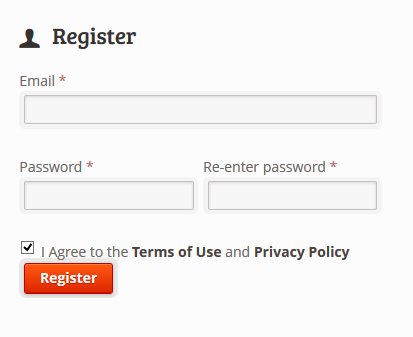 In this post, I will discuss about why you require terms of use and privacy policy agreement in any branded service. Also, how to add terms of service, and privacy policy text easily in your WordPress blog and let users agree to it. Here's a WordPress plugin for adding terms of service, privacy policy text easily in a WordPress blog. By using this plugin you can add a check-box "I agree to the Terms of service and Privacy Policy" in register form and in comments forms of your blog. You can include the links for terms of use and privacy policy in this check-box. The above given default text and the links can be modified as per your requirements. After you add the terms of use, and privacy policy check-box in register form and in comments forms, a user has to select the check-box if they want to register in your site or if they want to place a comment.
Terms of service agreement is actually a set of rules to which users of your blog have to follow to use the services you are offering. Advantages of terms of service agreement is that your users will not be able to duplicate the content created by you and they will strictly adhere to the terms of service created by you. It is recommended for any service to have a Terms of service agreement to protect the interests of your services and software.
Privacy policy on the other hand, is mandatory for any service and is required by law. A privacy policy states that how would you intend to use the personal information and other information entered by your users.
Download thousands of Themes, Plugins & Graphics to create your Website. Use promo code ThatsJournal and get an additional 10% off
for All MonsterONE Plans
.
Disclosure: Thats Journal is supported by our readers. This page may contain affiliate links. That means, if you click on these links to make a purchase, we may earn a small commission (at no extra cost to you). These funds help us to keep this blog up and running.