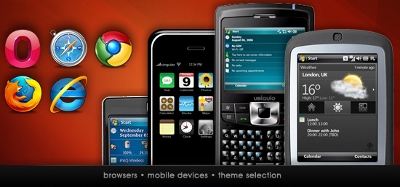 These days almost all the themes are responsive, that means they look the same in all the devices. However, if you wish to change themes based on browsers then you can use this WordPress plugin.
This is a unique WordPress plugin as you set the WordPress theme which will be associated for a specific browser. These settings can be done from the plugin admin section. This plugin can also be used if you wish to display a mobile theme for a specific mobile device. Plugin will detect the device automatically and then the set theme will be displayed to the user.
Here are the features of this plugin:
1) Change theme by device: You have the option to set a WordPress theme for different devices. Plugin supports popular cell phones and tablets.
2) Change theme by browsers: You have the option to set a WordPress theme for different browsers. Plugin supports all the major browsers.
3) Browser and device support: Plugin supports the following browsers and devices: Firefox, Google Chrome, Netscape, Internet Explorer, Safari, Konqueror, Firebird, Lynx, GoogleBot, Yahoo, Slurp, W3C Validator, Opera, Opera Mini, Internet Explorer, Mobile, Android, Palm, Blackberry, iPad, iPhone, and iPod.
Download thousands of Themes, Plugins & Graphics to create your Website. Use promo code ThatsJournal and get an additional 10% off
for All MonsterONE Plans
.
Disclosure: Thats Journal is supported by our readers. This page may contain affiliate links. That means, if you click on these links to make a purchase, we may earn a small commission (at no extra cost to you). These funds help us to keep this blog up and running.