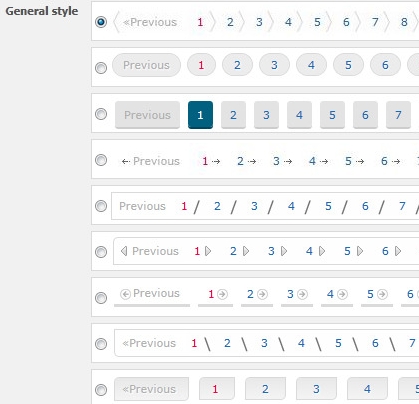 The default WordPress pagination may not work for all the themes. Also, many premium themes do not concentrate that much on the pagination. Personally I like the way Genesis Theme Framework handles the pagination. There are two ways to change the pagination. One way is to edit the CSS style sheet for which you should have the knowledge of CSS and other simple way is to simply install a WordPress plugin. You can change the default pagination (the way page numbers are displayed) in a WordPress blog by using this WordPress plugin.
Here are the features of this plugin: 
1) Custom pagination styles: This plugin has built-in custom pagination styles which you can add from the plugin admin section.
2) Change pagination border colors: You can also change the border colors associated with the pagination.
3) Google fonts support: Fonts for the pagination can be picked from the Google fonts collection in the plugin.
4) Pagination settings: Other settings like font color, font size, hover text color, etc. can be set up as per your requirements.
5) Advanced pagination settings: From the advanced settings you can also change the gaps between numbers in the pagination section. Apart from that "Next/Previous" labels can be named to anything.
Download thousands of Themes, Plugins & Graphics to create your Website. Use promo code ThatsJournal and get an additional 10% off
for All MonsterONE Plans
.
Disclosure: Thats Journal is supported by our readers. This page may contain affiliate links. That means, if you click on these links to make a purchase, we may earn a small commission (at no extra cost to you). These funds help us to keep this blog up and running.