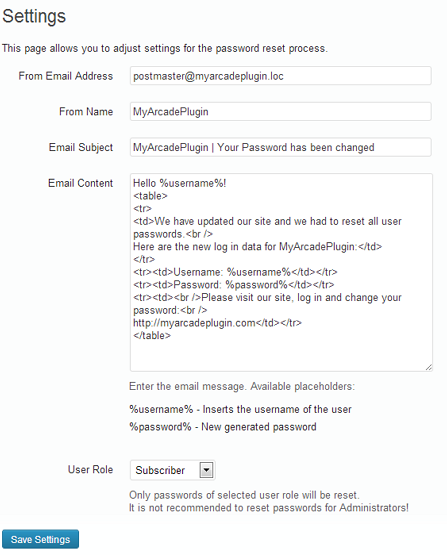 In this post I will discuss about a WordPress plugin which you can use to reset passwords in bulk for users in WordPress blog. You can change the passwords for multiple users at once based on user roles, change password for one user or a group of users. From the plugin settings page you can edit the password reset email, From name, From email address and subject line of password reset email. Also, you can view the confirmation of the password reset emails which are sent to the users. Bulk password reset for users is good practice as it keeps the user accounts secure in your blog.
Here are the features of this WordPress plugin:
1) Change passwords for user roles: You can change passwords in bulk for the following user roles: Administrators, Contributors, Subscribers, Editors and Authors. Also, you can change passwords in bulk for Moderators, Members, Blocked users and Inactive users.
2) Change password for one user and group of users: You can reset password for individual users or select a group of users from the Users section and then reset the passwords.
3) Password reset confirmation: After you have reset the passwords you can view the password reset confirmation for the users from the plugin settings page.
4) Email settings: From the plugin settings page you have the option to change Subject line for the password reset email, From email address from which the emails will be sent, From name and edit default text in the email body. You can also use placeholders in the email body. For Example, %username% can be used for adding username of the user.
Download thousands of Themes, Plugins & Graphics to create your Website. Use promo code ThatsJournal and get an additional 10% off
for All MonsterONE Plans
.
Disclosure: Thats Journal is supported by our readers. This page may contain affiliate links. That means, if you click on these links to make a purchase, we may earn a small commission (at no extra cost to you). These funds help us to keep this blog up and running.