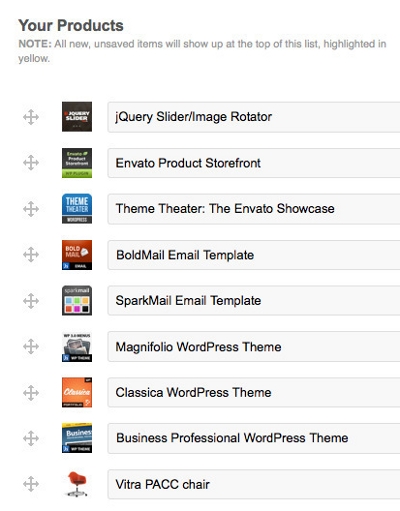 Becoming an Envato affiliate is a great marketing idea as here you will find products that really sell. However, Envato is a big marketplace and adding products one by one can be a real pain. The solution is this WordPress plugin which uses the Envato API to create your very own Envato store in your blog. All you need to do is to activate the plugin, add your Envato referral ID and add the products in your store either one by one or in bulk.
Here are the features of this plugin: 
1) Display Envato products: By this plugin you can display any Envato products and you can add your own referral links.
2) Click tracking: You can also track the number of clicks on your referral links.
3) Display products anywhere in your blog: Products can be displayed in any page or post and in the sidebar by using widgets.
4) Image caching: All the images used are cached so that they will use minimal bandwidth.
5) Dark and Light styles: When a user hovers over the link or the product image, there is a pop up of the product with description. You can select the light and the dark options to suit your blog.
6) Add products in bulk: You have the option to add all the products for a particular Envato author.
7) Statistics: You can check the click and impressions statistics for a particular time duration in a graphical format.
8) Shortcodes support: Products can also be added in posts and pages by using shortcodes.
Download thousands of Themes, Plugins & Graphics to create your Website. Use promo code ThatsJournal and get an additional 10% off
for All MonsterONE Plans
.
Disclosure: Thats Journal is supported by our readers. This page may contain affiliate links. That means, if you click on these links to make a purchase, we may earn a small commission (at no extra cost to you). These funds help us to keep this blog up and running.