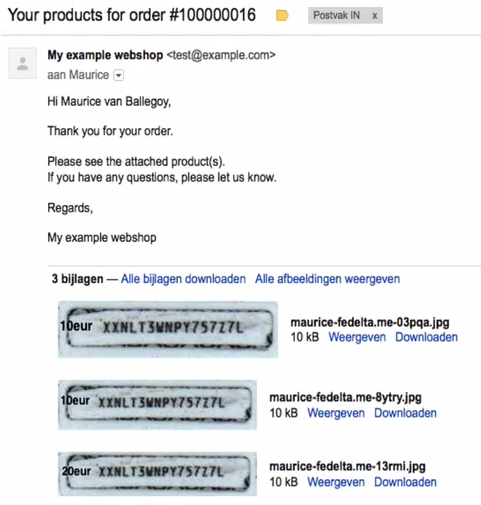 This post is about a WordPress plugin which can be used for sending virtual gift card codes to customers in your WooCommerce store. You have to upload images for the gift card codes in your WooCommerce store and when a customer buys a gift card, this WordPress plugin displays the gift card codes images to the customers and sends an email to the email address of the customer with gift card codes images. Virtual gift card codes are managed automatically by this WordPress plugins. After a customer orders virtual gift cards it is sent to the customer via email. Then, used gift cards will be automatically added to a separate image folder and the virtual gift cards stock will be automatically updated in your WooCommerce store. You can add virtual gift card codes for Amazon gift cards, iTunes gift cards, Google Play gift cards or for any other gift cards or scratch cards which has secret key codes in your WooCommerce store.
Here are the features of this WordPress plugin:
1) Create virtual gift cards: By using this WordPress plugin you can create virtual gift card codes to customers in WooCommerce. Advantage of this WordPress plugin is that you don't have to ship the gift cards to your customers. Your customers can easily access the virtual gift cards after they make the payment.
2) Email virtual gift cards: After your customers place an order an email containing the virtual gift card codes images will be sent to them.
3) Customize notification emails: You have the option to customize the email notification message which is sent to the customers.
4) Send any number of gift cards: You can send any number of virtual gift card codes to your customers. You can also send different types of gift cards in one notification email.
Download thousands of Themes, Plugins & Graphics to create your Website. Use promo code ThatsJournal and get an additional 10% off
for All MonsterONE Plans
.
Disclosure: Thats Journal is supported by our readers. This page may contain affiliate links. That means, if you click on these links to make a purchase, we may earn a small commission (at no extra cost to you). These funds help us to keep this blog up and running.