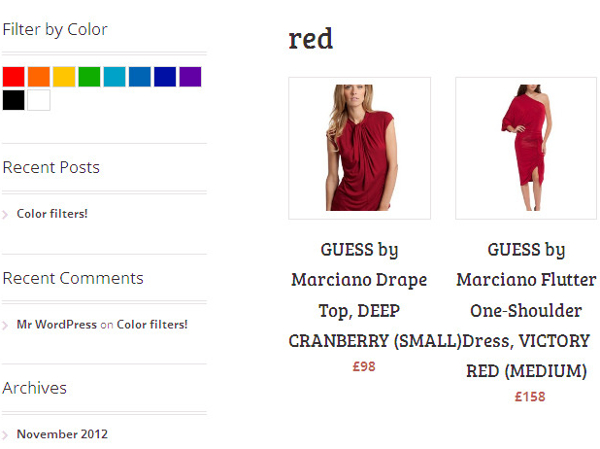 In this post I will discuss about an innovative WordPress plugin which you can use for letting the users of you site search products based on colors in WooCommerce shopping cart. Colors can be a useful filter to search products in your shopping store if you are selling apparels. Also, it is useful if you are selling WordPress themes, so that users can pick different color combinations to pull a particular theme from your site.
Here are the features of this plugin:
1) Extraction of colors from product image: When you add a product image in your WooCommerce store, colors will automatically be extracted for that particular product. These colors will be used for filtering the results.
2) Add as widget: You can add the color filter as a widget in your store. From this widget users can pick colors for products.
3) Number of colors: From the plugin settings page, you can assign number of colors to be extracted from the image of the product.
4) Reduce brightness: From the plugin settings page, you can enable the option to reduce the brightness for an image.
5) Reduce gradient: From the plugin settings page, you can enable the option to reduce the gradient for an image.
6) Set image color perimeter: You can set up the image color perimeter from the plugin settings.
Download thousands of Themes, Plugins & Graphics to create your Website. Use promo code ThatsJournal and get an additional 10% off
for All MonsterONE Plans
.
Disclosure: Thats Journal is supported by our readers. This page may contain affiliate links. That means, if you click on these links to make a purchase, we may earn a small commission (at no extra cost to you). These funds help us to keep this blog up and running.