In the past, launching an e-store yourself was an almost impossible undertaking. Business owners tightened their belts and brought substantial sums of money to web design companies to get their custom designs done for hundreds or thousands dollars. At present, you can launch an online store yourself if you have at least the smallest desire to dig into the world of web design and learn something new. At the same time, you'll spend your money wisely and build an e-store without breaking the bank. Intrigued? Then, this article is for you as it tells how to quickly and effectively create a WooCommerce store that takes your business up a notch.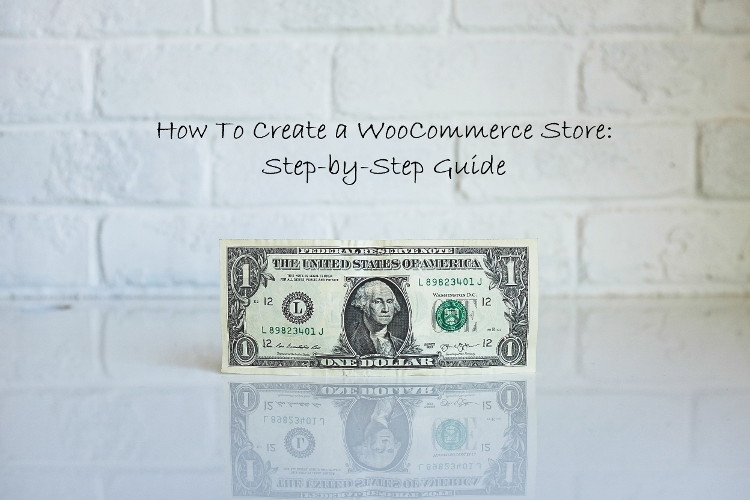 Why WooCommerce?
Being new to the world of e-commerce, you may have doubts where and how to begin. First, you have to choose the engine that powers your e-store. We suggest that WooCommerce should be your choice #1, as its optimal for those who are new to the world of online commerce for a number of reasons: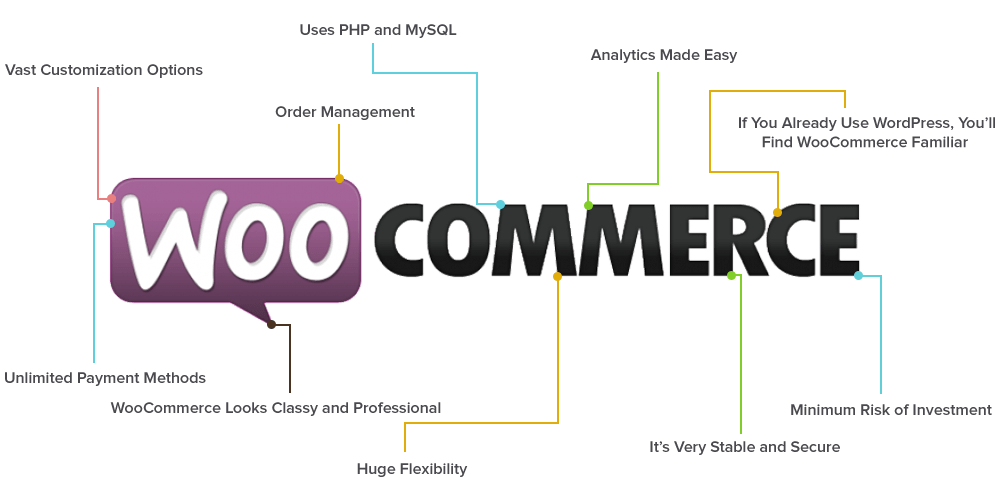 It's on WordPress. WooCommerce plugin works hand-in-hand with the most efficient content managements system in the world. This alone stands as a major advantage for the users of the plugin. Moreover, if you've had prior exposure to WordPress, WooCommerce feels 'familiar' out of the box.
Minimal risk of investment. WooCommerce is free and open-source. So, if you're just starting out, you can download WooCommerce in WordPress plugin market in a matter of minutes.
Professional and customizable. WooCommerce brings you tons of options for making your e-store one of a kind. This ensures that at no time your e-commerce site looks like what you can find on hundreds of other websites.
Rich analytics. Are you interested in tracking analytics to strike higher sales? WooCommerce offers you a vast variety of analytics tools to help you gain the insights that you need most of all.
Extendible. Being a plugin itself, WooCommerce works well with other plugins. On the plugin market, you'll find tons of plugins that extend the functionality of your WooCommerce store the way you need.
SEO friendly.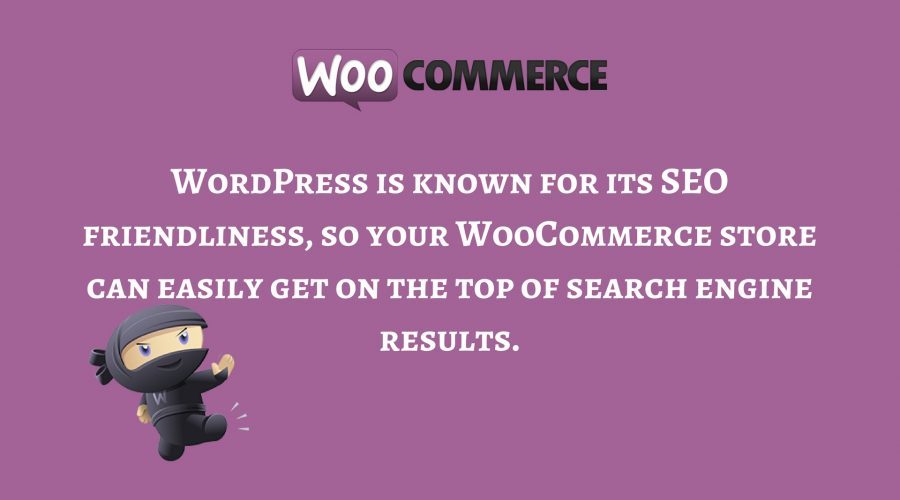 These are hardly all the benefits that WooCommerce engine brings to an store owner. However, these are the most focal ones that help you make it to the top with your e-store. If you feel like running your store with WooCommerce, read on and you'll learn what it takes to launch your successful WooCommerce e-store.
Creating a WooCommerce Store. Step #1: Choosing a template
We all live in the world of hassle and love shortcuts. The ultimate shortcut to launching your outstanding e-store is using a website template to create it. Online market harbors swarms of templates and it's hard to figure out which one is the best for you store.
To simplify your choice, we've assembled the list of characteristics that a modern WooCommerce template should possess:
First of all, you need a responsive one as you can't afford losing all those shoppers-on-the-go.
Secondly, it should be cross-browser compatible. Although the browsers that shoppers use vary significantly, bringing your clients a consistent shopping experience is a must for a modern e-store.
Thirdly, the template should provide for a streamlined user experience. Look for templates that bring you extra plugins, modules and widgets to ensure that shopping on your website is a piece of cake.
Next, pay attention to the support and documentation provided with the theme. A nice guide and friendly support can save you lots of time and effort.
Finally, you can't miss on additional SEO boost that you get by using a SEO-optimized WooCommerce template with valid coding.
Let's see an example of a feature-rich WooCommerce theme.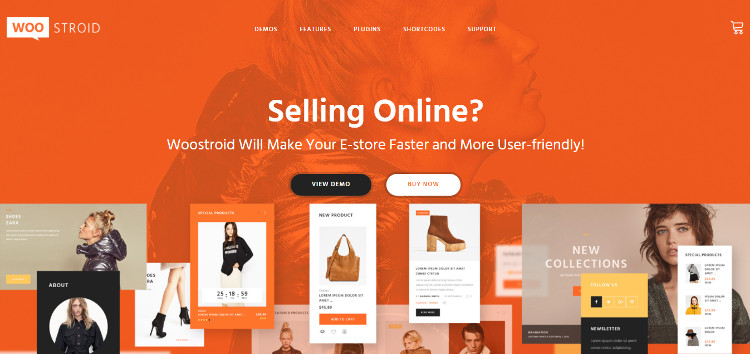 Woostroid is the template that reflects on major web design trends of 2017-2018. Let's see a short list of its main features:
With Woostroid, you can build e-stores for different branches of industry thanks to 5 pre-built skins.
Next, Woostroid responsiveness has been carefully tested and is literally perfect.
Thirdly, Woostroid is built with CherryFramework5, a powerful set of tools that forms a sound skeleton of the website.
What's more, you can run the theme not only with WooCommerce, but also with Ecwid, a simple shopping cart solution that lets you run your store on the fly. Ecwid supports multiple currencies, 40 international payments options, real-time shipping integration and 50 languages.
Then, this template is empowered by a number of prebuilt plugins that you get absolutely free. Some of them boost shopping and browsing experience on your website, others provide for ease of customization.
Finally, Woostroid is well-documented and comes with 24/7 award-winning Life Support that you get for a lifetime.
As you can see, this is a great example of a new-gen WooCommerce theme as it matches all the much-needed modern template features mentioned above. In fact, in 2018, your choice is not limited to WooCommerce templates only. At present, many WordPress themes (e.g. WordPress themes for authors) are WooCommerce-ready. So, you just have to choose the design you like most and run your store with it!
Step #2: Domain Name and Hosting Plan
Next, you've got to find a domain name for your e-store. In this regard, it's recommended to give preference to .com domain names over others and choose the name that's catchy and relevant. Many hosting providers offer a domain name free of charge if you go for one of their hosting plans.
WooCommerce websites are not very demanding in terms of hosting. If you plan to run a relatively small niche store, a shared hosting plan should be enough for you. You'll also have to purchase an SSL certificate for your website so that the transactions you power are secure.
Choosing a hosting plan, it's recommended that you go for large and well-established hosting providers that make your happy with 99% and above uptime and stellar website performance. We recommend that you go for the hosting providers that deliver best service this year. Those are Inmotion Hosting, Bluehost, SiteGround, HostGator and A2 Hosting. They not only deliver you the best hosting services available, but also please you with great customer service and support.
Step #3: Website Installation and Customization
Now, we move to the most intriguing part of it all, i.e. installing and configuring your store. We won't cover the instructions on WordPress installation as they're pretty straightforward and well-explained on the web. Next, you've got to install the template. Here, the exact installation steps depend on the template that you've purchased. Refer to the theme's documentation for step-by-step guidance.
Having installed WordPress and your template, you'll see the following notification in your dashboard: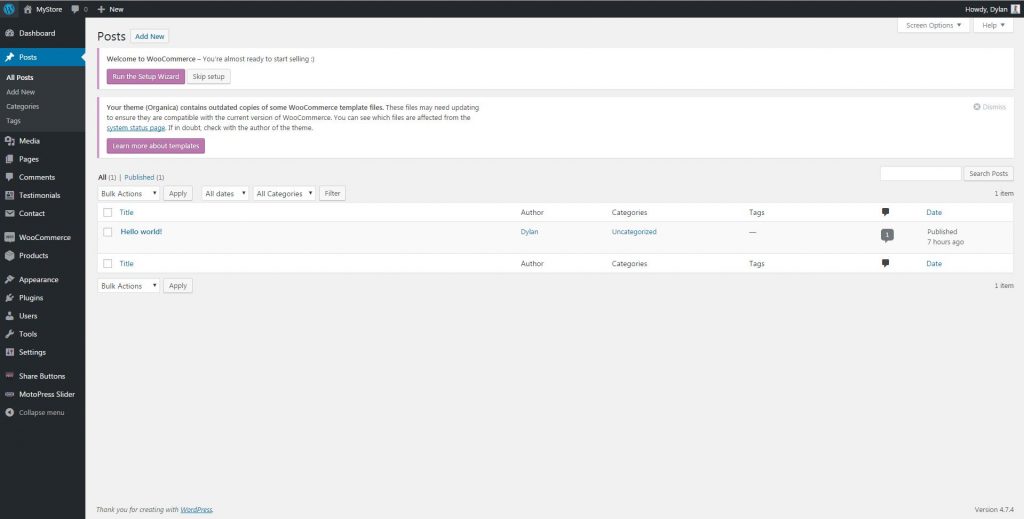 All you have to do is to run the setup wizard and click 'Let's go!':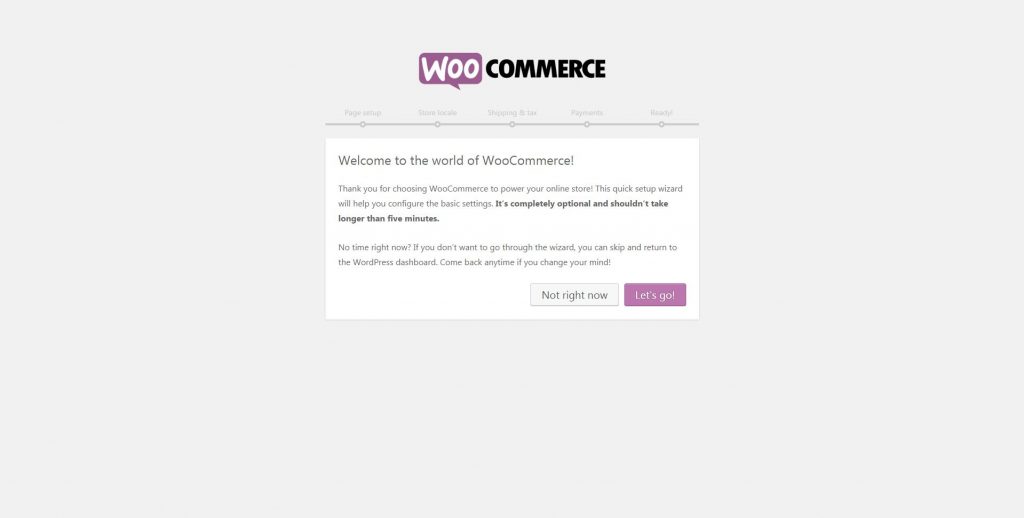 Next, you just press 'Continue' to get the main store pages installed: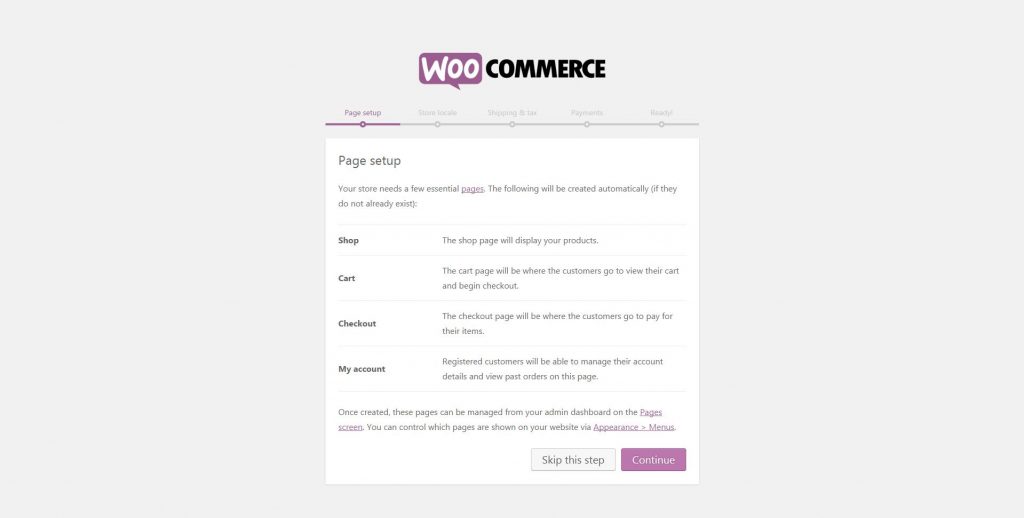 Then, you set up the store locale by inputting your country, currency and preferred measurement systems.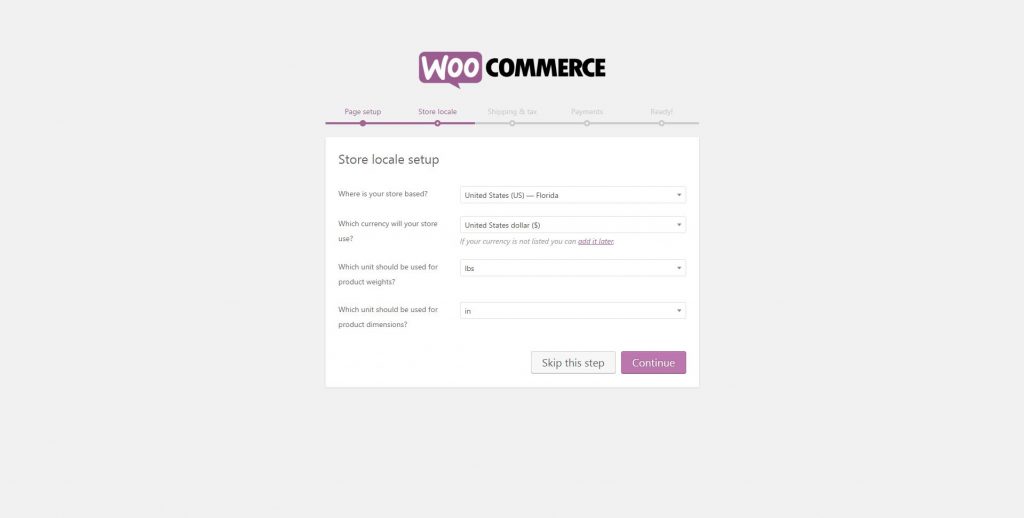 The next step is choosing what you'll sell: physical or digital products. You also have to choose whether you'll charge tax or not.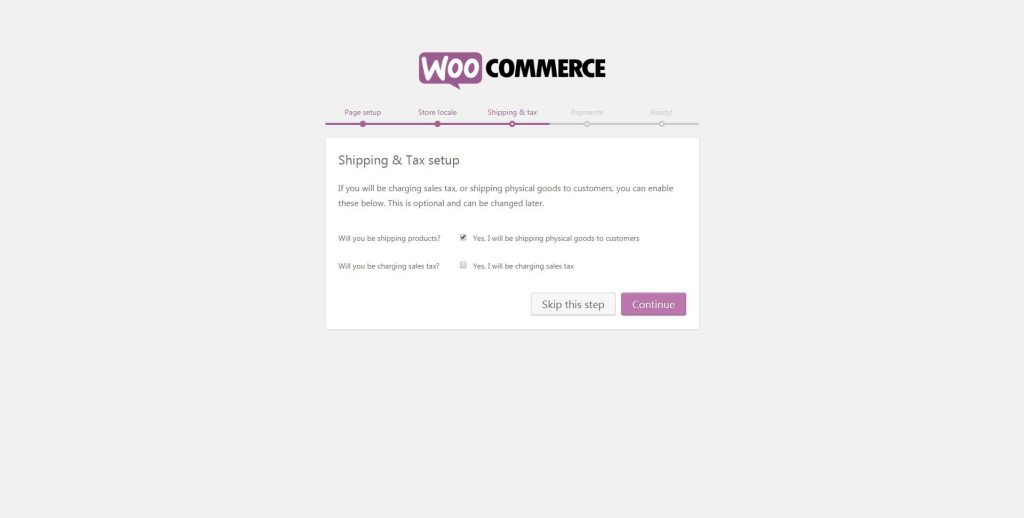 Finally, you've got to choose the payment systems that users can use to pay for the products you offer. If you don't find some of the payment methods you need there, you can add them later on in your WooCommerce dashboard.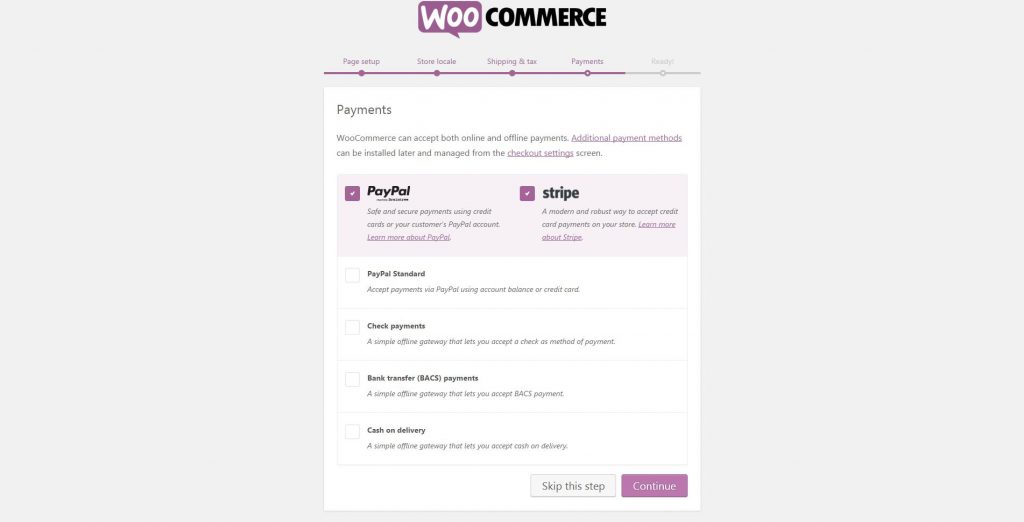 Congrats! Your e-store is ready. Start adding content, such as products, images and text content to it. Take your time to configure your e-store the way you prefer and make great strides after you go live!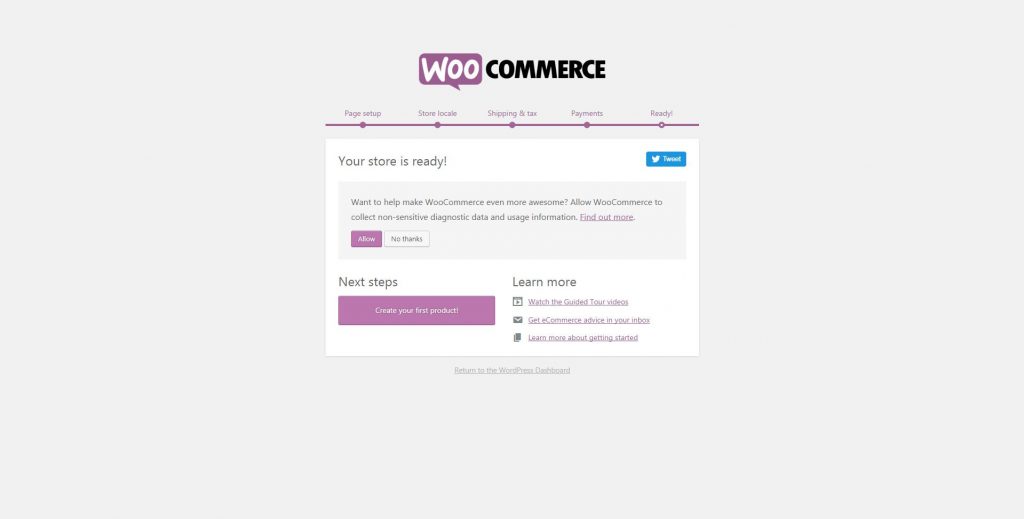 Conclusions
Now, you know what comes first and what comes last in creation of a WooCommerce e-store. If you complete these stages step-by-step, it won't take much time until your e-store is launched and welcomes its first customers.
We wish you good luck in creation of the e-store of your dreams and hope it fulfills all your expectations!
Have we missed something out? Let us know by dropping a line in the Comments section. We're always happy to see the feedback. Stay tuned!
Download thousands of Themes, Plugins & Graphics to create your Website. Use promo code ThatsJournal and get an additional 10% off
for All MonsterONE Plans
.
Disclosure: Thats Journal is supported by our readers. This page may contain affiliate links. That means, if you click on these links to make a purchase, we may earn a small commission (at no extra cost to you). These funds help us to keep this blog up and running.