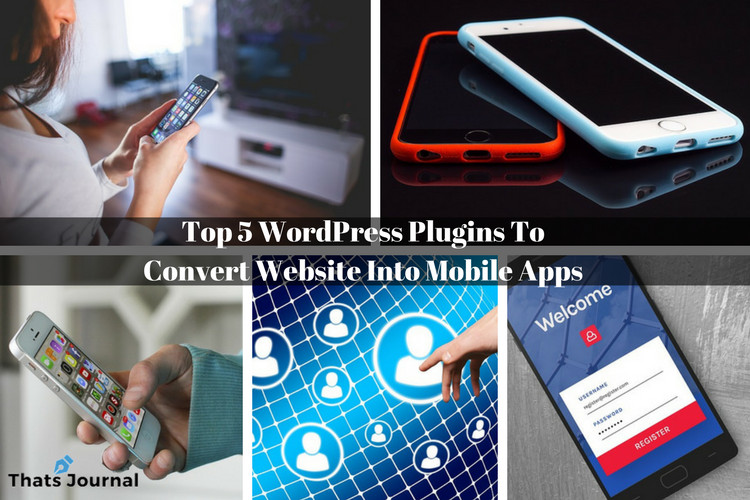 In the fast-paced age of digitization, it is time that you try these 5 amazing WordPress plugins to convert your website into a new-age interactive mobile application in a jiffy!
Leading market surveyor comScore reports a phenomenal rise in the number of smartphone users, especially in countries such as Indonesia and Mexico, where the sheer size of the market makes them a smart marketer's playground. The stats say that most of the online activity nowadays is carried out through smartphones, with desktops facing stiff competition as smartphones users all around the world keep increasing.
Quick stats about smartphone usage
Countries with dense populations (Indonesia and Mexico) have 4 times higher smartphone users than desktop users.
Smartphone users all over the world spend double the digital minutes online than the ones logging in from their desktops.
Smartphone has emerged as the most-used gadget for personal usage all through the day in countries like the UK, Sweden, the USA, Germany, France, Japan and Spain.
Stats like these also say that multi-platform users (integrating smartphone and desktop use) still hold the lion's share when it comes to accessing websites of their choice. However, the scales are a tad tilted in favor of the mobile users as the study conducted worldwide unearths fascinating facts about accessing and using the web.
Naturally, it is time that online marketers shifted their focus from desktop websites to mobile applications for integrating a comprehensive user experience in their industries through smartphones. As predicted by Google spokesperson Eric Schmidt, the "mobile first" approach for marketing is the need of the hour if you wish to keep pace with the changing times.
5 awesome plugins you need to try right now!
Plugins are a great way to convert your desktop website into mobile applications suited for a range of operating systems offered across mobile platforms. Letting you customize your website features and interactive sections into the sleek design of mobile applications, plugins are the smartest way to go if you wish to cover a great portability option throughout your accessibility options on desktop and smartphones.
Here are the best 5 plugins that make converting your website into an interactive mobile application an easy breeze, thus enabling you to bring in clever online marketing tactics to the fore for driving more traffic your way.
One of the most sweared-by plugins by online marketers, MobiLoud is a flexible option for those looking to have a classy interactive mobile application from their websites. MobiLoud has in-built features for supporting one-platform communications and email notifications for your interactive mobile app. It is simply the best when it comes to offering awesome design features for your app as well.
What you can do:
Here are some of the features of MobiLoud that stand out from the rest.
Supporting both iOS and Android operating systems
Regular app update features
Customizable push notifications
Managing news and communication
Automatic content sync from live websites
Entirely customizable design features for mobile
Compatible with both iOS and Android, this plugin lets you convert your website to a mobile application with ease. What's more, you also get your own mobile website using this plugin. Customizable mobile app templates allow room for personalization of your app and provide you with multiple modes to set according to your preferences.
What you can do:
Here are some of the most awesome features of this free plugin.
Automatic content sync features
Push notification features for app updates
Live customization features
Smooth and seamless navigation
In-app scope for mobile advertisements
Google Play Store and Apple App Store publication prompts
Customizable menu and widget options
AppPresser works really well with converting WordPress websites into interactive mobile apps. Whether your website is based on news, ecommerce or a blog is what you need to turn into an app, AppPresser is one of the best plugins to do so with ease. It has long been proclaimed as one of the best plugins that online and mobile marketers have gradually shifted their focus to. It also comes at a price that even the thriftiest of the start-up founders can afford, so you may want to give it a try if you are on a shoestring budget.
What you can do:
Here are some of the features that come with AppPresser, and mainly the reason for it making it to this list of awesome plugins.
Interactive social sharing and live geolocation features
In-built Facebook and camera functions
Supports push notifications for updates
Customizable features for design
Pull-out menu features for important tabs
Another one of the affordable plugins, Worona is sure to floor you if you wish to transform your blog or website into an interactive mobile app that will not cost you a bomb. Worona is the go-to plugin for bloggers looking for fast ways to convert their WordPress blogs into mobile apps that make them reach out to a larger audience. Catering to both iOS and Android users, Worona has easy conversion features for swiftly transforming content from your website into the app of your dreams.
What you can do:
Here are the must-know features of this affordable plugin.
Supports both Android and iOS
Offers push notifications
In-built app-rating features
Multiple extensions offering all-around support
Supports tablets and smartphone apps
Better functionality with enhanced list features
Running on HTML, WiziApp is as simple and hassle-free as it gets. The best part of using WiziApp to convert your website into a mobile app is that you do not require to code like crazy to make it happen. WiziApp needs absolutely zero coding to function which makes it a popular choice for those with limited exposure to the software nitty-gritty of multi-platform website and mobile applications. The free plugin section of WiziApp offers swift HTML5 conversion of your website into a mobile application in no time at all.
What you can do:
Some of the stellar features that the WiziApp plugin can offer you are as follows.
Supports both Android and iOS
Customization features for design
Multi-menu options for mobiles
Easy navigational features through animation
Mobile-to-mobile browser support features
Customizable push notification features
These 5 plugins can change the way you look at mobile technology and offer you various options for converting your website into an interactive mobile application. The features of these plugins all state customization options and several design features that speak volume about the latest trends in tech that focuses on customized designs and an enhanced web experience through updated gadgets of today.
Parting words
With mobile technology sweeping the world and the number of smartphone users shooting up with each passing day, now is the time for clever online marketers to shift their focus to mobile marketing. The sooner you have a working and interactive mobile application for your website, the sooner will you able to tap into the seemingly endless market of users logging on to the web through their mobile phones. Make good use of these 5 plugins to convert your website into a mobile application seamlessly, and bring in a fresh start for your business today.
Download thousands of Themes, Plugins & Graphics to create your Website. Use promo code ThatsJournal and get an additional 10% off
for All MonsterONE Plans
.
Disclosure: Thats Journal is supported by our readers. This page may contain affiliate links. That means, if you click on these links to make a purchase, we may earn a small commission (at no extra cost to you). These funds help us to keep this blog up and running.