I this post, I will discuss about an issue which I had with WordPress tags disappearing automatically from the tags section on the right side of the post editor.
So, what happened is when I typed tags in the tags section, after some time they are gone while I am editing the post. I kept trying to add tags on the post, sometimes the tags were saved and sometimes they were removed automatically.
I tried different browsers to see if there is a change in results but it didn't work, the tags kept disappearing.
Problem: So when I type in tags I simply type a WordPress tag in the tags section and hit enter button or I will select a tag from the drop down tag suggestions provided by the editor.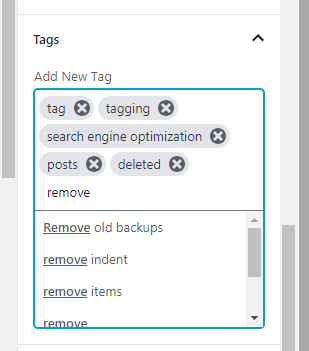 In both the cases the saving of tags was not consistent. So, sometimes the tags used to be saved and sometimes they were removed automatically by the editor.
First, I thought it could be because the tags I am adding are the duplicate tags which have already been added by me. Hence, they are getting removed by the post editor. But on careful observation I found out that the tags I was adding were not duplicate and should be added by the post editor, Instead, they are just getting stripped from the tags section after a few seconds.
Solution: While playing with the tags section, I tried to add tags by using the comma separator. Like, I will type in the tags and instead of selecting from the drop down list or hitting enter I simply pressed a , (comma) separator. I tried this many times and the strange thing is that when I am using the comma as a separator for the tags the tags remain there and are saved. They are not automatically removed by the new Gutenberg post editor.
From that time, I am adding tags only this way and they have never been removed automatically by the WordPress editor. This is still kind of annoying because sometimes for the long tailed tags I want to use them from the suggestions but I can't because they are removed after a few seconds.
Why WordPress tags are important
WordPress tags are very important for SEO purposes. It affects the SEO rankings on that page as it describes the relevant keywords which people might use to search for your post. WordPress tags important to get more pageviews and eyeballs on your post. Also, WordPress tags are helpful to organize your posts. They are used by related posts plugins and it helps users to find related content on your blog.
Over to you!
Since, Gutenberg post editor is new it could be a bug in the editor. I am not sure. I thought this post would be helpful for authors who are having issues with the WordPress tags deleted automatically by the editor.
Try this method and let me know if it's working for you or if you are having any other issues with the WordPress tags.
Happy blogging!
Download thousands of Themes, Plugins & Graphics to create your Website. Use promo code ThatsJournal and get an additional 10% off
for All MonsterONE Plans
.
Disclosure: Thats Journal is supported by our readers. This page may contain affiliate links. That means, if you click on these links to make a purchase, we may earn a small commission (at no extra cost to you). These funds help us to keep this blog up and running.