To create a Bidvertiser ad, to change Bidvertiser ad settings, and to modify advertisement preferences for your website, follow the below given steps:
1) Login to your Bidvertiser account.
2) Go to Publishers Center –> Manage Bidvertisers –> Add new BidVertiser
3) BidVertiser Title: This is a unique identifier to help you better manage your BidVertisers. For Example, If your adding ads in sidebar you can type in Sidebars.
4) URL of your website: This is the URL for your site. For Example: https://www.thatsjournal.com
5) Primary language of your website: This is the language of your site.
6) Select main category and Select sub category: You need to pick the best main category and sub category which describes your site in best possible way.
7) Click on "Finish".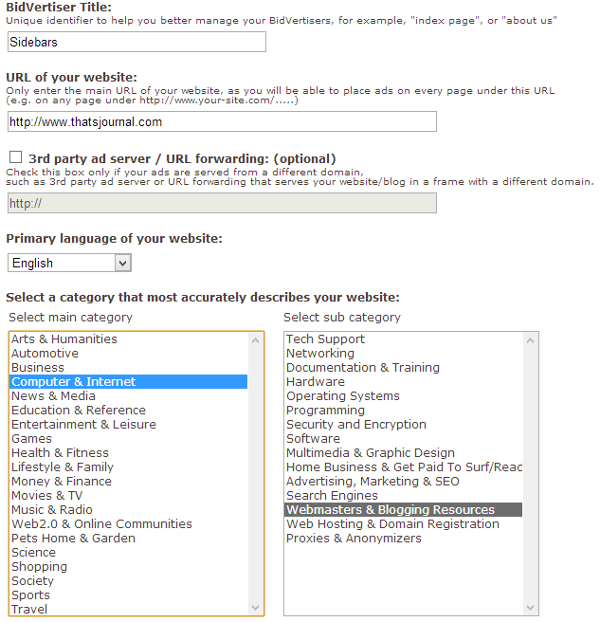 8) After that, click on "Choose template":

9) Then, select an ad format, banners, skyscrapers, rectangles or a mobile banner.
10) Click on customize colors to adjust the color of your ad.
11) When you are done, click on update.
12) Now, click on "Get Ad Code" to get your ad HTML code.
13) Copy and paste this HTML code in the body of your HTML pages.
14) Click on "Preferences" if you wish to change "Display eBay Ads", "Display Pop-Under Ads", "Display Slider Ads" settings. By default these are always turned as "ON". You can also add a 3rd party ad server and enable URL forwarding here.
Download thousands of Themes, Plugins & Graphics to create your Website. Use promo code ThatsJournal and get an additional 10% off
for All MonsterONE Plans
.
Disclosure: Thats Journal is supported by our readers. This page may contain affiliate links. That means, if you click on these links to make a purchase, we may earn a small commission (at no extra cost to you). These funds help us to keep this blog up and running.