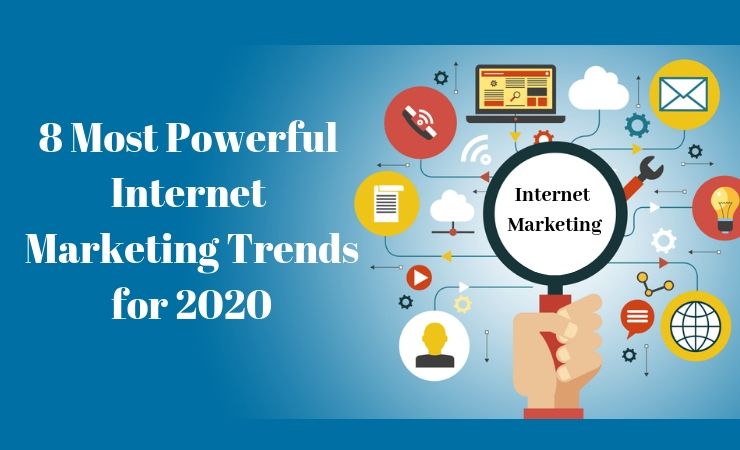 In this 21st century, there's no substitute for the Internet in carrying out simple processes in our day to day activities like making financial transactions or booking a hotel room. The Internet plays a vital role in the business point of view. Almost every sector in the world relies entirely on the Internet for marketing and promotion of their products and services. With the evolution of technology, the methods have changed, but the prime objective is still the same. Internet Marketing is essential for any company to sustain the growing competition.
According to a market survey for the year 2019, the Digital Internet Marketing forum amounts for an approximate $98,247 million US dollars, and it is expected to grow by 50% margin in the year 2023.
What is Internet Marketing?
In Layman terms, Internet Marketing refers to the use of any website or Email for the sole purpose of advertising and marketing a product or a service. Such type of online advertising is used with other forms of it like the radio, newspapers, television etc. Internet Marketing has different components or also referred to as specialized areas. They can be web forum, email marketing and many more.
What are marketing trends?
The market trend is basically any tool of financial markets for a given period. It helps to anticipate the results according to the demand in the current market and regulates the type of advertising or marketing; which would work for a better sale.
The latest internet trends in digital marketing in 2020 are as follows:
1) Design
As a replacement for paper advertising or the print media, designing customizable websites has a positive impact on the business. 3-dimensional models or typography are used widely instead of the old and common rigid, straightforward designs. This 3D effect helps in attracting more people by using various visual effects. Various effects and transitions are available and gradually evolving with time. These designs make your logos and other palettes of your website look modern and graphical.
2) Social Media
Social Media is the most important trend in digital marketing. Many businesses make use of social media platforms like Facebook, Twitter, LinkedIn. Multiple pages or business accounts are registered on the websites of such platforms which reach to more than a million people due to its popularity. With the growth in digital marketing trends, videography will soon take over the plain 2D or 3D design content on the websites.
Additional Helpful Resources:
11 Digital Marketing Trends You Can No Longer Ignore in 2019
7 Innovative Way to Increase Brand Name Through Digital Marketing
What Internet Marketing Trends Can Be Expected For The Future?
3) Content Trends
Live videos are becoming popular in these modern times and video streaming and digital advertisements convey a strong message. The content of the website is essential for giving the right message to the audience. Different types of promotional videos are used for marketing purpose; the videos can be of shorter duration or also of longer length. The year 2020 would mark the era of audio-visual tools and thus, videography is one of the best options as a digital advertising trend.
4) SEO Trends
The year 2019 is incredibly progressive in the latest internet trends. SEO tools are the quick answer pop-ups or short snippets which appear on the website or search engine when you type in the search bar. SEO tools are a form of paid results used by businesses as a marketing strategy. The year 2020 will be a milestone in using SEO tools. With careful optimization of your marketing videos or promotional content, the right SEO will help in boosting your product at the top of the search results online.
5) Chatbots
Chatbots are another version of modern technology used in our day to day lives. This technology based on augmented reality helps you to interact with your device in the form of messaging, face-time or voice controls. Chatbots is the future of digital marketing due to its convenient functioning. Around 1.4 billion people are using Chatbots currently, and the number is likely to increase by the year 2020. 80% of businesses take aide of chatbots for promoting their services. Customers prefer using this medium as the Chatbots are responsive, help in recording stuff, analysing and comparing choices and also give prompt answers. Applications like the Google forum or Windows operating system have their Chatbots to interact with the customers using these systems. You can try free Facebook Messenger Chatbot builder tool, MobileMonkey to see how easy it is to create your own Chatbot.
6) Visual Search
A new level of searching on the internet, visual search allows the users to search a particular thing using an image of the same. For example, if you wish to search for some watch brands, you can upload a photo of the watch you have and get similar results or find out other brands or stores providing such products or services. Google Lens is widely used worldwide for visual search. Marketers can use this strategy to serve their best products in this style, which is more comfortable to use by the people. The evolution of digital marketing has improved considerably due to the Visual Search concept.
7) Social Media Stories
This is another effective way of promoting your products or services through the use of social media applications. To raise their brands or essential dates regarding the release of new products media stories are beneficial. Stories are flashed for a shorter period. Thus, businesses can make use of this format for advertising sale, offers and various customer programs. The stories pop-up on top of the screen likely to make people have a look of any new updates. Apps like Instagram, Snapchat have story features.
8) Social Media Influencers
Social Media influencers are another part of the marketing strategy. Such icons have a significant impact on the general public and business organizations target the audience using the same social media platform. It is a type of word-of-mouth marketing. Influencers can be celebrities or public icons, or even bloggers who write or represent your business widely.
These latest internet trends have captured the market on a large scale.
Summary
The development in the field of technology has opened doors to innovations and its application in various industries. Luxury and comfort in daily activities are given preference, and multiple companies are using the best social media tools for advertising. Current trends in online marketing are evolving with changing demands and will undoubtedly impact the way of managing your business.
Download thousands of Themes, Plugins & Graphics to create your Website. Use promo code ThatsJournal and get an additional 10% off
for All MonsterONE Plans
.
Disclosure: Thats Journal is supported by our readers. This page may contain affiliate links. That means, if you click on these links to make a purchase, we may earn a small commission (at no extra cost to you). These funds help us to keep this blog up and running.