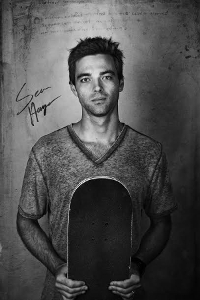 In this post, I will share a very interesting interview which I had with author, travel writer, backpacker, poet, philosopher, professional skateboarder, and coach Sean Michael Hayes. From the moment I started talking with him, I was intrigued by his ideas and thoughts.
Sean was born and raised in Vancouver, Canada. In his younger years he was a professional skateboarder and got to travel all over the world competing and doing demonstrations. This is what brought him to America, where he now lives in Encinitas, CA and is contracted to coach younger professionals. He thoroughly enjoys heading out into the world on solo backpacking adventures. In the last 18 months he has traveled to Spain, South Africa, Thailand, Peru, and about a dozen more countries. This is what gives him his diverse cultural understanding, which is the foundation for his dynamic and thoughtful literature. His experience with travel, elite level sports, global marketing and social media use is all what complimented his transition into the literary world. A self-taught travel writer, poet and philosopher, his work has been published in multiple magazines and blogs internationally. His latest project is something that is inspiring to all aspiring authors. Here he answers our questions and let's us know more about him and how he launched his career on Kickstarter.
1) Please tell us more about yourself?
Sean: Well I grew up in Vancouver, Canada and it will always be home. When I was younger, at the age of 16, I got sponsored by a company to skate for their brand. This was how my first taste for travel came to be discovered. I traveled from coast to coast across Canada, I would spend my winters in California, and then later I started travelling all over the world. This all happened pretty young for me and after a few frustrating years of injuries and other personal issues I decided to take a new step with my career. For a few years I tried to climb the "corporate ladder" within the action sports world. It was a really great experience and I learned a lot about marketing and business and creating a brand, whether it is a product, service or a person.
I also learned the real value of money and it's relationship to true happiness. Long story short? The biggest paycheck I ever got never made me smile as much as a nice sunset. And I can enjoy sunsets every day if I don't work in an office till dark! So at 25, making 100,000 a year, I walked away from the last "job" I've really had to this day. Since then I've been coaching other skaters, taking individual contracts and helping them win big contests. It allows me a lot of time to continue to work on my writing, and even when I am not writing my mind is free creatively to wander. Traveling, coaching, studying, and writing about it all the whole time. I have been waiting to release my work to the public in a strategic way and I did exactly what I wanted with my Kickstarter project.
2) What are your current writing projects about?
Sean: I will be releasing three books, the first, "Five Weeks in the Amazon" is a story of self-discovery that I hope will inspire others to pick their own big adventure in life and just go get it. Last year I left my entire life behind and went alone to Peru to live with a Shaman for 5 weeks. I was searching for answers to life that I thought could possibly be answered by taking Ayahuasca. What I ended up discovering was a lot about myself, in ways that I think everyone can relate to. I'm not just some hippy that went into the jungle to get high, you will have to read it but this really is a story that will make you feel like your there with me.
"Beyond Ataraxia" is a philosophical discussion on human life, our happiness, what the hell love is, why we all have to suffer so much, and distinctions about what our "soul" really is, and many other topics that are relevant today. I analyze my perception of the life I've been given and I make a lot of comparison to discoveries already made years ago by other great philosophers. Of all three, this is the book I am most proud of.
"Zenega" is a collection of my favorite poems. I have been writing and collecting my poetry for over a decade and from all overt the world this is a selection of all my favorites. Some are cheerful and optimistic and others are as cold and dark as the places they came from. You can read more about them by heading to my site CanadianHayes.com.
3) What are the tools and resources you are using to get your project funded?
Sean: Here is a list of some of the top sites I used (as in probably over 25 times an hour) during the pre-launch phase and launch phase. I can't emphasize how important each of these was to my initial success.
i) Google: Seriously I must have Googled how to do over 500 things I had no idea how to do before. Like what? Like "what's the best free mass email client?" to "how do I add someone's email as a click-through link in html". So yeah, when in doubt just ask Google everything about it.
ii) Kickstarter: I chose Kickstarter because they make it so easy from start to finish. They provide great assets, customer service, and their "Kickstarter School" has most of the info I started off with.
iii) Reuben Pressman's Kickstarter page: This is critical, pricing your rewards is probably one of the biggest challenges, as well as the biggest reason for success. Research and then use this calculator to make sure it all adds up.
iv) Seeding Factory's checklist: Awesome checklist for any crowd-funding project.
v) Social Management: Tweepi, Tweetbe.at, FollowerWonk, Refollow, Sumall, Socialbakers and Mentionmapp
vi) Other tools: Twitter, Instagram, Facebook, Google+, WordPress page, LinkedIn, YouTube, bit.ly, Buffer, Tweetdeck, and a bunch of free iPhone apps. I created accounts with the same name @canadianhayes because it's easy to type, easy to say, and it is personal as well as descriptive. I've had my Twitter account for less than a week now and already sent over 1,200 tweets. So when you read about how important engagement is on social media, don't underestimate what that means. In 5 days I had a re-tweet reach of 1.5 million.
4) Where are you planning to finish your project?
Sean: Right now I have a one-way ticker to Bogota, Colombia. My plan is to stay there for a little while and then fly to a town called Leticia. From Leticia I will take a boat up the Amazon River to another small town named Iquitos. Once in Iquitos it is a 50km drive and a 2-mile hike to go and see Otillia, the shaman I stayed with last year. I want to say hi to her, bring her some gifts and then from there I am going to keep going south. South America is very cheap so I will be able to backpack and stay in cheap hostels, make friends, and all of this while finishing my final edit.
5) How and when did you figure out that you would be an author?
Sean: I have always written Poetry, which is why "Zenega" has some poems that are from over 10 years ago. But in 2009 I started writing "Beyond Ataraxia" and my internal goal was always that I wanted to be done writing a book when I was 30. In the course of time since then my 30th birthday came and went and I was disappointed I didn't reach my goal. But then I realized I still had a chance, I had my whole 30th year to finish writing a book. And since I was almost done "Five Weeks" as well as the other two I made the strategy to release all three at once, and I used Kickstarter as the platform to do it.
6) Please tell us about the people who have inspired you and why?
Sean: I look up to anyone that went above and beyond in their respected field. I call it the "genius quotient", which is basically an old Latin saying by Seneca "Every great genius has an element of madness". So I am inspired by the geniuses, the crazy geniuses that see what is known to be possible and go beyond that. Some of the people I look up to most are: Da Vinci, Newton, Plato, Mozart, Socrates, Nietzsche, and Sartre. And not just because they fit into the category of "genius", but because they all have what I referred to as the "genius quotient". They broke the mold and they changed the way people think. That is inspiring.
7) What are your short-term and long-term goals in writing?
Sean: My short-term goal is to channel the inspiration I'll get backpacking through South America into finishing the final edits of my draft I can. That's all I really care about right now. I want "Five Weeks" to suck you into amazon jungle with me. I want "Beyond Ataraxia" to be the kind of book that makes your mind explode (and it will), and I want "Zenega" to be the digest if that's washes the whole meal down.
Long term I am just going to keep following my dreams. I tried following the rules our society insists we follow. It's not meant for me, as Henry David Thoreau said "Go confidently in the direction of your dreams. Live the life you have imagined." I can really only expect my future to be as great as my life now. I protect the interests of my whole destiny by living my life passionately every day.
8) Which is your favorite book(s) and why?
Sean: My favorite book is "Existentialism is a Humanism" by Jean-Paul Sartre. The book itself is as amazing as how it was created. Basically he gave a speech at a university and some kid that was a stenographer (recorded dictation is shorthand) wrote down everything he said and transformed it into a manuscript. Sartre was so clear and had such a comprehensive understanding of what he had said that he barely edited the thing at all. So to read that book, and know it is a speech is incredible. The amount of logic yet simplicity in how he describes our human condition is what makes this book stand out for me. His ideas are built from philosophers before him and he delivers them to the reader in an easily digestible way. Similarly to what I hope to do someday.
9) What do you do when you are not writing?
Sean: I read, play sports, play music, sing, surf, skate, dirt bike, cycle, and go to shows. I pretty much always just have something going on, so it's not like I do other stuff and then I write. I do everything I possibly can always, and then I write about it.
10) Is there anything you wish to add, about your project?
Sean: Well I just wanted to explain that my initial goal was just to help offset some of the cost for me to get away from all my distractions here and go live somewhere cheap where I could put my head down and focus. But my main goal has always been to raise awareness about my books, my own personal story, and then of course hopefully raise more funds to print more books. And supporting my campaign isn't just a donation, there are some really awesome rewards left. I'll finish by saying thank you to everyone who has supported me already and if you haven't yet please check out my website CanadianHayes.com and follow me on my journey from unknown writer to published author.
Here's a video about my Kickstarter campaign:
Download thousands of Themes, Plugins & Graphics to create your Website. Use promo code ThatsJournal and get an additional 10% off
for All MonsterONE Plans
.
Disclosure: Thats Journal is supported by our readers. This page may contain affiliate links. That means, if you click on these links to make a purchase, we may earn a small commission (at no extra cost to you). These funds help us to keep this blog up and running.