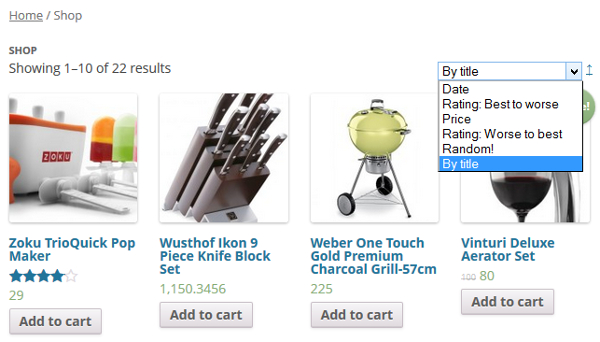 In WooCommerce shopping cart plugin, there are several default sorting options for users to sort products. These options include: Sort by popularity, Sort by average rating, Sort by newness, Sort by price: low to high and Sort by price: high to low.
However, if you wish to edit these sorting options or add extra sorting options then you could do that by using this WordPress plugin.
Here are the features of this plugin:
1) Hide sorting options drop down menu: You have the option to completely hide the default sorting options drop down menu from you shop. You can replace it by your own sorting options.
2) Change sorting options by using custom attributes: You can set up custom attributes like date, title, popularity, rating, SKU, menus, and other attributes, so that users can sort the items in your shopping cart by using these custom attributes.
3) Sorting options for a particular category: From the plugin settings page, you can specify the particular category for which the sorting options will be applied. When a user sorts products in your shopping cart only the products from the selected category will be displayed.
4) Sort for a particular option in Ascending or Descending order: When you apply custom sorting options, you can include an icon so that users can search the products in an Ascending order or in a Descending order by selecting this icon.
5) Assign attributes to multiple products: If you have multiple products for which you want to assign attributes, then you can do that by single shot.
Download thousands of Themes, Plugins & Graphics to create your Website. Use promo code ThatsJournal and get an additional 10% off
for All MonsterONE Plans
.
Disclosure: Thats Journal is supported by our readers. This page may contain affiliate links. That means, if you click on these links to make a purchase, we may earn a small commission (at no extra cost to you). These funds help us to keep this blog up and running.